Have you decided to choose one of SEO WordPress Themes for your Blog? This is a really smart solution as your targeted audience will look for you there.
We understand your concerns about budget, design, CMS, and a bunch of other things. So, this article is aimed at simplifying these as well as many other things for you.
Starting a website: what options do you have?
Actually, there are 3 major possibilities of building a website. You may use: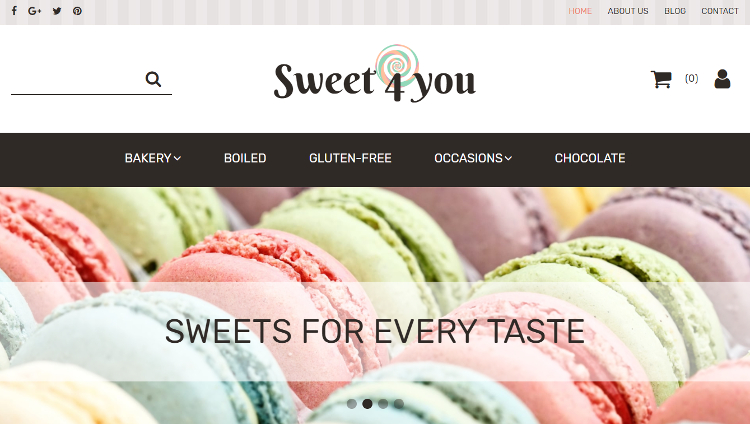 A website builder
A custom design
Of course, every variant has its pleasures and drawbacks. If you are tight on budget and time is essential for you, custom design is not an option. It's really expensive and time-consuming. Moreover, there is no guarantee that you will be satisfied with the result.
As to website builders… If you are a:
small business owner
writer
musician
artist
photographer
wedding planner, etc., you may consider a good one.
View the comparison table of 10 best website builders down below: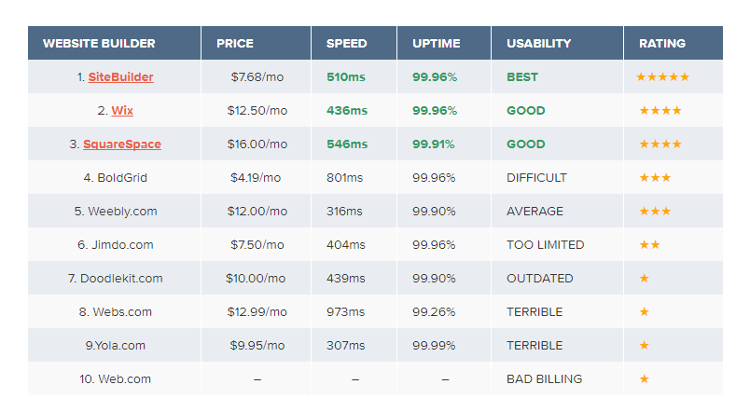 Source: websitesetup.org
To make a long story short, website builders are suitable for beginners or small businesses looking for a professional and affordable option off the ground in a matter of days.
You need to keep in mind that while there are plenty of good builders, there are really horrible ones as well.
But you surely want to know which website builder can become your best bet. Ok, SiteBuilder is not bad if you don't want to be disappointed and pay too much.
Wix is the best option for beginners or those who need an eCommerce site.
SquareSpace is good for photographers, designers, or other businesses connected with visuals. Chances are that they'll like its cute templates.
Now let's briefly discuss website templates. Undoubtedly, this is the most popular option entrepreneurs use. You can choose either free or premium theme. Both variants are good when downloaded from a trustworthy resource. Though, free templates are shipped without professional support and offer only basic features.
It's not an issue if you know coding, but if you don't… In a word, it's better not to stay with the possible issues one-on-one.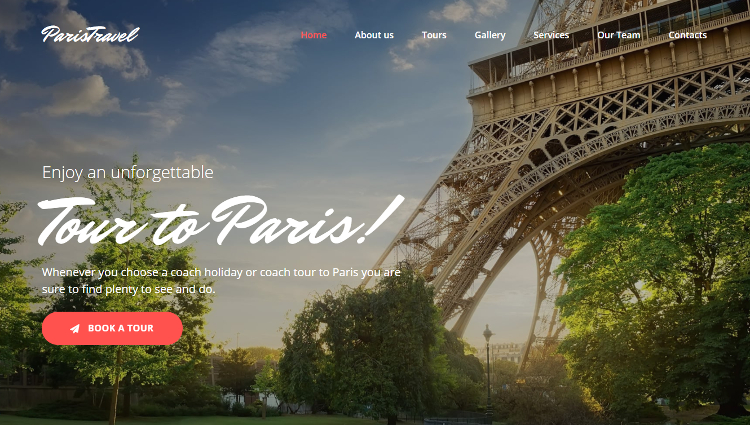 So, supposing, a quality premium template is our choice. What engine/CMS will meet your requirements best?
Choosing the right CMS
Here is a table featuring the most popular CMS worldwide. It's always useful to know what other people choose as they do it for some reason.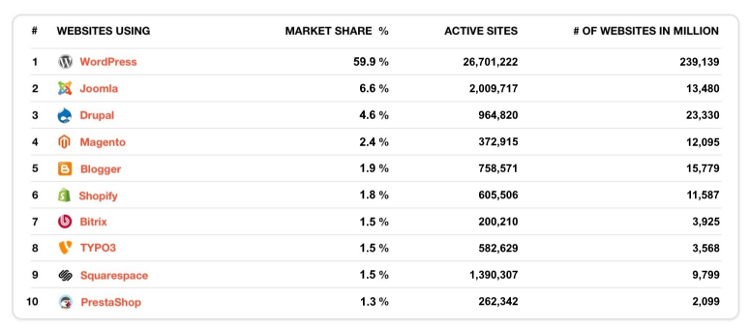 Data collected from: BuiltWith.com, W3tech.com, SimilarTech, Google Trends.
As you see, WordPress is the most popular platform. The result is not surprising as there is nothing impossible with the CMS. It is easy to customize and maintain a WordPress website in future. The platform is free and open source, which means that thousands of geeks work on its improvement. A huge number of free plugins and extensions are available for WordPress for free.
However, we recommend you to take into account your personal needs when choosing a CMS.
Do you have an eCommerce project? Try Magento or Prestashop.
WordPress, TYPO3, Joomla!, Drupal, and Contao are currently the most popular standard solutions for professional website operation. But of course, every system fits for every individual purpose.
Choosing an SEO-friendly theme
Now, when you have chosen a template, a CMS, it's time to think about SEO optimization. SEO is crucial for any website efficiency. It's obvious because even if you have the prettiest website on the net, nobody will find it without proper SEO optimization.
Herein under you will find some key tips on how to choose an SEO-friendly theme.
The theme must have valid coding. If you want your website to rank high in Google and other search engines, choose the one developed according to the latest coding standards. What you need to do is check it and make sure that it is compatible with all popular browsers, has valid HTML, CSS and works flawlessly with mobile devices. You can utilize these code validators:
Below you see a good example of theme with valid code.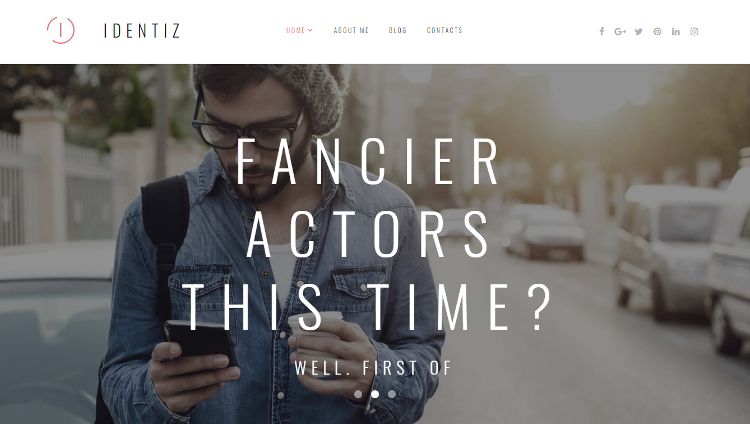 2. The theme must be lightning-fast. Everybody knows that site loading speed is one of the decisive criteria in Google's site ranking algorithm. It plays an important part in users' experience. In plain English, search engines love faster sites.
How to make your site perform faster? Optimize your images and other media files.
Make sure that they are not too large. You can use online CSS optimizers like CleanCSS.com or GiftofSpeed.com or install CSS optimization plugins to optimize CSS files. We also recommend you to utilize hosting with quick server response time. As to the theme, choose the one that loads fast, like Jewellaco Premium Moto CMS 3 Template you see below. Your site must load in 1.5 – 2 seconds.
You can test the selected template loading speed here:
3. The theme must have responsive design. It's really important to have a responsive website. The point is that Google likes responsive websites. It indicates them and lifts up your site giving it a better result on SERP.
For instance, if an Internet user is browsing the web from their favorite mobile device, a site optimized for mobile gadgets will rank higher in search results than one that isn't. Did you know that more than 50% of traffic comes from mobile searches? We are sure you can't afford half of your visitors or offer them an awful experience on your website.
You can check responsiveness and mobile optimization of your theme here:
Of course, you can use the theme below to test how a responsive theme performs across a variety of mobile devices.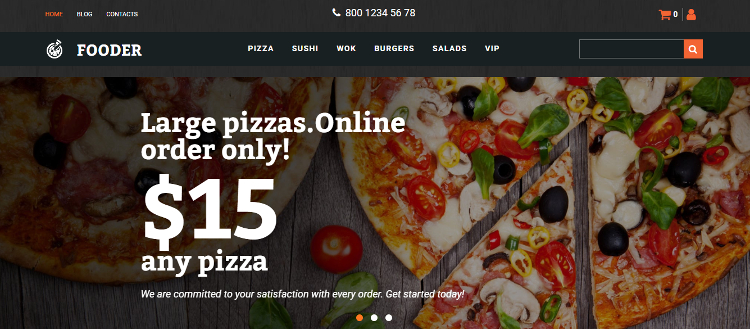 4. Your template should have social media integration option. When choosing a theme, developed for any CMS, never forget about social media integration. To be accurate, social media can't be considered a part of SEO. But social media are great channels for drawing traffic to your site, which is closely related to SEO as you understand.
The takeaway is that your theme must have an option to link to social media resources like FaceBook, LinkedIn, Youtube, Google+, Pinterest, Instagram, etc.
Furthermore, if you are going to run a blog, you need to check whether your blog posts can be shared on social networks with the help of special buttons at the bottom of the articles. You'd better take this into account because in this case not only you but your visitors will be able to promote your website without any pressure.
Please see the example of social media integrated template below.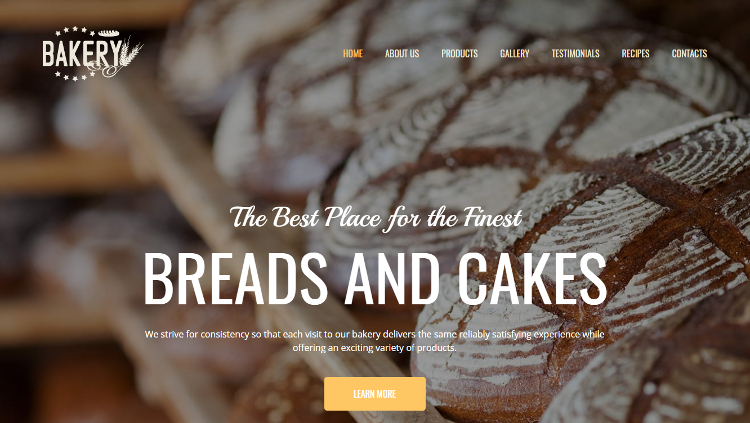 5. Mind your future website structure. Website architecture is the manner web pages are linked together. You should plan this beforehand. Think well about everything: well-structured navigation, inner links, and content. All these will simplify crawling and indexing your site for bots. This will boost the chances of your website ranking higher in Google's results.
But that's not all, the right structure will make your visitors' experience onsite unforgettable and help them find exactly what they need quicker.
Down below you'll find a good example of the template having proper structure. Pay attention to its layout structure, navigation, and logic. Always view the live demo of the template you are going to purchase, check its usability. It should be simple and intuitive to find the info you need.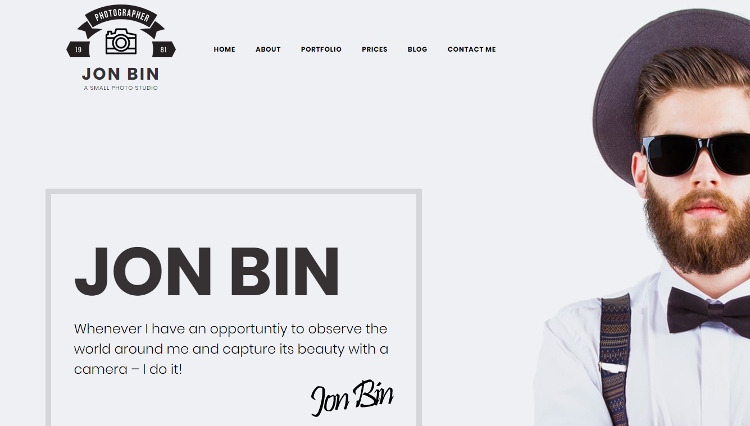 6. Now let's speak about schema markup. Do you know what it is? Schema markup is technique enhancing your website's code to make its content both visible and understandable to search engine bots.
Why do you need schema markup? It will help your content to be better indexed and attractively presented in search results. This will increase the probability that the user will click the link leading to your site. Markup is provided by Schema.org. We advise you to check this resource and comprehend how to promote your content with the help of structured data.
Of course, we prepared a relevant example of the template with Schema Markup. Open the template demo, right-click the page and click "View Source Code" to see whether a theme includes Schema Markup. When you'll get a new tab with the page source code, click CTRL+F to activate page search and type "itemscope" or "schema.org." Found this type of code line? Congrats, your template has Schema Markup.
7. Additional plugins. Even if your theme is well optimized for search engines, most likely you will need additional tools. Here is a brief review of some plugins for WP themes. They will help you squeeze the most out of your website in terms of SEO and high search engines rankings:
You shouldn't necessarily choose WP theme to extend it with plugins, Datelletto is a good example of Moto CMS 3 template having the necessary flexibility.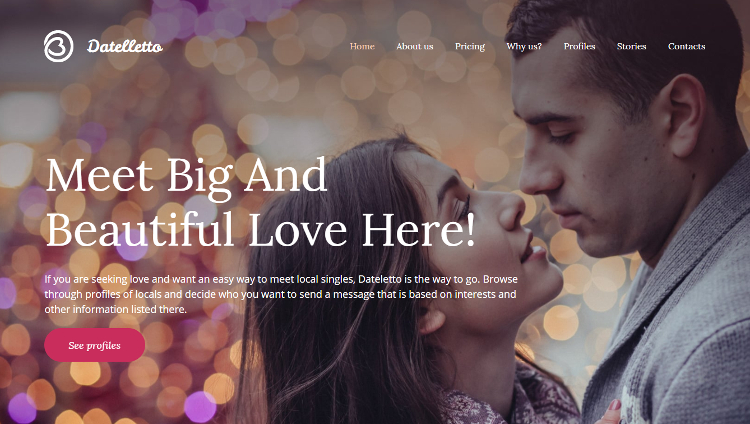 Over to you
Now you have 7 simple guidelines to follow. Let's quickly recap them: make sure that your template is responsive, uses valid coding, schema markup, uploads quickly, is equipped with additional plugins, has proper structure, and social media integration. Remember that your website can always be upgraded with dozens of plugins. They will improve your website and raise your ranking.
Do you have any comments/questions/suggestions? Don't be shy to throw them our way. If you have your own tips, tricks, or lifehacks on how to choose an SEO-friendly theme, please feel free to share them either.