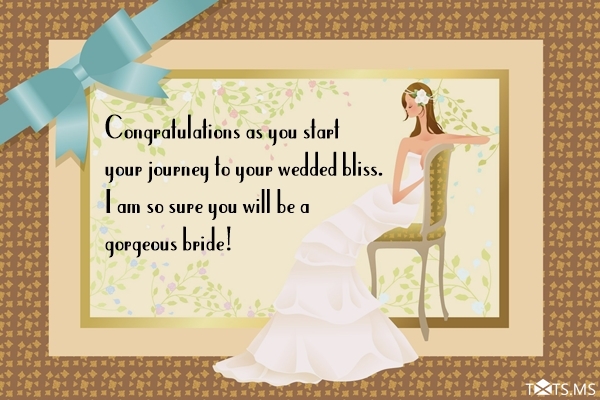 Congratulations as you start your journey to your wedded bliss. I am so sure you will be a gorgeous bride!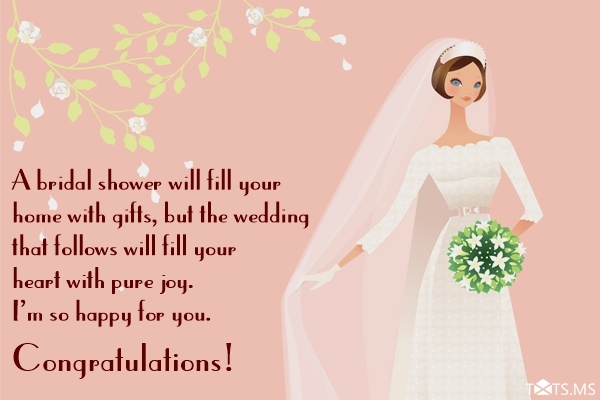 A bridal shower will fill your home with gifts, but the wedding that follows will fill your heart with pure joy. I'm so happy for you. Congratulations!
I am very excited and happy to know that you will be married soon. May your new life as a wife be fulfilling one. Congratulations!
What an awesome bridal shower! I am so thankful to be invited to take part in this momentous occasion before your wedding day. Congratulations!
I am so happy to hear the news of your wedding. Congratulations for finding the man who will make you happy for the rest of your life.
As soon as I heard about your upcoming wedding, I literally jumped for joy! I am so happy that you! I wish you a life full of love and happiness. Congratulations!
Looking at you now, I can see and feel how happy you are to be the bride of your one true love. Congratulations! I wish you all the best.
May the path before you take you on a blessed journey. Good luck in your new marriage!
Life is full of surprises, and the biggest surprise is that you waited this long to get married! Best wishes on your special day.
Today you got showered in gifts! May your marriage be showered with love, joy and happiness. Congratulations!
As your wedding day approaches, know that all good wishes are sent your way. May your bridal shower shower you with everything you need and more. Sincere wishes!
I'm wishing you all good things on this special day. I hope your bridal shower is as wonderful as it can be, and I hope life with your future husband is a love story that never ends.
Congratulations, lovely bride-to-be. I could almost hear the wedding bells ringing when you announced your wedding. But first, let's party to celebrate the final days of your singlehood.
Words cannot express how happy I am about your upcoming marriage. All the best to you and the man you will soon marry!
Congratulations! Another romantic adventure of your life begins; but this time it's for keeps. You make a beautiful bride.
You have come this far. Your love stood the test of time. Soon you will be a bride. Congratulations!
You've finally found someone to share your life with for better and hopefully not for worse. Congratulations! Cheers!
May the two of you stay in everlasting love, and may your love bring forth a beautiful offspring to bring you joy through the years.
Marriage is a tough, and it lasts for a lifetime. Since love lasts for a lifetime also, then you two will have a blessed marriage.
As we look forward to your wedding day, I know that I will soon miss your company; but half of my heart is rejoicing with you as you prepare to walk down the aisle to be with your groom. Congratulations!
Never take for granted what life has to offer, including the person you truly love. Wishing both of you the best on your wedding day.
Soon you will be walking the aisle in your lovely wedding dress. I am so proud of you, my dear daughter. I am so happy for you. Congratulations!
The moment you announced your engagement, I knew you would be couple for good. Now that you're going to be a bride, I am so happy for you. Let me know how I can be of help during your preparations for the wedding.