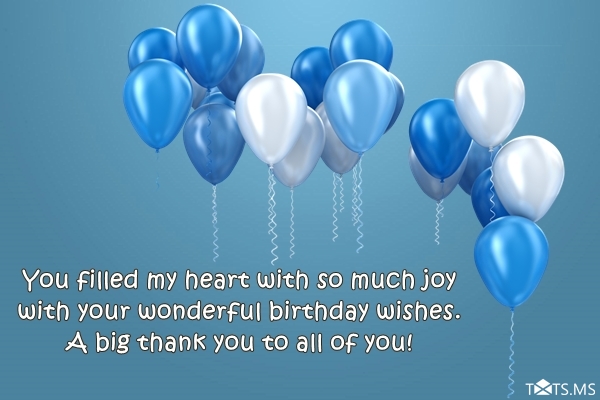 You filled my heart with so much joy with your wonderful birthday wishes. A big thank you to all of you!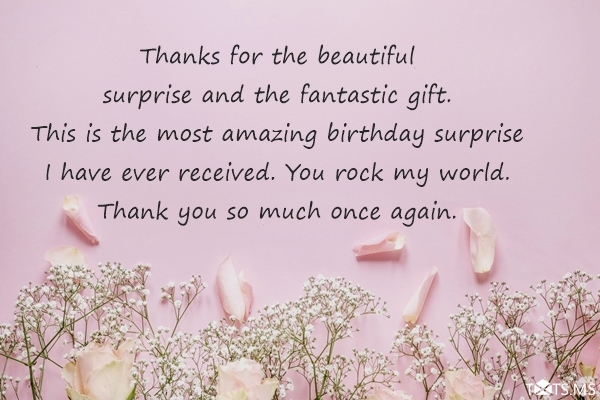 Thanks for the beautiful surprise and the fantastic gift. This is the most amazing birthday surprise I have ever received. You rock my world. Thank you so much once again.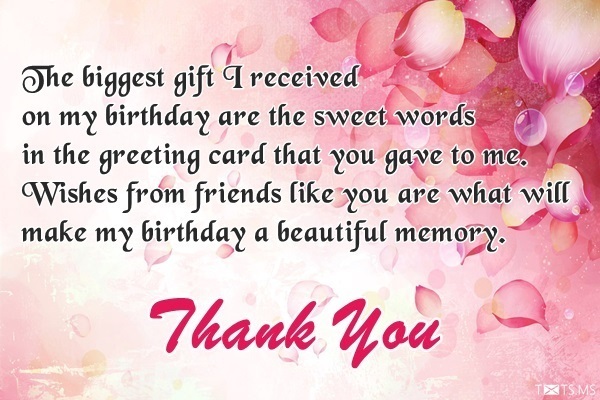 The biggest gift I received on my birthday are the sweet words in the greeting card that you gave to me. Wishes from friends like you are what will make my birthday a beautiful memory. Thank you.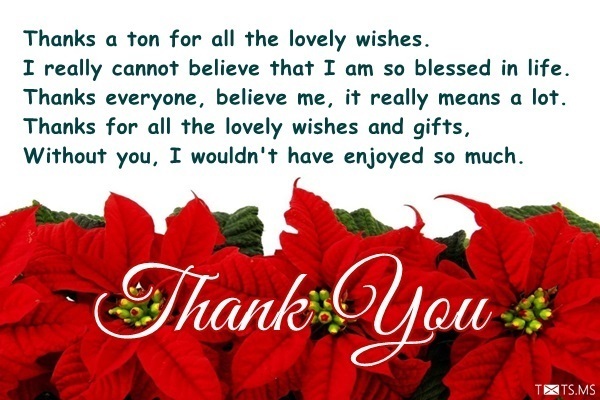 Thanks a ton for all the lovely wishes. I really cannot believe that I am so blessed in life. Thanks everyone, believe me, it really means a lot. Thanks for all the lovely wishes and gifts, Without you, I wouldn't have enjoyed so much. Thanks a lot!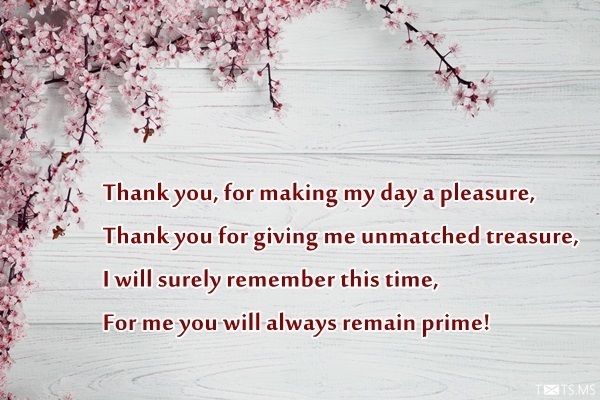 Thank you, for making my day a pleasure, Thank you for giving me unmatched treasure, I will surely remember this time, For me you will always remain prime!
Thank you for the warm and lovely wishes, your thoughtfulness and for joining us on the lovely occasion. You are very special.
Thank you for your well wishes on my birthday. You have meant so much to me in the past, and will continue to do so in the future.
Thank you so much for your wonderful birthday wishes. It is always refreshing and encouraging to hear individuals send their love on this very special day of the year.
I just wanted to take a moment and say "thank you" to everyone for all of the birthday wishes. It means a lot to me that you all took time from your busy lives to wish me a happy birthday, and I feel very blessed to have each
and every one of you as my friend.
Gifts and parties may have brought a smile on my face, but sweet wishes like yours have their own special place. Reading the words you wrote on my card brought tears to my eyes, which is why I believe that friends like you are my life's best prize. Thanks.
I honestly appreciate all your efforts and commitment, It will surely take us to another level of betterment, Thanks for your throughout support!
I really loved the surprise gift you sent. I will always miss you whenever I use it. Thanks a lot dear.
Thank you very much for all the superb birthday wishes. They really mean a lot to me.
It is a beautiful day! It is a great reminder how thankful I am for all the beauty I have in my life. Thanks for being a part of this great feeling!
If my life was a balance sheet, the greetings you sent have just become
one of the biggest assets which will drive the profits of happiness and smiles for many years to come. Thank you.
My birthday would not be the same without a special wish from you, thank you!
Thanks for your wishes and heartfelt thought, It really means a lot, You were there,when I needed you the most, Thanks for always being so close, You have a special place in my heart, In my life, you play a special part, Thanks again!
Your wishes mean a lot to me because you remembered my big day in spite of having the reputation of being forgetful. Thanks a ton.
Thanks to you all that make my birthday a joyful one, by text,
Facebook or one way or the other, I say thank you all!
Thanks so much everyone for the astonishing birthday wishes.
After reading the beautiful message you wrote on my birthday greeting card, I think you should change careers and start working for Blue Mountain or Hallmark. Thanks for such sweet words.
I know it's my birthday but that doesn't mean I can't say thank you.
Thank you for spending my birthday with me otherwise it would have been incredibly boring.
You have truly touched our hearts with your blessings. Thank you for your best wishes and lovely presents.
The birthday message you sent me is going to make me feel special today
and throughout the rest of the year.
Money and gifts can buy almost everything – except the love of friends like you. Thanks for your sweet wishes on my birthday.
Birthdays are incomplete without the ones who love and care for you.
Thank you for making my birthday so memorable.
Thanks so much for the wonderful birthday wishes. As our lives become more and more hectic, it helps to remember that we have people who love and appreciate us.
Regardless of how many years pass by, I will never throw my iPhone away simply because it has your wishes in it. Thanks for such sweet words.
Hello everybody. It was so nice of you to stop by to wish me a "Happy Birthday". it made my birthday just a little bit more special Thank you…
One of the best things about birthdays is that I get to spend time with my favorite people and make them do whatever I want for the day. Thank you for being my birthday slave.
Your beautiful wishes did something that no amount of money can buy – they made me believe in the value of friendship. Thanks.
Thanks for making my birthday a memorable one. You all are the most fabulous buddies in my life. I love you all. Keep smiling.
Thank you for my birthday messages. It's definitely been a birthday to remember.
Each year, there is one special day that we can call our own. Thank you for making my birthday special, and reminding me that I am well loved.
Thanks for the gift and warm wishes, Thanks for your lovely presence too.
Your words left me rolling on the floor with laughter. I'll be sharing your quote on Facebook and Twitter to teach everyone a thing or two about humor.
Hi everyone, thank you for all your birthday greetings. Yes, another long year and another number added to my age, but it is still great to hear from all of you out there. I hope you are all doing well and hope to get in touch
with each and everyone soon.
Gifts can't be carried around but I will carry the essence of your beautiful message in my heart wherever I go. Thank you.
My birthday lasted just for a day but the wishes you sent me are going to make me feel special for the rest of the year. Thank you.
Thanks again for the love and support that you continue to show me, not only on my birthday, but on all days of the year.
Thank you because it is not every day you get to wish me happy birthday.
Here's a note to say thank you for remembering my birthday. It means so much that you think of me on my special day, and continue to show your love and support.
The quote that you sent to me on my birthday is the perfect example of the fact that words are free but their value is priceless. Thank you.
You were always there for me when no one was. Accept my sincere thank you, because you mean a lot to me. Thanks for being there! I mean it.
You never let me forget how old I really am and for that, I thank you my friend.
Thanks for being so kind and thanks for your love and care. I owe a lot to you. Thank you birthday wishes, you are a wonderful person.
My birthday is a day for me to let you shower me with kindness, thanks for allowing that to happen.
Your wishes made my day, is what I want you to know. For a long time in my heart, your words will echo. Thanks.
If I could I would send you flowers on my birthday just to say thank you for all you've done.
Birthday gifts can get broken or lost, but your priceless words will remain close to my heart for eternity. Thanks.
Thanking is the most beautiful thing, Especially for someone who you love,
Tell them how much you need them, And thank them for being in your world.
Your words were the perfect embellishment on my birthday, your wishes have just blown me away. No matter how hard I try on my own, I will never be able to replicate the warmth you have shown. Thanks.
Thanking you is a great pleasure. Because friends like you bring many memories to treasure.
I want to thank you, with all the pleasure, Being with you was such a treasure, Thanks for all what you did for me, Thanks so much, thanks to thee!
Had you not sent a text on my birthday unfailingly, I would have felt lonely even in the midst of friends and family. Thank you so much.
Thank you so much for sending me love and well wishes on my birthday. It reminds me that my life is filled with friends and family who appreciate me!
For sharing your sweet smiles, Making us laugh till we cried, And the days you spent with us, We thank you very much and thanks for the birthday wishes dear.
Nothing in this world is as beautiful as you are, except for the birthday wish that you sent to me. Thanks.
When I look at all the presents the only thing that comes to mind is thank you.
As we continue to grow older, birthdays can be a difficult time of the year. It is always great to hear words of celebration from individuals who are special in our life.
Thanks for a message that was, truly priceless and the epitome of sweetness. Now I know that you are, utterly loving and delightfully caring.
Your good act of kindness, Will always be cherished by me, A heart felt thanks for everything, Thanks for your unconditional love, Thanks for sticking by my side,when no one else did! Thanks again!