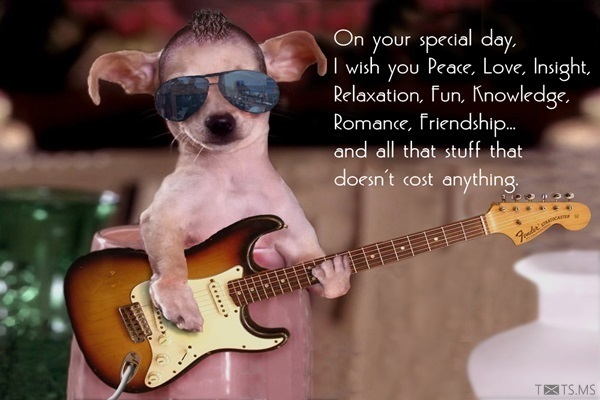 On your special day, I wish you peace, love, insight, relaxation, fun, knowledge, romance, friendship… and all that stuff that doesn't cost anything.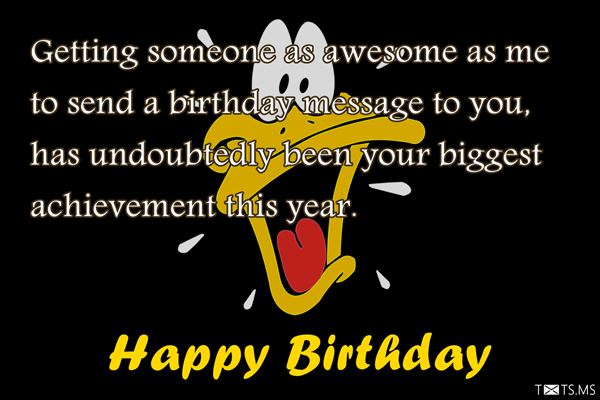 Getting someone as awesome as me to send a birthday message to you, has undoubtedly been your biggest achievement this year. Happy birthday.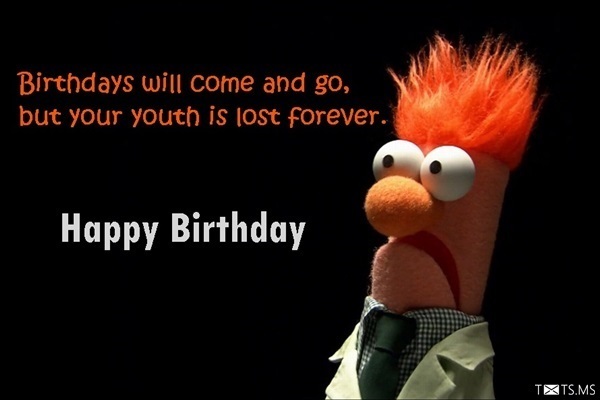 Birthdays will come and go, but your youth is lost forever. Happy birthday.
On this special day my duty is to the fire department when you'll blow out those fifty candles. I'm ready.
Age is a funny thing because it adds years to your life, and also subtracts years from your life. Whichever way, it is never good news. Happy birthday.
Happy Birthday to my wild and crazy friend. Thanks for keeping all of the adults busy with your antics when we were kids so that I never was punished!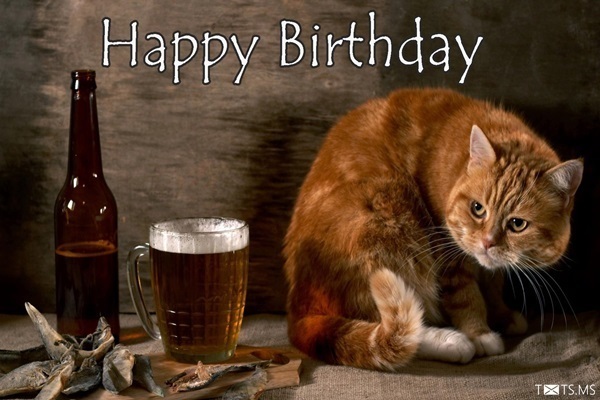 Congratulations for losing yet another year in your life. Happy birthday.
Adding yet another year to your age is probably the worst thing that has happened in your life so far. And guess what, it will keep happening again and again, and again. Good luck, happy birthday.
I haven't brought any cake for you. Because I know you love this bottle of champagne more. Happy birthday.
I tried to find one of the best cards for you, but in the end I could manage only this. Have a wonderful celebration.
On your birthday I want to wish you success, wealth and fame so you can give us expensive gifts and invite us to luxurious parties. Happy birthday.
Your birth date is very special because the world found was blessed
with several special people. But I'm so sorry to tell you that you are not one of them.
You must enjoy the cake, because you won't get a second chance to enjoy that special item as you are under diet.
OLD is an abbreviation for Obsolete, Lazy and Dull. Congratulations for turning one year Older.
Roses are red, violets are blue, I'm forever thankful for a friend like you! I hope these Birthday wishes put a smile on your face!
You know you are getting old when the candles cost more than the cake.
So, it's another birthday with you. Statistics prove that those who have earned more birthdays, have lived the longest life in the earth.
You've started forgetting things. It's an indication that you are getting older. But that doesn't mean that we will forget to celebrate your special day.
More candles are on their way to join your cake. Hope you'll be able to see them very soon.
All your birthday parties will also be meaningless if you don't have friends like me to enjoy them. Happy birthday and thanks for the invite.
You know that you have passed your golden young days when the walking through the stairs becomes really hard. Moreover, you need to call it as an exercise too. Happy birthday.
I know your best birthdays are yet to arrive. Lets wait for those. Happy birthday.
You always enjoy your birthday in some amazing ways, that's why you should have one birthday every year.
The only reason you hate your birthday is because people give you odd gifts, scary cards with weird messages in them, and because you're getting older. Happy Birthday!
On your birthday today let's pray together and hope that a genius scientist invents a machine that reverses ageing. Happy birthday.