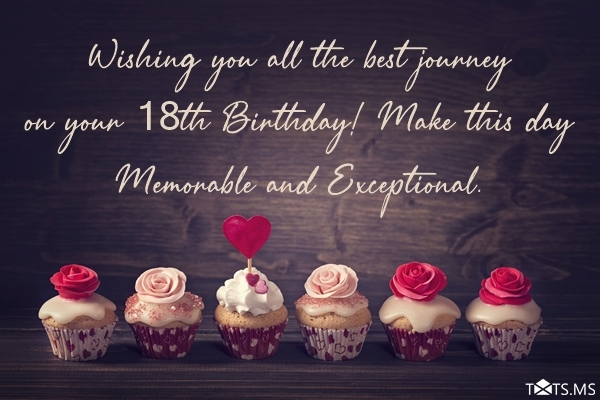 Wishing you all the best journey on your 18th birthday! Make this day memorable and exceptional.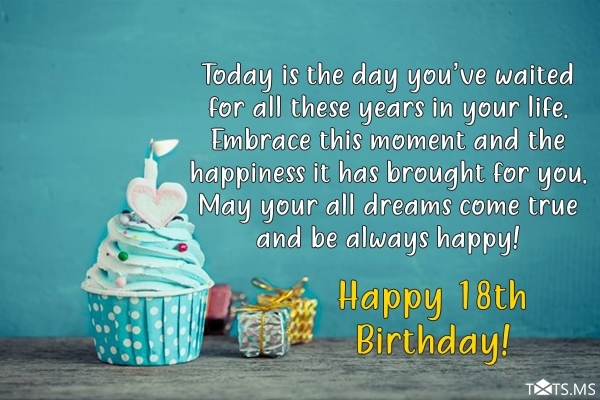 Today is the day you've waited for all these years in your life. Embrace this moment and the happiness it has brought for you. May your all dreams come true and be always happy! Happy 18th birthday!
On your special day, my wish for you is that none of your dreams fail to accomplish. May God bless you with everything. Can't wait to party tonight with you. Happy 18th birthday!
During this special time in your life, you can celebrate your childhood, embrace your adulthood, and live your life to its full potential.
Adulthood comes with great freedom and greater responsibilities; I only hope that you enjoy it to the fullest. Happy 18th birthday.
A beautiful life is waiting for you. May your life be full of love, respect, happiness, and success. Happy 18th birthday.
I am surely blessed to have you with me, to be part of this exciting day where I see you turn 18. My only wish for you is that you may be a person worth looking up to. Have fun.
Enjoy the moment, the day, and your teenage years for as long as possible. Wishing you a memorable 18th birthday!
I hope you'll make the best out of your adult days. Happy 18th Birthday!
May God shower his blessings on you in every walks of life. During this special time, embrace your adulthood and live your life to the fullest. Happy 18th birthday!
My love, you have reached and fulfilled a very important milestone: a lot of good wishes for your 18 years.
As you clock this beautiful age, don't spend a lot of time wondering what the future holds, go ahead and create a dream future for yourself, happy 18th birthday enjoy life to the fullest.
We all know you're wonderful. In fact, we've known it for 18 years! Hope your day is everything that you hope it can be! Happy 18th Birthday!
Age is just a number. Real maturity comes from experience. Congratulations on becoming 18! I wish you a bright future!
Turning 18 means that you are in charge of your destiny, but don't forget that with freedom, comes responsibility. Happy birthday.
Each day with you is a blessing and 18 is no exception. Have fun on your birthday and enjoy each gift the day has in store for you.
Finally, congratulations on turning 18th years. It's been quite a long road, and I know you are thrilled to see where your life is going to take you. Happy 18th birthday!
May your days of adulthood be shinier than the stars! Happy 18 birthday.
It's your birthday and you get to turn 18, you get to see how the other side lives and to enjoy all the pleasures of the world. Just be careful in all you do.
Adulthood is the essence of turning eighteen, is to enjoy the last of your teens. So loosen up and live life to the fullest, let these years be your life's best. Happy 18th birthday.
Finally, you are 18 that means you can do illegal things in life, don't get me wrong happy 18th birthday.
"Adulthood is not an age, but a stage of knowledge of self." – John Fowles
You're an adult now. Now, you have full freedom to do everything legally you've been illegally doing it since you were a kid. Happy 18th birthday!
Today, you turned 18 and turned into an adult. Your future looks so bright. You must be because you're a source of light wherever you go. Happy birthday!
Eighteen is a tricky age. You have the freedom to do everything but the money to do nothing. Happy 18th birthday.
18 is one of the best years in life for it signifies that you are now able to do adult things while acting like a child. Happy Birthday!
You are entering a special time in your life when you are balancing right on the edge of adulthood. Enjoy your special 18th birthday and welcome to our world.
18th is the biggest milestone of anyone's life, congrats happy 18th birthday Now make your driving license otherwise you will be too much old, happy 18th birthday.
"In childhood be modest, in youth be temperate, in adulthood just, and in old age prudent." – Socrates