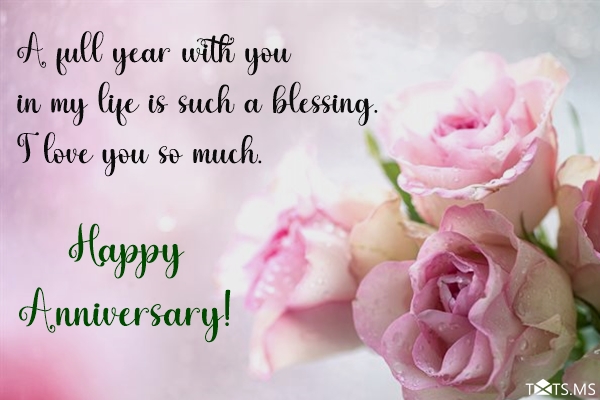 A full year with you in my life is such a blessing. I love you so much. Happy Anniversary!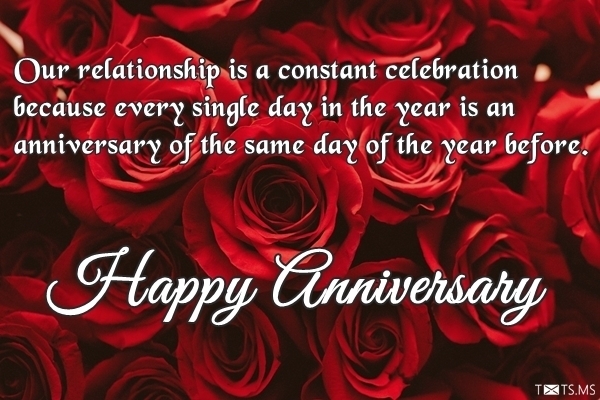 Our relationship is a constant celebration because every single day in the year is an anniversary of the same day of the year before. Happy anniversary.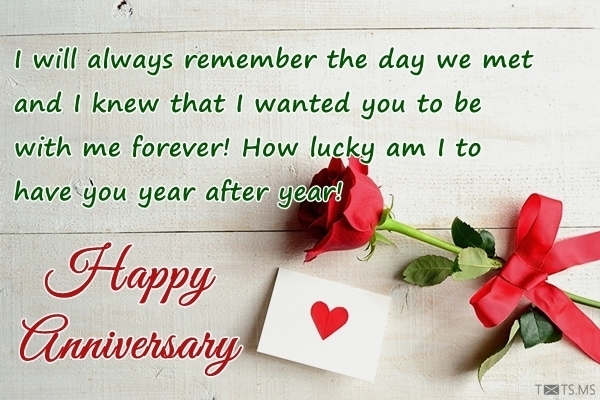 I will always remember the day we met and I knew that I wanted you to be with me forever! How lucky am I to have you year after year!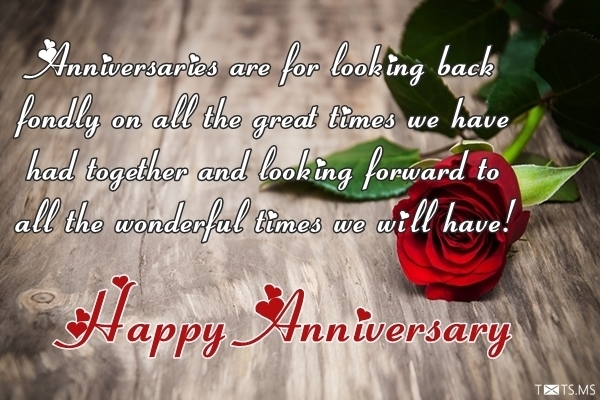 Anniversaries are for looking back fondly on all the great times we have had together and looking forward to all the wonderful times we will have!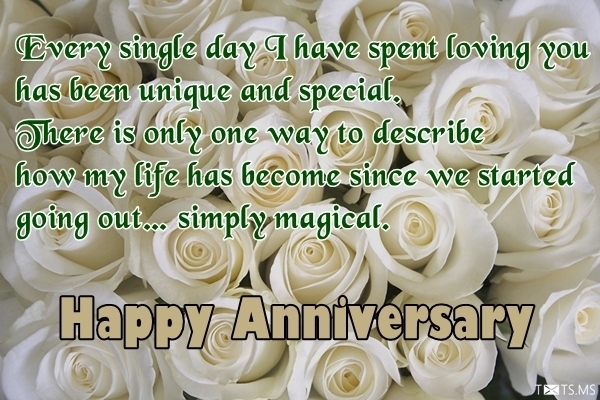 Every single day I have spent loving you has been unique and special. There is only one way to describe how my life has become since we started going out… simply magical. Happy anniversary.
I am so lucky to have a girl like you in my life. I am the luckiest man on earth. Happy anniversary!
Every single day with you, you make my life happier than before. I love you and happy anniversary!
I love having a day where I can celebrate the fact that it is so awesome to have you as my girlfriend.
I want you on our special day to know that all my heart belongs to you! Happy anniversary!
Our relationship and my love for you isn't bound by dates, days or time. But I still remember this day because it is the day when your heart became mine. Happy anniversary.
Since the day you became my girlfriend, all my troubles have come to an end. Since the day I gave you a kiss, life has been nothing but pure bliss. Since the day I gave you my heart, my life has had a beautiful new start. Happy anniversary.
As twelve months of our relationship have gone by, I have realized that I am the world's luckiest guy. I have a girlfriend who is not just beautiful and pretty, but whose love makes everything seem oh so heavenly. Happy anniversary.
After 365 days, I still can't believe that you're my girlfriend. How lucky could I be? I am so blessed to have a wonderful girlfriend. I love you so much. Happy Anniversary
The sun may rise in the east every day, but the sunshine in my life began some time back on this very day. Happy anniversary girl.
An anniversary celebrates two people who trust and love one another throughout all steps in life. There is nothing more endearing than enjoying the journey with you.
Ever since we started dating, monsoon has been only one season in my life – a constant shower of hugs and kisses, and I hope it never changes. Happy anniversary.
The secret of a happy relationship is finding someone you can go on new adventures with, and I'm up for anything with you.
Our anniversary reminds me of the first time we went out and I looked into your eyes. Even today when I think about it, I get the butterflies.
Happy anniversary.
Loving you is such a blessing because you are a truly wonderful woman.
I am so lucky to have you. Love you so much.
Our love is like an enchanting jungle in which I have lost myself, with your heart beat being my only guiding force. Happy anniversary.
The basis of any relationship is finding someone you can love including their treasures, mistakes and ambitions, but you also want to help them keep their treasures, laugh at their mistakes and reach their ambitions.
As I wish you on our anniversary, I find it hard to explain how my life has changed for the better… ever since the day I fell in love with you. Hopefully, you feel the same way too.
My love, my life, my heart… they all belong to you. Happy Anniversary
The moments I find myself looking at you, I also find myself smiling and thinking of new ways to make you smile with me. So may our noses grow big, our ears grow long, our hair grow gray and let our minds go, but you'll always be the most beautiful clown I know.
It's been exactly 365 days since our relationship began, but it still feels like just yesterday. I hope that the puppy love never dies, and it always remains this way. Happy first anniversary.
I am so thankful to God for giving me the best girlfriend in the world whose love cannot be replaced by anyone. I love you honey. Happy 1st Anniversary!
You are a girlfriend who is perfect in every way. I am glad I asked you out on this very day. Happy anniversary.
Lots of good things have happened over the years, but the best was meeting you and falling in love.