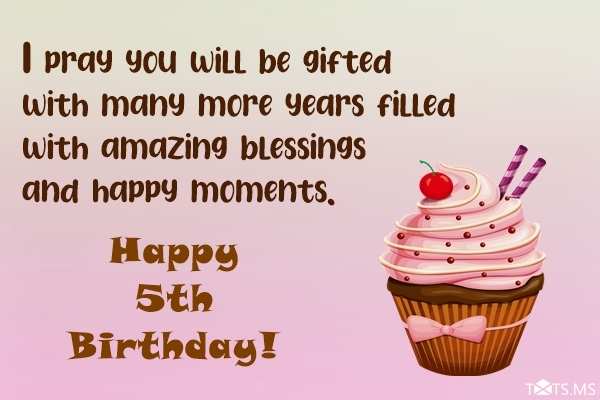 I pray you will be gifted with many more years filled with amazing blessings and happy moments. Happy 5th birthday!
There is nothing more you can do to be so loveable. Happy 5th birthday! We are going to make this such an awesome birthday party. Let's get it started.
Congratulations on your 5th birthday dear! I wish you strength and lots of breath to blow out so many candles!
Today is your Big Day, and it's my wish that life will always grant you love, joy, peace and favor. Happy 5th birthday.
Five is fabulously, fantastically fun, just like you! Happy 5th birthday.
Happy birthday my little bundle of joy, you are an awesome 5 year old and I hope to spend forever with you. Do have fun on your day sweetie.
Happy 5th birthday you beautiful bundle of joy. May each and every day be a great day for you, may you grow to be a hard worker, an honest person and someone we will all be proud of.
Have a beautiful celebration my dear, you are an amazing person and I will always love and be here for you. Happy 5th birthday!
This is going to be an awesome time to be alive as I got you something that is guaranteed to make you scream. Happy 5th birthday!
Birthdays are always a good time, especially when you are five years old. You will have such a yelling contest with all your friends. It's going to be glorious.
Enjoy your 5th birthday darling, I hope you make a lot of unforgettable memories and share a lot of unforgettable moments. You are awesomely awesome.
Wow! You are so big for such a young one. I see wonderful things for you in the future. Happy 5th birthday!
You turned 5 today. You are getting so big! I'm so proud of you! Happy 5th birthday!
As you celebrate your 5th birthday, I pray that God will make all the days of your life bright and merry as you make mine. Happy birthday.
May all your wishes come true as you blow out those 5 candles. I wish you good health, happiness and a whole lot of happy memories. Happy 5th birthday!