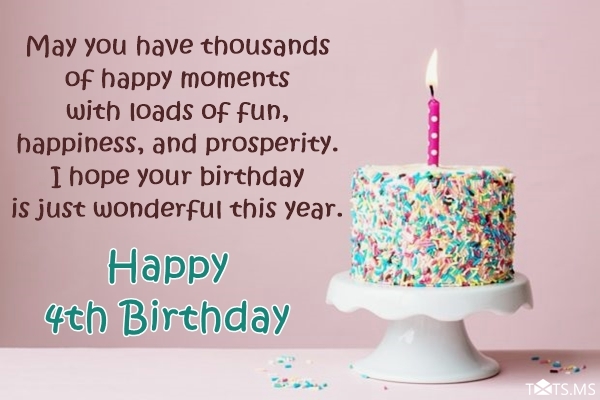 May you have thousands of happy moments with loads of fun, happiness, and prosperity. I hope your birthday is just wonderful this year. Happy 4th Birthday.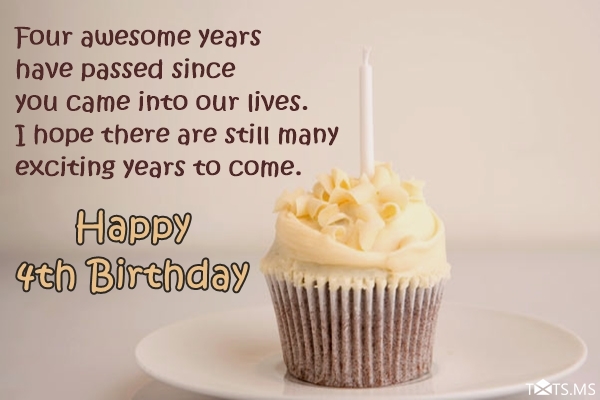 Four awesome years have passed since you came into our lives. I hope there are still many exciting years to come. Happy 4th Birthday.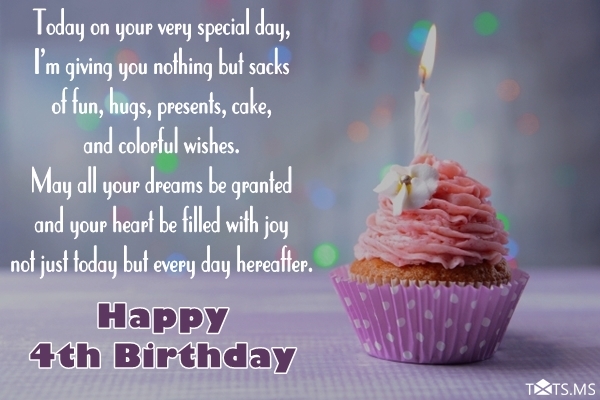 Today on your very special day, I'm giving you nothing but sacks of fun, hugs, presents, cake, and colorful wishes. May all your dreams be granted and your heart be filled with joy not just today but every day hereafter. Happy 4th birthday!
May your 4th birthday be filled with a lot of love, joy and cheer, May all you hold close be here for you to see you blow out those candles.
It's a day to rejoice, reflect and be glad. You've been a divine source of joy and we hope you'll be a source of joy beyond the walls of this house. Best wishes.
May all your desires come true all through your life. Many- many happy returns of the day to you on this 4th birthday!
I congratulate you on your 4th birthday. I wish you pleasant gifts, a grand birthday party and a lot of fun with your friends and closest ones.
A very happy 4th Birthday to you! I hope you will easily blow out all the 4 candles at once. Enjoy your day!
Birthdays are the blessing but you are the greatest gift to me from God. May you have thousands of happy moments and you remain safe from the evil eyes. Happy 4th Birthday.
May your 4th birthday showers you with surprises and unforgettable moments. May your parents also spoil you with gifts and treats, I know they will! Have a very happy 4th birthday!
On your 4th birthday, my only wish is for you to have the best birthday any 4-year-old child can ever experience! Happy 4th birthday!
Congratulations to my 4 year beautiful princess and on your special birthday you can get pleasure from yourself today as a queen. Wishing you lots of fun and happiness.
To the most awesome 4-year-old I know, here's to countless birthday wishes, tons of treats and sweets and all the fun presents. Happy 4th birthday.
May every year you add in age be the best year you've seen so far. Have a fantastic day. Stay blessed.
My only wish for your 4th birthday is for it to be four times as magical as your third one. May you have the most wonderful birthday today!
You are the greatest source of my happiness and today on your birthday, I wish that you'll get as much happiness as you're giving me. Happy 4th birthday to you!
Your brightness is beyond that of a 4-year-old boy. I really don't know where you get all these. It's absolutely from God. Enjoy your beautiful life son. Have a good time.
Wake up and get dressed up for today is your big day. It's about time to throw the biggest 4-year-old party of all time. Happy 4th birthday.
As you blow those four birthday candles, I am whispering my wishes for you too. I hope that your life will be filled with love, happiness, and success. Happy 4th birthday!
To my sweet little angel, happy 4th birthday to you. I hope this day showers you with countless presents and may you receive the best birthday gift there is!
To the love of my life, my sweetest 4-year-old, happy birthday to you! There is nothing and no one else in this world that can be compared to how special you are. I am the luckiest parent for having you in my life.
I hope your birthday cake will be twice your size so that you'll eat it alone and double in size. Happy 4th Birthday.
I am sending millions of good wishes for my sweet little baby for the whole life of the exceptional child. Enjoy yourself on this spectacular day!
You are the cutest girl as ever I meet. When you talk it feels a teenager is talking. You are so sweet. Wish you a very happy 4th birthday.
As you add the fourth candle on your cake today, you live till your birthday cakes get crowded with candles.
You fill the world with your cheerful laughter and hearty smile. I love you dear 4 year old, I love you and wish nothing but the best for you!
Long live the Princess of this great family, she turned four today. I hope you'll experience wonderful things in your life as you keep adding age. Enjoy the celebration princess. Long may she reign.
You are the shining star of my sky; with your presence my world brightens. Have a wonderful day.
My lovely handsome child, you are the most precious gift I have and I hope you enjoy this day and all the good things it has to offer.
You are the sunshine by which my day is brightened. Have a great day daughter.