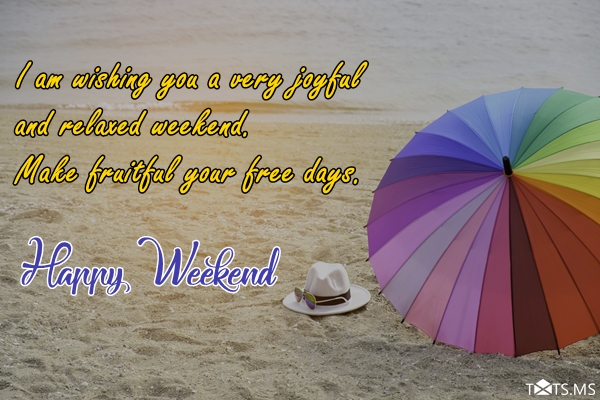 I am wishing you a very joyful and relaxed weekend. Make fruitful your free days. Happy Weekend.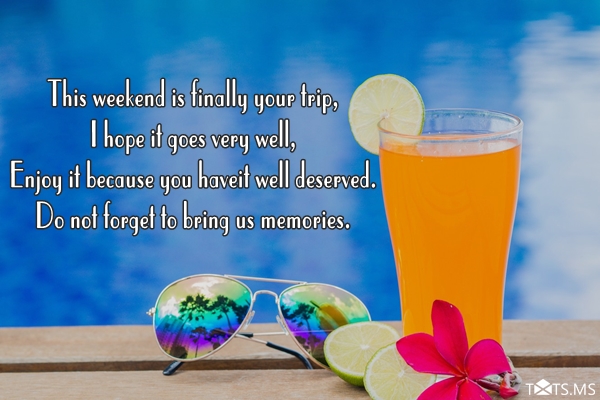 This weekend is finally your trip, I hope it goes very well, Enjoy it because you have it well deserved. Do not forget to bring us memories.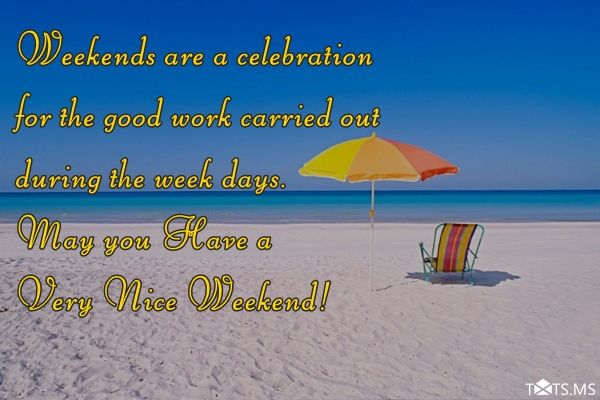 Weekends are a celebration for the good work carried out during the week days. May you have a very nice weekend!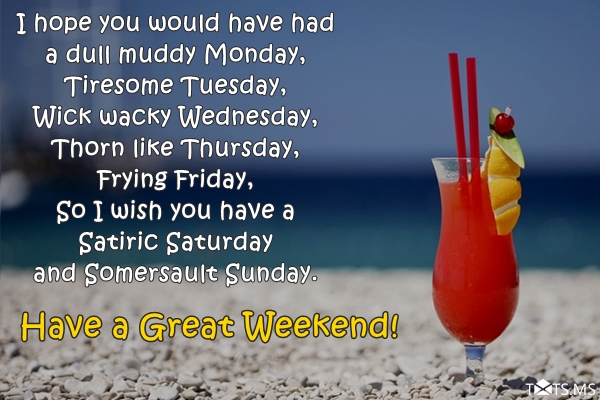 I hope you would have had a dull muddy Monday, Tiresome Tuesday,
Wick wacky Wednesday, Thorn like Thursday, Frying Friday, So I wish you have a satiric Saturday and somersault Sunday, Have a great weekend!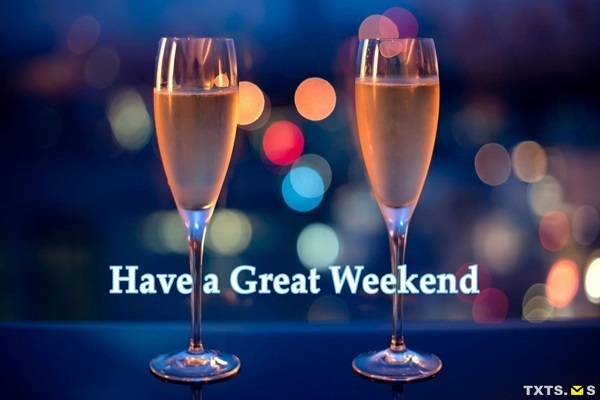 It is going to be a weekend not only for you, It is going to be a weekend for your suits, shoes, files, laptops etc. Let them have a peaceful weekend without you, I hope you to have a Relaxing Weekend!
As the sky breaks into a beautiful Sunrise… May GOD open the window of heaven to shower you lots of blessings… Good Morning. Happy Weekend.
May your light shine so bright that others may see their way out of the dark. Have a very happy weekend!
Life is better when you are happy. But life is the best when other people are happy because of you. Be inspired, give peace and share your smile with everyone. Have a Nice Weekend!
I hope our friendship will not end at the end of the week. See you on Monday!
Forget about what happened within the week. Weekend signals a fresh new start. Good Saturday and Sunday to you and your family!
Marvellous Monday, Tasty Tuesday, Wonderful Wednesday Thankful Thursday Friendly Friday, Successful Saturday, Sweetest Sunday. Happy Weekend.
It is better to hibernate for 5 days of the week from Monday to Friday, Wake up from hibernation on Saturday and Sunday to enjoy the weekend!
I see a very full weekend, Full of fun and full of surprises. Drink responsibly and do not forget To have as much fun as you can. Happy Weekend.
No shadows ever to depress you; Only joys and happiness to surround you; Many friends and relatives to love you; And God Himself to bless you. These are my wishes for you – today, tomorrow and forever. Have a nice weekend!
Say goodbye to the stars of the night and let the moon pass away. Welcome the bright sunshine and let the rays of the sun brighten you up all over. Enjoy a Good Morning. Have a Sweet Weekend!
I feel so loved when you say something sweet to me. Even a whisper from your sweet lips can make me have a really wonderful day. You are the one I saw in my dreams and I'm glad you are a reality. Have a sweet weekend!
A healthy lifestyle is not just about what you eat. It is also what you consume emotionally, mentally and spiritually. Have a Healthy Weekend!
Sometimes situations arise to where things fall apart so that other things can fall together. Have a nice weekend!
Weekends remind me of rainbows. They look good from far way… But when we get close, they disappear. Have a Nice Weekend!
Whatever you can do or dream you can, begin it. Boldness has genius, power and magic in it. Have a Nice Weekend!
Happiness is not the absence of problems; It's the ability to deal with them. Have a very happy weekend!
The hardest thing about returning to work after long weekend is remembering to fart quietly. Better have a fartful weekend!
Weekdays are for working and weekends are for living. Have a nice weekend, full of life!
Be thankful for all the stress we get in life. It is a reminder by God to relax and balance our life. Have a relaxing weekend!
Sometimes unanswered prayers are the best. You never know what God has in store for you. Keep praying, you never know where God will lead you. Have a nice weekend!
The day you stop caring what others think about you… is the day you start enjoying life. Have an enjoyable weekend!
The one thing one can never Recycle is Wasted Time. Enjoy this weekend by wasting it judiciously!
Heart is not a basket for keeping tension and sadness. It's a golden box for keeping roses of joy and happiness. Have a nice weekend!
Happiness is a crazy mathematics, because it multiplies when one starts dividing it! Have a Very Happy Weekend!
I hope that your weekend is worth the wait. Enjoy!