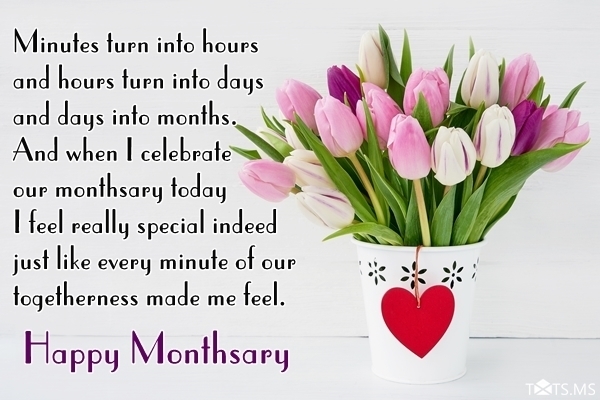 Minutes turn into hours and hours turn into days and days into months.
And when I celebrate our monthsary today I feel really special indeed just like every minute of our togetherness made me feel. Happy Monthsary.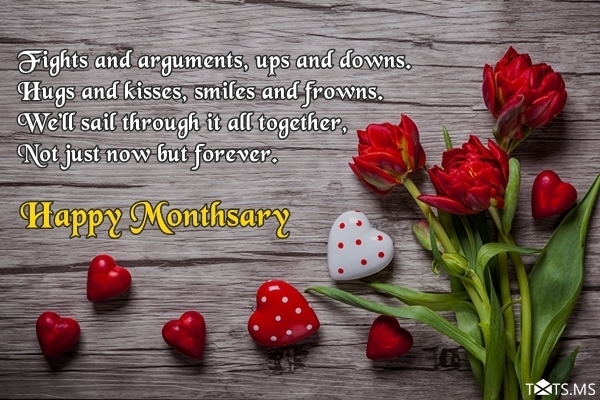 Fights and arguments, ups and downs. Hugs and kisses, smiles and frowns.
We'll sail through it all together, not just now but forever. Happy monthsary.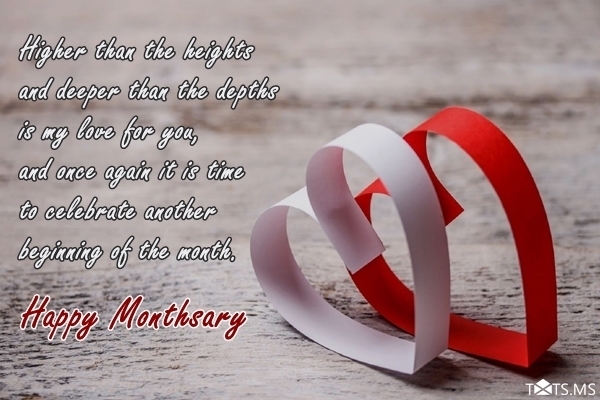 Higher than the heights and deeper than the depths is my love for you, and once again it is time to celebrate another beginning of the month. Happy Monthsary.
Happy monthsary and wish us both a happy life and strong relationship together. And more and more months to come with fulfillment and harmony. Happy monthsary.
I will always remember the moment we became lovers. I can't imagine my life without you since then. Thank you for the love and caring. I Love You and Happy Monthsary!
There is no long distance in our love, it's the connection of hearts that's always been the sparkle of our love. Happy monthsary and God bless us.
You changed my life and taught me what real love and care means. You are the world to me now. Happy monthsary
Time passes so quickly that its been our 4th month together and each and every moment of it has been really true and special with both happy and unhappy moments.
The very first moment I laid my eyes on you, I knew our hearts were meant to be. You are my courage, my angel, my strength, You saved me.
I love you.
I always want to keep such precious memories of today fresh in the pages of my mind and want to celebrate this day with you every month. Happy monthsary.
You make me smile when I cry; you pick me up when I'm down, you have to deal with me at my worst and love me at my best. Happy monthsary.
Every month I dream of this day and when its there I have just few words and lots of love to shower upon you just like you do for the rest of the month. Happy monthsary.
I fall short of words to tell you how much you mean to me. All I can say is that my life revolves around you and nothing else matters.
So special is this day that I cant believe its been months since we've been together. Here's to our monthsary.
Our love grew over time and everyday I find more reasons to stay near you and great joy in having you in my life. Happy monthsary.
There have been so many ups and downs but you never left the side of me.
Love you to the core. Happy monthsary.
Just as the journey of a thousand miles begins with the first step, the journey of our love began with the first minute that we met. Now it has come to a month and as we enter the next month of our love, may we always have a reason to smile, which is having each other. Happy Monthsary.
Now that we have completed 6 months of togetherness, we shall enrich and celebrate our love today. Happy monthsary.
Like roses our love blooms and there are no sorrows and glooms, like river flow our love is endless and lets celebrate our monthsary of togetherness.
You are the rhyme of my life's poem and nicest chapter of my life book. Happy monthsary to the one I love so dearly.
Just like a seed grows into a tree so has our love grown so deep and eternal that no pleasures of world can outlive it.
The shine of pearl in my life has always brightened my paths and bestowed love upon me. Thanks for being the pearl of my life. Happy monthsary.
I really do love you, really do care for you, and I really want you to be not just in my life, but in my future life. Happy monthsary.
You have been the best boyfriend since ever and on our monthsary I would like to celebrate this with full joy and festivity.
I learned to accept who or what you are, I learned to dream about having you in my life forevermore, I learned to sacrifice my pride, I learned to smile whenever I'm sad. Happy monthsary.
The bond of love can never fade when its you and me and today is our really special day as we complete these months of that bond. Happy Monthsary.
I just want you to know that I will never get tired of loving you. Happy monthsary dear.
Not only have I seen truth in your eyes, you remind me of time itself for you are my past, present, future and forever. I love you. Happy monthsary.
With you, I became a better person. Without you, my life will never be complete. Thank you for choosing me as your better half. Happy monthsary!
Whenever I think of the days passed by, they always make me feel how special the coming days would be as our love every day grows over and over. Each month is a bliss. so a very happy monthsary to My Love.