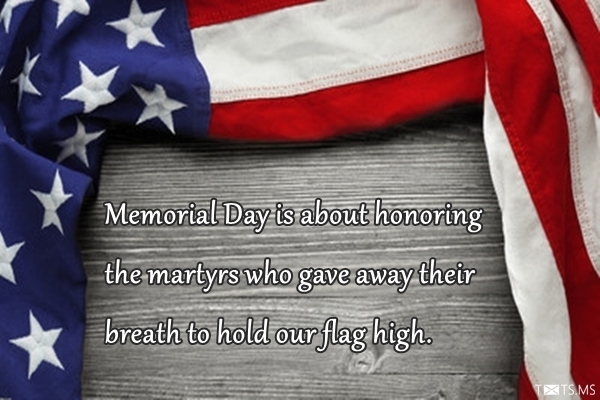 Memorial Day is about honoring the martyrs who gave away their breath to hold our flag high.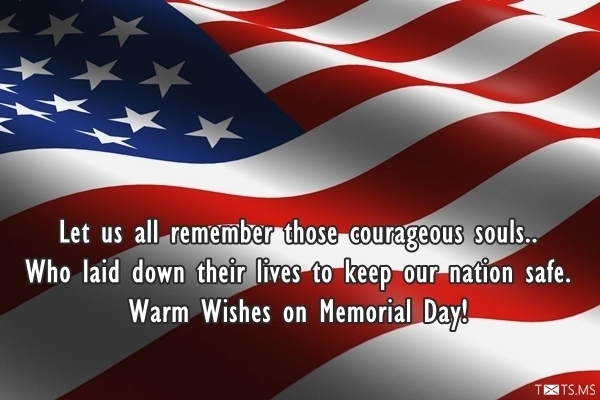 Let us all remember those courageous souls.. Who laid down their lives to keep our nation safe. Warm wishes on Memorial Day!
Heroes will be heroes, their silence cruel, their sacrifice supreme.
Thinking of you with pride on Memorial Day!
Remembering those who gave their blood, sweat and life in the line of duty.
Let us remember those who sacrificed their lives for the peace and security of our country.
Death leaves a heartache no one can heal, love leaves a memory no one can steal.
All gave some.. some gave all Remember them this Memorial Day.
On this Memorial Day… let the memories of the dauntless and valiant martyrs be with us.
The brave hearts never die… they sleep in the embrace of their soil.
Remembering those who gave their all is not a duty, it is love, a hug and a big thank you.
This Memorial Day let us honor our heroes who gave their today for our flag.
Remember our fallen heroes. They are the reason that we are free.
Praise the military men and women we have lost and continue to pray and support our military men and women who are still out there keeping us safe.
As America observe Memorial Day, let's pay homage to those who renounced their lives in the name of nation.
Prayers for those who have lost for keeping us safe. May God be protector of those who are currently in line of duty.
Let us remember that Memorial Day is not for vets- that's what Veterans' Day is for- and we don't observe it, we "commemorate" the day in remember and honor of those who died defending our Constitution and,
thus, our right to do and say damn fool things.
On this day of prayer and remembrance.. let the memories of the gallant martyrs.. be with us.
Memorial Day is for remembrance and prayers for the departed. Veterans Day is when we observe those who live on beyond their war engagements for the nation.
Let us remember those who are miles away from home to safeguard homeland.
Greater love hath no man then this, that he lay down his life for his friends. With gratitude we remember, always.
They were smart, handsome and died young, all for us. Salute to our fallen stars.
Salute to the heroes who gave their life for something bigger… the nation.