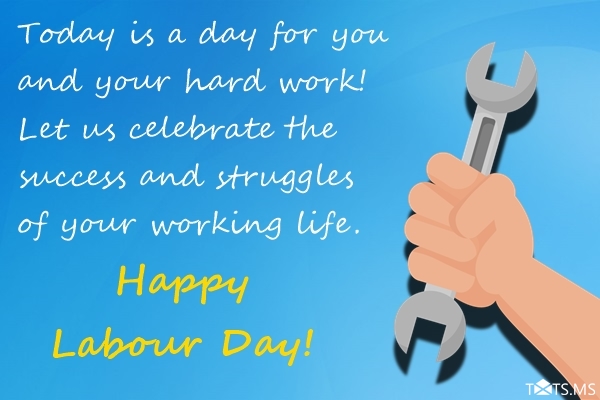 Today is a day for you and your hard work! Let us celebrate the success and struggles of your working life. Wishing you a happy labour day!
Wishing every worker a very happy, prosperous and joyous day on this special occasion!
With hard work comes great satisfaction. Enjoy your Labour Day weekend.
Sending good wishes of May Day to all the deserving workers of the world! To all the workers of the nation, thanks for all your hard work. Happy Worker's day to you all.
Best wishes to you and your loved ones as we celebrate this day. It is a day that everyone is given a good chance to celebrate their own efforts. Have a good day!
Let's have a parade, Let's celebrate! Happy 1st May Day.
Today is the day to celebrate your hard work. Thank you for all the dedicated work. Happy labour day!
Nothing can be achieved without pain and hard work. This is the day to celebrate all your efforts for your family. Happy labour day!
May all your work succeed and may you find and do good and as a result get promoted, respected and prospered every day of your labored life.
This is a day for all the workers. Happy labour day to all the hardworking man and women.
May everyone spends a joyful and prosperous May Day with their loved ones!
As full of spirit as the month of May, and as gorgeous as the sun in Midsummer.
– William Shakespeare
Without labor nothing prospers.
– Sophocles
A mind always employed is always happy.
This is the true secret, the grand recipe, for felicity.
– Thomas Jefferson
Work isn't to make money; you work to justify life.
– Marc Chagall
The end of labor is to gain leisure.
– Aristotle
Every job from the heart is, ultimately, of equal value. The nurse injects the syringe; the writer slides the pen; the farmer plows the dirt; the comedian draws the laughter. Monetary income is the perfect deceiver of a man's true worth. – Criss Jami
God give me work, till my life shall end And life, till my work is done.
– Epitaph
All labor that uplifts humanity has dignity and importance and should be undertaken with painstaking excellence.
– Martin Luther King
A bad day at work is better than a good day in hell.
– Scott Johnson
He who labors diligently need never despair; for all things are accomplished by diligence and labor.
– Menander
Labor is the only prayer that Nature answers.
– Robert Green Ingersoll
Our labour preserves us from three great evils — weariness, vice, and want.
– Voltaire, Candide
God sells us all things at the price of labor.
– Leonardo da Vinci
Labor Day is a glorious holiday because your child will be
going back to school the next day. It would have been called Independence Day,
but that name was already taken. – Bill Dodds
It is labour indeed that puts the difference on everything.
– John Locke