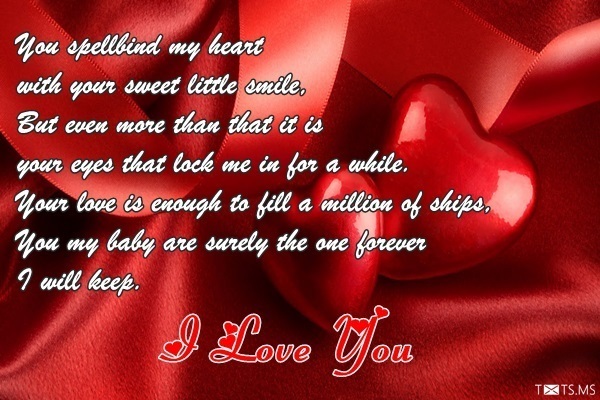 You spellbind my heart with your sweet little smile,
But even more than that it is your eyes that lock me in for a while.
Your love is enough to fill a million of ships,
You my baby are surely the one forever I will keep.
I love you my beloved.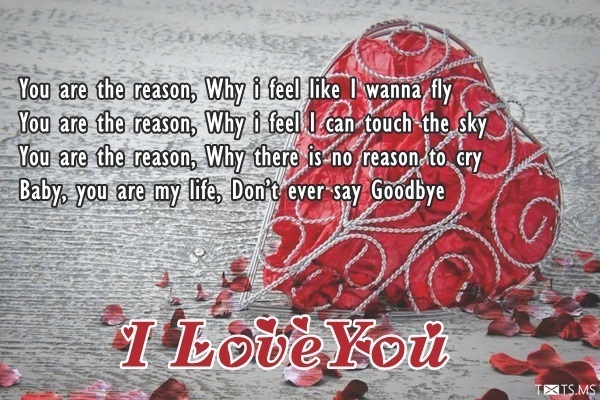 You are the reason why
I feel like I wanna fly
You are the reason why
I feel I can touch the sky
You are the reason why
There is no reason to cry
Baby, you are my life
Don't ever say goodbye
I love you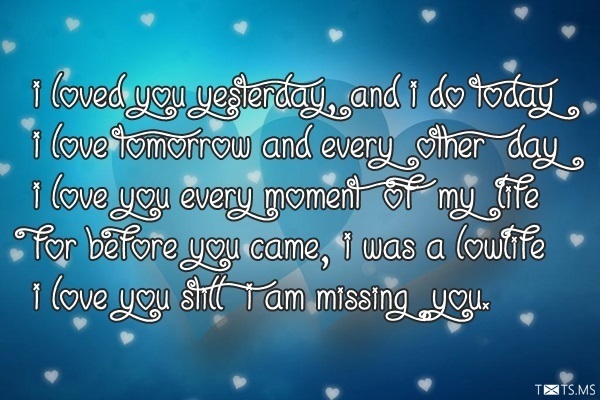 I loved you yesterday, and I do today
I love tomorrow and every other day
I love you every moment of my life
For before you came, I was a lowlife
I love you still I am missing you.
Does not really matter when it started,
But, I am sure of my feelings ahead,
I love you and will love you till the end of time
I feel so lucky to call you mine
Baby I so love you each day,
You are my life's only say
I love you!
The skies may stop turning blue
But I will never stop loving you
The stars may stop shining tomorrow
But I will never stop shielding you from sorrow
The sun may stop shining one fine day
But I will always keep your troubles at bay
The earth may stop rotating on its axis
But I will never let a day pass without giving you a kiss
I love you
I think I am so lucky
Coz I have an angel like you
Whose love is enough!
To make me go weak in the knees
My love I love you so much
I keep longing for your touch
I feel so good,
I love you!
Your care and your love for me how meritorious,
And the feeling within me, how marvelous
Envisaging our future, Oh! How glorious,
As long as I live, nothing will separate us.
To all the guys in the world
I would recommend strongly
That falling in love is a must
Its importance, you must see
Don't be afraid of love
Don't let commitment make you sweat
If you get a girlfriend like mine
Happiness is all you will get.
I love you
It is love when you put your arms around my waist,
It is love when your lips you give me to taste.
It is love when you pull me out to dance with you,
It is love the way you love me everyday anew.
It is love the way your eyes brighten up when they meet mine,
It is love the way your face looking at me smiles,
It is love the way you stand up for me against the world,
It is love the way you proudly proclaim to be my girl!
It is love the way you make my happy when I am sad,
It is love the way you calm me down even when I am mad.
It is love the way you make me love you more each day,
It is love coz baby no body before has ever made me feel this way!
I love you!
Your love taught me to fly,
When I lost my arm, my wings.
Caused my eyes to stop to cry,
And song of joy my heart now sings
Daydreaming, with a smile on my face
Blissfully lost, in the sunniest of hues
Carelessly happy, oblivious to worries
Is what I've been, since I've met you
So surreal, everything has become
Life feels, too good to be true
My heart knows, this is just the beginning
Of a lot more to look forward to.
My heart beats only for you
Whenever I see you, I feel like bliss
When I come close to you my love
I feel the passion of your lovely kiss
I feel the heartbeat that grows so strong
And I become sure to me you belong
Coz there is nothing more to my life
You are my smile and my reason to survive
Feels like heaven when I am with you
You know that I truly love you
And will love you till the end of time
You are forever and forever mine!
I love you and I do this utterly
I mean it now and always, really
I'm nothing without you, I am not silly
My morning, night without you, so chilly.
She walked into my life like a ray of sunlight from above,
It didn't take time for me to fall in love.
She has become the reason for me to be,
Coz it is only she who brings out the best in me.
I love her.
I don't have any regrets in life
I don't care about the mistakes I've made
Even thinking about the worst memories
Doesn't leave me dismayed
Regardless of the things I've done
Irrespective of what I've been through
It was all worth fighting for
Because everything led me to you
I love you
You my angel and the one and only I don't want to breathe without,
This I say today and I say without any hesitation or doubt.
For you, are not only my girlfriend, but everything to me,
It is in you only that my heart is set alive and free.
I love you.
A rare blend of perfection and beauty you are
Looking ahead, I see this taking you very far.
Loving, special and gorgeous, daily through art
Lucky I am, to be with you on this lovely path
You are the prettiest
You are the cutest
If I had to invent a new word
I would call you beautifulest
You are the most charming
You are most intelligent
I have never seen someone
Who is so elegant
You are the girl
That every guy desires
Baby, I love you a lot
For you, my heart is on fire.
I want to thank God for bringing you into my life,
I want to thank God for making you the girl who is perfect to be my wife.
I want to thank God for taking all my problems away by sending you,
But most of all I want to thank God for making me complete from one to two with you!
This is the best I've ever seen
And I knew it when we did begin
Lovely and lovely, is how it's been
We are inseparable, is how I feel within!