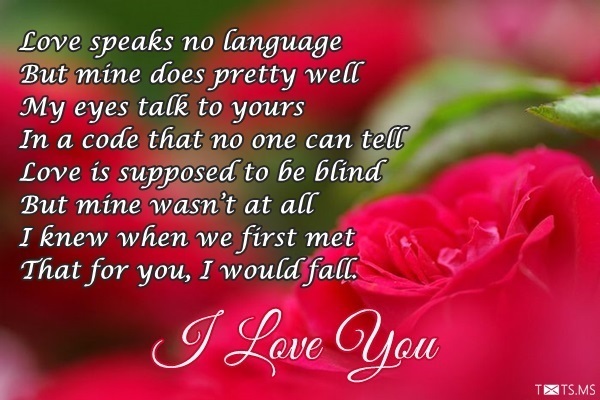 Love speaks no language
But mine does pretty well
My eyes talk to yours
In a code that no one can tell
Love is supposed to be blind
But mine wasn't at all
I knew when we first met
That for you, I would fall
I love you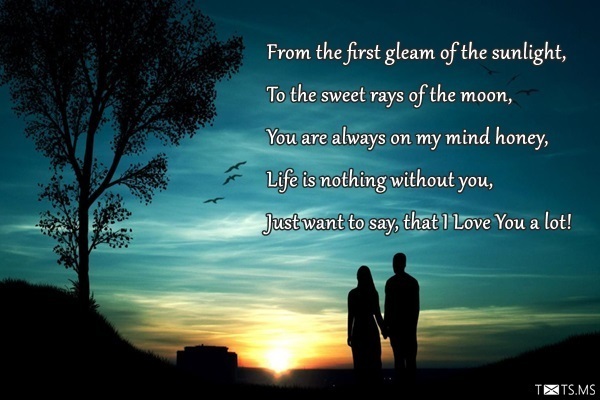 From the first gleam of the sunlight,
To the sweet rays of the moon,
You are always on my mind honey,
Life is nothing without you,
Just want to say, that I love you a lot!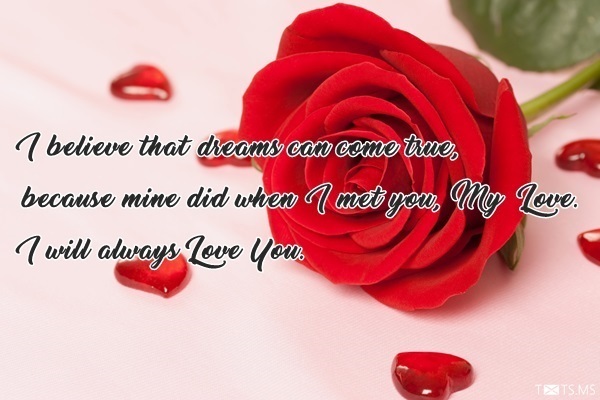 I believe that dreams can come true,
because mine did when I met you, my love.
I will always love you.
Love is not just about calling each other all day
Love is about adjusting and making way
Love is not just about walking in the rain
Love is about sharing the pain
Love is not just about sending messages and tweets
Love is about making each other's lives complete
All these facts about love are totally true
Which I realized when I fell in love with you
I love you
The more I get to know your mistakes,
your shortcomings and your limitations,
the more I love you because it just
makes me think how similar you are to me!
Our love is a mysterious bond that cannot be broken,
and will be ignited for eternity, through all battles
and struggles we may face.
Sometimes I wonder
What our relationship really is
Whether it is my weakness
Or strength and total bliss
Sometimes it holds me back
Sometimes it pushes me forward
Whatever it may be, without it
My life would be blurred
All I know is that
I need your hugs to survive
Without them, I wouldn't know
Whether I'm dead or alive.
I can't really get you out of mind,
It's a passion of one of a kind
It's called love you know,
I love you!
You are the light when there is no sun.
You are the rainbow after the rain is done.
You are the star that twinkles in the night.
You are the moon that glows so bright.
You are the wind that whistles my name.
You are the love when the world is the same.
You are the flowers the bee's never miss.
You are the beach the warm sun kisses.
I did not believe in the word love,
But since the time I met you
I have known the real meaning of it
Yes I mean it, you are my love
And you have a special place in my heart
I love you my sweetheart!
It's only love if you mean it,
And believe me, I do.
It's only love if you say it,
And I've said it to you.
It's only love if it lasts,
We'll be together always.
A love like ours is here to stay.
You are the guy
Who is the best ever
You are the person
I will stop liking, never
You are the boyfriend
Who is irreplaceable
For making me smitten
You are responsible
You are the only one
For whom I deeply care
In front of you
I'm laying my heart bare.
You make my whole world go round.
You make my whole world stand still.
You make my life worth living.
You make me the person I am!
I love you.
You are my love and I have loved knowing,
The beat of your heart and I've seen our love growing.
When we are apart, it hurts, that's true,
But seeing you again makes everything new.
Every breath I take
I dedicate to you
You are the reason for
Everything that I do
Every day that I am alive
I live by your name
Without you, my life
Would never be the same.
I love you
I cannot find words to tell you how much I love you.
You mean everything to me. Please stay by my side forever.
I love you so much.
What you really mean to me
No one will ever comprehend
It's like I want time to
Freeze right now, and never end
You make my life perfect
I mean it, I really do
I promise, I'll never change
And that's all, I as of you too.
You bring out the best in me.
You make me believe in pots
of gold at the end of the rainbow
and flying carpets and all that
is good and true in the world.
You are a positive force,
and I am so glad to be with you.
Like the warmth of the winter sun
Like the sound of a timeless melody
Like a drive on the open road
In summer, like the cool shade of a tree
Like sleeping in, on a chilly morning
Like freedom, and living life carefree
Is how I feel every single time
When I think about you and me.
No amount of distance,
pain, fights or differences
in opinion can break our bond.
We're like the best of friends
and the deepest of lovers.