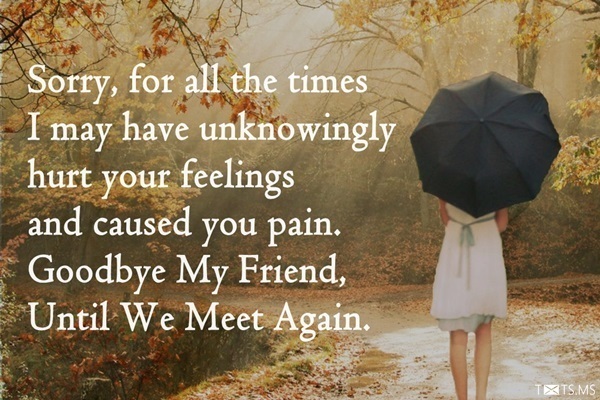 Sorry, for all the times I may have unknowingly hurt your feelings and caused you pain. Goodbye My Friend, Until We Meet Again.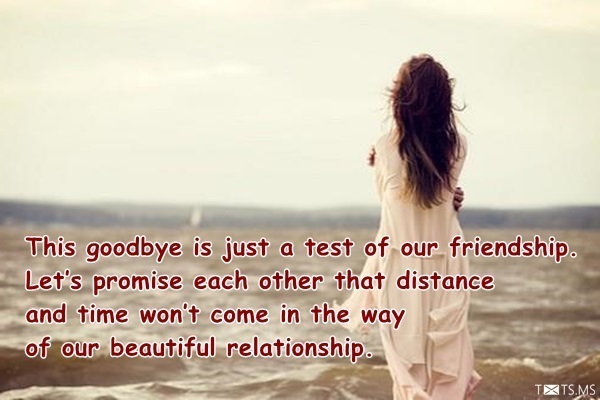 This goodbye is just a test of our friendship. Let's promise each other that distance and time won't come in the way of our beautiful relationship. Goodbye.
Saying goodbye is tough, but still not as painful as desperately hoping that destiny will bring us back together again. Farewell.
Our friendship is the best thing that has ever happened to me. Talking to you made me smile and meeting you set me free. I can't believe that fate is taking you away and ripping us apart. I just want to say that I will miss you from the bottom of my heart. Goodbye.
I will force myself to say the word goodbye, but my heart will never mean it. Goodbye.
Even though you are going away you will still be a core part of my everyday life. First I used to hang out with you all the time, and now I will miss you all the time. Goodbye.
All the beautiful memories that we have made together as friends will be cherished and fondly remembered. I guess we have a lot to keep ourselves
busy with until we meet again. Goodbye.
My heart is breaking into pieces as I see you leave. I hope you are happy that you have made me cry. You have no idea how much I am going to miss you. My life will sink into loneliness with this goodbye.
When the sun says goodbye to earth, it leaves a beautiful sunset as a gift. When friends say goodbye to each other, they leave mementos of everlasting and priceless memories. Goodbye my friend, I will miss you.
Our friendship has taken me on a magical journey which will never come to an end. Even though you are going away, we will never stop being friends. Goodbye.
You are unforgettable, the memories we share would always live in my heart, you are special and beloved and now I say goodbye.
I do not say goodbye because we will never see each other again, I say it because I know I would see you again and I cannot wait for that day to come already, so goodbye my friend, see you soon.
Goodbye is not the end, it is only a phase that would end soon and a new phase called Hello would begin, so I say goodbye friend.
Goodbye, this word has brought me so much sadness on this day that I have to tell you goodbye.
You say you will be back soon, that the distance is not forever, and I trust you very much to believe in anything you say. So goodbye for now and I await our reunion.
True friends never say goodbye to each other. They just take extended leaves from each other. Keep in touch friend.
It is easy to become friends, difficult to remain friends and hardest to say goodbye to a friend. Sorry, but I cannot do the hardest part.
Love you. Miss you. Never forget you. You will always be in our memories. Wishing you mountainous success, joyous life and loveliest farewell!
The only reason I am happy saying goodbye is because I know that life will find a way to bring us back together again. Farewell.
It feels hard to say goodbye to a friend who has been a part of my family to me throughout the past years. Farewell, I will miss you a lot.
You may see me smiling when I wish you farewell. However, I am praying desperately inside that you would come back with us soon.
I am sending this goodbye message to you to test our friendship. Let us promise that we would keep in touch and maintain our beautiful relationship for the rest of life. Goodbye my dear!
Our lives would be boring without your presence. Therefore, your departure would make all of us feel sad. Good bye.
It feels like you have just come and just going. We wish you lots of opportunities and best life. Never forget us. Happy farewell to you!
I remember all the moments we shared together my friend and I hope such days would come back again. I will miss you pal!
Keep in touch always. Never forget that I'm always there for you. I miss you a lot. Best of luck and a happy farewell to you!
The absence of a friend is going to make me feel lonely and frustrated. There is nothing good about goodbye… it makes me feel lonely and suffocated.
I feel sad, I feel depressed, I feel low and I feel sick when I think how I am going to live without you in my life. I wish you would soon come back to my life as a friend.
Life and work have always gone tremendous with you. It's best time that I've worked with you and leaned a lot. Wish you a great farewell and success!
It is easy for two strangers to become friends, but it is hard to say goodbye to a friend. Now I am facing that hard moment and I hope you would be able to feel my thoughts.
I believe that the best friends would not say goodbye to each other. Therefore, accept this farewell message as a mere formality. Farewell my friend!
Our friendship is not of breakable pearls while it is of unbreakable diamonds. Wherever you, live free. Always you in my heart remain. Good bye.