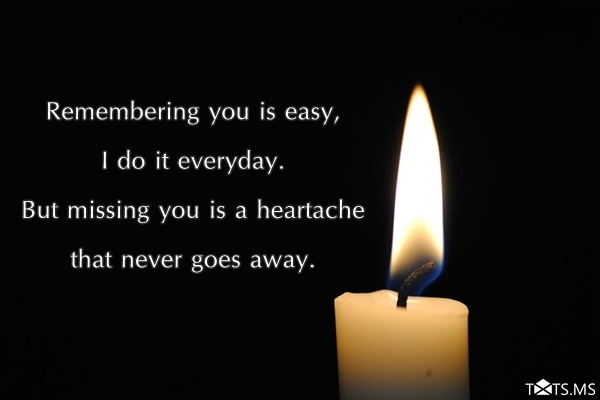 Remembering you is easy, I do it everyday. But missing you is a heartache that never goes away.
You had touched countless lives in your lifetime, and even after your death, you live through your good deeds. We miss you always!
Hoping you find strength on such a difficult day. Please don't hesitate to reach out to me if you need anything.
As each day passes we miss you more and more. Rest in peace.
I know that no words will help or ease the pain but know that you are in our thoughts and prayers.
Sadly missed along life's way, quietly remembered every day. No longer in our life to share, but in our hearts, you're always there.
A year has gone by but your memory will never fade. I love you and will forever hold you in my heart.
The saddest moment is when the person who gave you the best memories, becomes a memory.
Even though you are no longer here, you often cross my mind. I hope you are in a better place.
Losing you is my biggest regret and I miss you every day.
Having to part ways with you was heartbreaking. But there is comfort in the fact that someday we shall meet again.
May knowing you're in the hearts and thoughts of others help you and yours through this time of sorrow.
May you find strength in the love of family and in the warm embrace of friends.