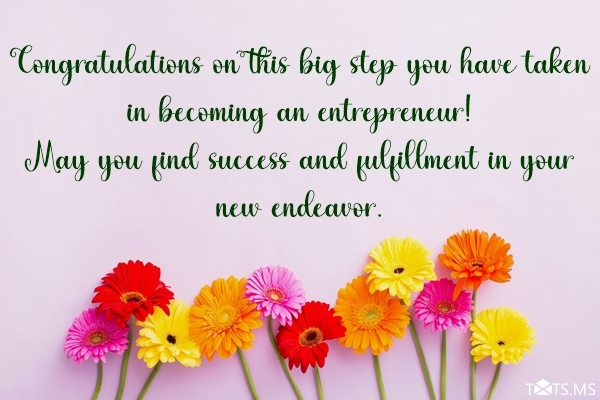 Congratulations on this big step you have taken in becoming an entrepreneur! May you find success and fulfillment in your new endeavor.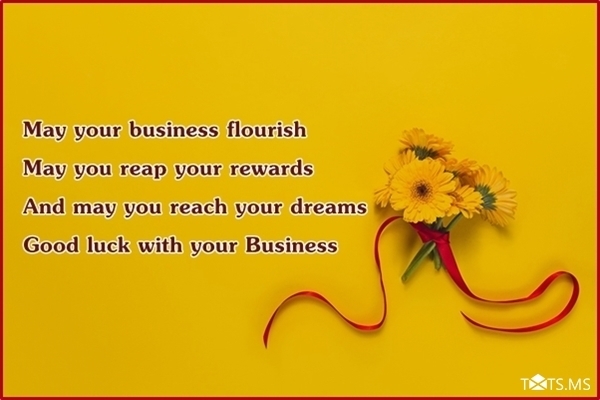 May your business flourish may you reap your rewards and may you reach your dreams. Good luck with your Business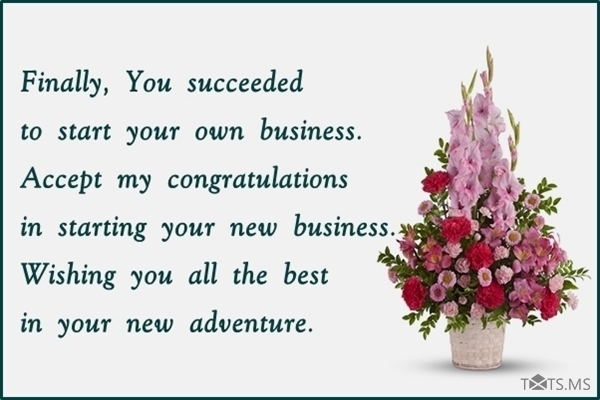 Finally, You succeeded to start your own business.
Accept my congratulations in starting your new business.
Wishing you all the best in your new adventure.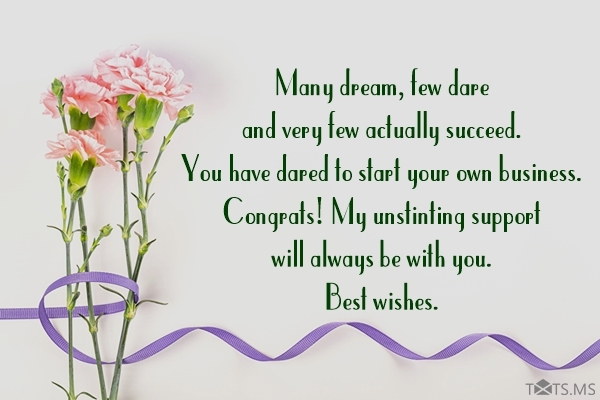 Many dream, few dare and very few actually succeed. You have dared to start your own business. Congrats! My unstinting support will always be with you. Best wishes.
Your new business venture is a bold step towards your dream. I admire you for that. Wishing you more power and passion to reach your goals.
As an entrepreneur, you have given yourself the potential to change lives. Good luck for your startup.
I believe that your business will grow and be very successful because you are a hardworking and very determined person. Wishing you all the best in this new venture you have embarked upon. Congratulations on your startup!
Your creativity and courage have eventually led you to open your own business, and I'm so proud of you. I have every reason to believe that your hard work and perseverance will lead to the success of this business. Congratulations.
Sending you the heartiest congratulations on the new business venture that you have started. It takes a great deal of courage to tread on this path you have chosen, and that makes your achievement even more impressive. I pray that this new business brings you great happiness and prosperity. Good luck.
I'm so happy to hear you have started a new business. My best wishes to you on this amazing venture you have embarked on. I wish you the best of luck, and pray that the sun always shine on the business and lead you to extraordinary success
Since you have tons of determination and pluck, the last thing you need in your business is good luck. Wish you the best.
For enterprising businessmen like you, every obstacle presents an opportunity new. Good luck.
Real businessmen know that you cannot be successful by chance. Success is a result of courageous choices based on an enterprising vision and good business ethics. Wishing you success in your startup.
You're starting something new and exciting. Making it in the business world isn't easy I'm sure you've got what it takes to prosper, So whatever challenges may come your way. I'm wishing you all the best and much Success.
Congratulations on your New Business! You now call the shots, but you also have to deal with all the grunts. You can do this. Wishing you Success and More Power.
Your dedication to this new business of yours is admirable. I know you will succeed in this as long as you don't lose your focus. Congratulations!
You've finally gone out and taken the plunge. You're venturing out on your own terms I know with hard work and determination. Your business will be very successful. Wishing you all the best in your new adventure.
Congratulations Wishes for Shop Opening
Congratulations Messages for Shop Opening
I want to congratulate you on your new business venture. May your business grow and bring you prosperity. Best wishes.
Shop Opening Wishes
Congratulations on your startup. May this new business bring you huge success and fulfillment.
Congratulations and good luck for your shop. May every obstacle in your path become an opportunity.
Congratulations on your hard work and effort. May you have all the blessings your way and a lot of customers in your new shop.
Good luck with a new shop that marks new beginnings in your life and profession.
Your shop is all about your dream, your passion and what you have always stood for. I wish you all the best in your enterprising endeavor.
Congrats and good fortunes for your shop. May each impediment in your way turn into an opportunity.
Not many of us have the guts to chuck our jobs to open their shop and pursue their dreams. Congratulations.
You left your high paying job and dared to start your own shop, which very few may think about. I pray for good business, prosperity and great days ahead!
Congratulations and best wishes on the grand opening of your new shop.
Congratulations and good luck with your new store! May every challenge you face turn into a marvellous opportunity.
Congratulations Messages for New Branch Opening
My heartfelt congratulations to you for opening a new branch of your business. May this new branch help you to achieve all your dream. Best wishes and cheers to your new office.
This new branch opening has again given you the opportunity to build what you have dreamed of with new energy and motivation.
Starting a new branch of your office was not an easy task. But your dedication, enthusiasm and efforts made your dream come true! Hope your success story will continue! Congratulations!
Launching a new branch sounds like adventure and full of excitement! Congratulations for enlarging your business and all the best for the future!
Congratulations on enlarging your business. Wishing you all the success and growth with your new branch.
Millions of congratulation on opening a new branch! Wishing you all the success and growth in the world! All the Best!
The choices and decisions you have made on your own have created your destiny. You have created the fate and luck for yourself.
I am glad that you are accomplishing goals of success so fast. Accept my congratulations on the establishment of your new office branch! Enjoy your business and step up the ladder of success!
You were persistent enough to get here where you are right now. Now you have to consistent to keep the place where you are right now. All the best.