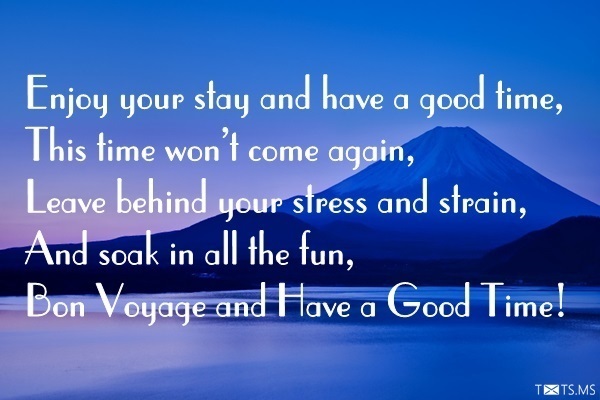 Enjoy your stay and have a good time,
This time won't come again,
Leave behind your stress and strain,
And soak in all the fun,
Bon voyage and have a good time!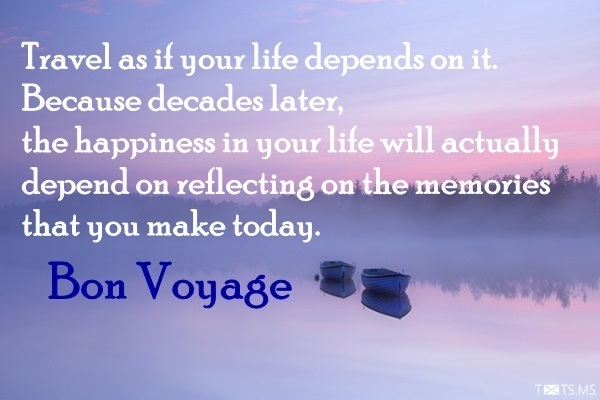 Travel as if your life depends on it.
Because decades later, the happiness
in your life will actually depend on
reflecting on the memories that you make today.
Bon voyage.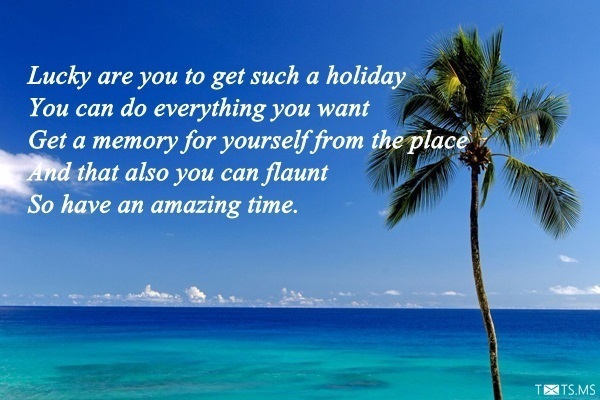 Lucky are you to get such a holiday
You can do everything you want
Get a memory for yourself from the place
And that also you can flaunt
So have an amazing time
Bon voyage to you!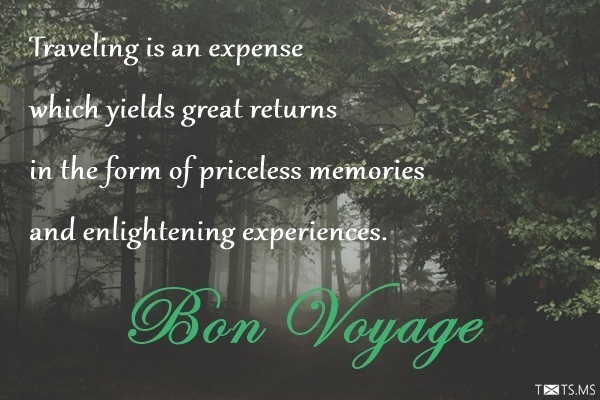 Traveling is an expense which yields great returns
in the form of priceless memories and enlightening experiences.
Bon voyage.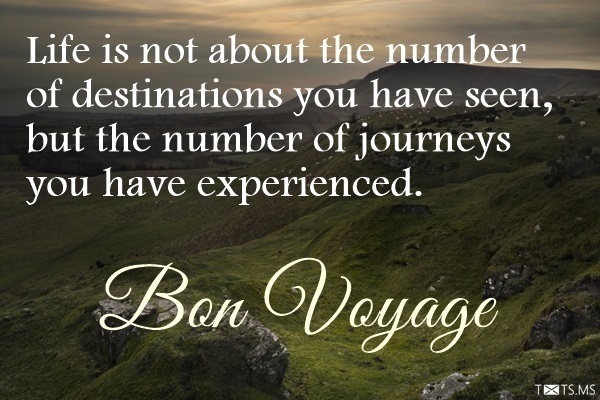 Life is not about the number of destinations you have seen,
but the number of journeys you have experienced.
Bon voyage.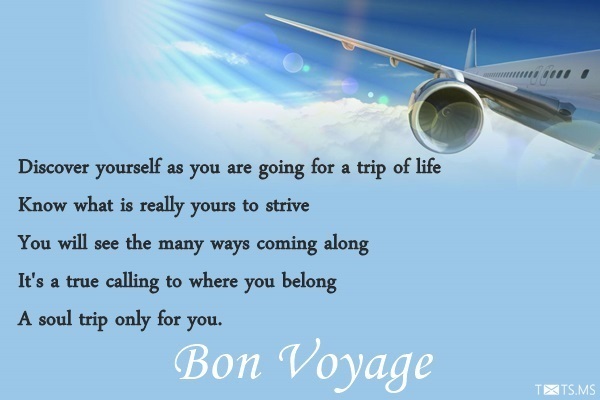 Discover yourself as you are going for a trip of life
Know what is really yours to strive
You will see the many ways coming along
It's a true calling to where you belong
A soul trip only for you
Bon voyage!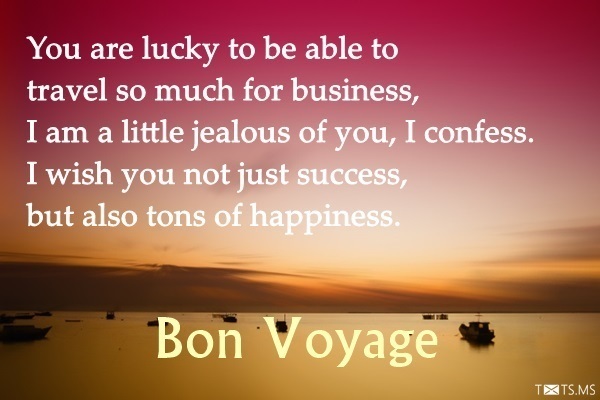 You are lucky to be able to travel so much for business,
I am a little jealous of you, I confess.
I wish you not just success, but also tons of happiness.
Bon voyage.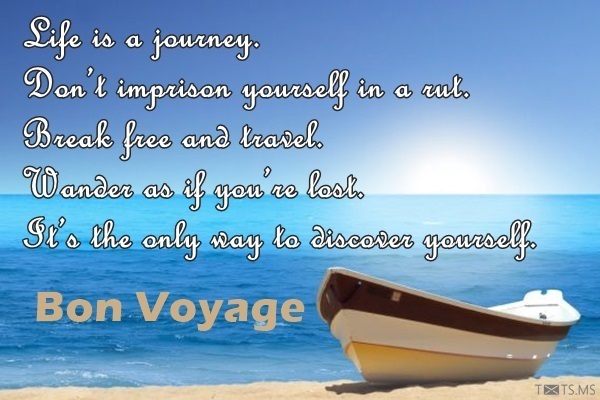 Life is a journey. Don't imprison yourself in a rut.
Break free and travel. Wander as if you're lost.
It's the only way to discover yourself.
Bon voyage.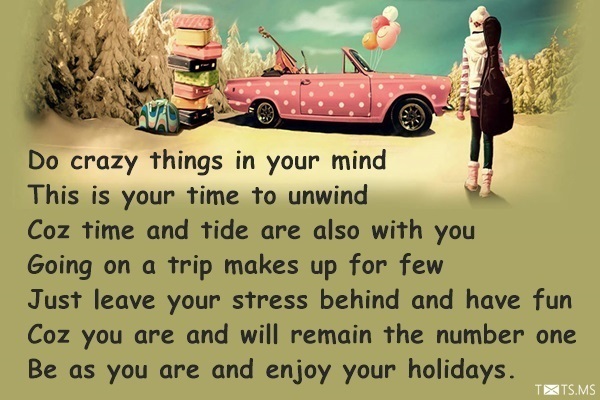 Do crazy things in your mind
This is your time to unwind
Coz time and tide are also with you
Going on a trip makes up for few
Just leave your stress behind and have fun
Coz you are and will remain the number one
Be as you are and enjoy your holidays
Bon voyage to you!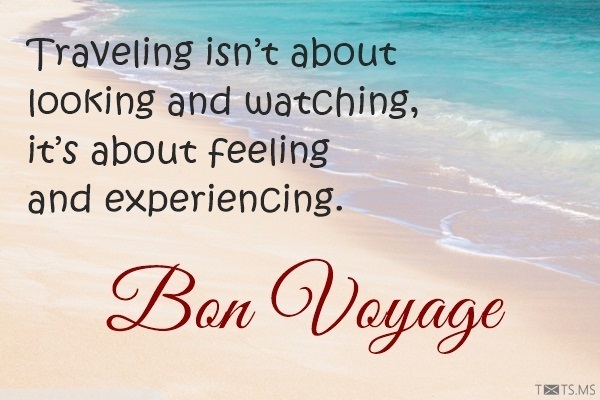 Traveling isn't about looking and watching,
it's about feeling and experiencing.
Bon voyage.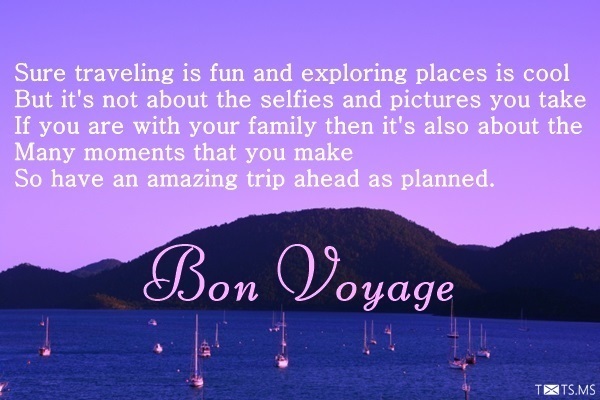 Sure traveling is fun and exploring places is cool
But it's not about the selfies and pictures you take
If you are with your family then it's also about the
Many moments that you make
So have an amazing trip ahead as planned
Bon voyage to you!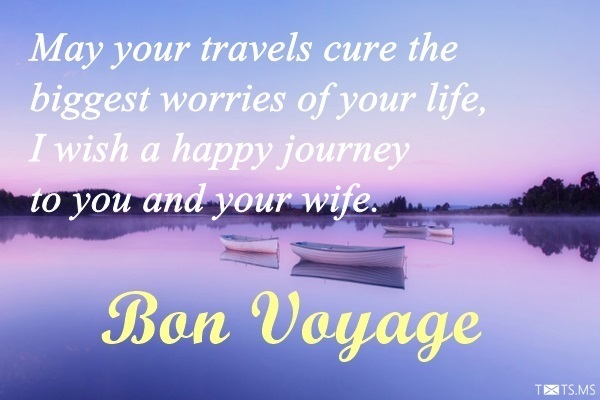 May your travels cure the biggest worries of your life,
I wish a happy journey to you and your wife.
Bon voyage.
Open your senses, feed your soul. Be carefree and let wanderlust take control. Bon voyage.
May you discover beautiful things, as you fly across the world on a plane with wings. May you have experiences that change your thinking, as you trot across to far of lands while traveling. Bon voyage.
The memories of traveling form some of the most fascinating chapters in your life' book. Bon voyage.