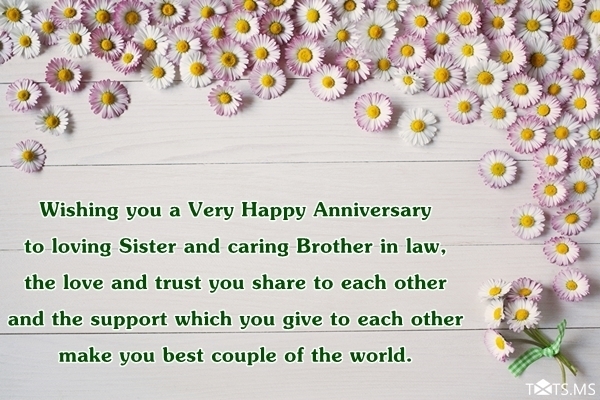 Wishing you a very happy anniversary to loving Sister and caring brother in law, the love and trust you share to each other and the support which you give to each other make you best couple of the world.
Gift of love and wishes of trust, Hope, around your relation you have built a strong crust. Happy anniversary!
Made for each other are you two, A lovely wedding wishes are here for brother-in-law and you. Happy wedding anniversary!
May your love always remain fresh happy anniversary to most beautiful couple.
I wish the happiness and love last forever in your life and you together enjoy some of the brightest color of your journey. Wishing you endless happiness and love, happy anniversary.
Many dreams of your's you still have to fulfill, And I know, with the help your love, you definitely will. Happy anniversary.
Heartfelt wishes to them who are made for each other. Hey enjoy your milestone with huge pomp and show! Congratulations Sister and Brother in law on mark of this beautiful day.
Another year of great love spent by you and brother-in-law, Now it's time to celebrate, so sip the drink with the same straw. Happy anniversary.
May this day of your anniversary bring more sweetness than last year in your relation, wishing you uncountable anniversaries together.
Great love is something that binds you, So a very happy anniversary to brother-in-law and you. Happy anniversary.
An anniversary is a time to celebrate the joys of today, the memories of yesterday, and the hopes of tomorrow. May your marriage be blessed with love, joy and companionship for all the years of your lives.
Doesn't matter how apart we are, you are still the most important person in my life. I wish you a life full of wonder, joy and prosperity to most loving and caring sister in this entire world.
May the love that you share is larger than your lives, all the best for both for you and here's wishing for a blessing and loved filled future that is waiting for you.
I see true trust within you and your husband, Wish happiness in your life is abundant. Happy anniversary!
Both you look perfect together! may you hold this perfection tight till end breath. Wishing you a very happy life in future and happy anniversary to my beautiful sister.
You have been the best sister to me, and also, the best wife, to your man you'll be. Happy anniversary.
The real beauty of your relationship is that you are always sincere to each other. May your marriage stay strong and indestructible for many years to come.
Many wishes will come your way, But choose the best one, which forever will stay. Happy anniversary.
May the love that you share last your lifetime through, As you make a wonderful pair. Sending love and hugs to my favorite couple on their milestone!
Wishes after wishes I wish for you, And a happy wedding anniversary to you two. Happy wedding anniversary!
You both stood up to the world when it was cruel, That proves, your love was true and real. Happy anniversary.
Anniversary means another way of togetherness and including new chapter of love in life. Keep loving and building memories, Have a unforgettable day.