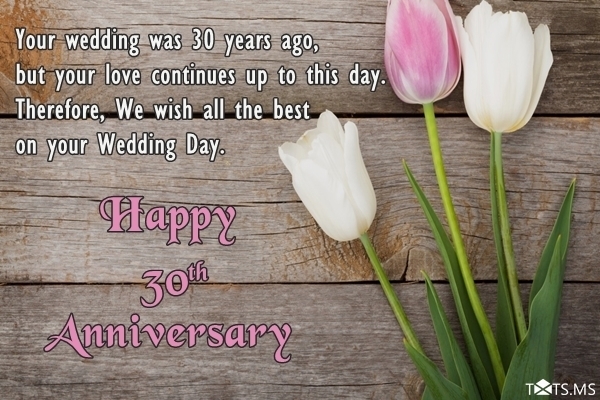 Your wedding was 30 years ago, but your love continues up to this day.
Therefore, We wish all the best on your wedding day.
Anniversary is the celebration of love, trust, tolerance and sacrifice and all.
It is your 30th anniversary, you enjoy all those things to be together. You share your tear, you give your smile each other. Your past is full of loving notes and your future is waiting for you to live. Happy anniversary.
Your happiness and good health are always in my thoughts. So, I prayed to the Almighty to shower his blessings upon you and your better half. Best wishes for your 30th wedding anniversary.
Marrying you has made my life heaven. I thank God for sending you in my life. Wishes for our 30 years of marriage.
Our strong and lovely marriage is the only precious wealth we had. Let us cherish it for life. May this 30th anniversary brings new happiness in our lives.
You are joined by the bond of love and we are the outcome of that love. Happy 30th anniversary wishes to my Mom and Dad.
You have crossed another 30 years of marriage journey with your life partner. I wish your life be filled with all the beautiful things in the world which you truly deserved. Heartiest wishes to you and your husband on completing precious 30 years of togetherness.
To my dear wife, thank you for being with me to complete the splendid 30 years of journey of our married life. I wish we will celebrate the golden jubilee of our marriage anniversary in next 20 years too.
30 years felt like just a few years, because time has flown while we've been having fun.
Sweet greeting for your 30th wedding anniversary! It's so great to find that one special person you want to bore for the rest of your life.
30 years multiplied by 365 equals the number of days I've been glad I married you. That's 10950 days, by the way.
The success of a happy marriage might never be discovered but after 30 years in love you are close to it. We wish you all the best on your special day.
On this day of completing 30 years of love and marriage, we hope to spend more 30 years of our love life together.
You count your 30 years of togetherness not by digit, but by the emotions you shared. The love and laughter, the fight and argue, all were there in your relation. But you keep your love above all and trust each other always.
You are the perfect couple forever. Happy anniversary.
You have taken up a lot of space in my heart and mind over the last 30 years. You don't just live with me. You live in me.
Love is a long, nice dream and the wedding is the alarm clock which wakes you up. Happy 30th anniversary!
Wow! 30 years is a long time to stay married, just so that you can get this card! Happy 30th anniversary!
A successful married life requires falling in love many times, but always with the same person. You've done that at least 30 times, didn't you? I am wishing at least 30 more years in love and harmony.
You've had 30 years to create the perfect marriage. Since I know you don't have a perfect marriage yet, you'll need to stay married much longer to keep working on it.
The marriage is not the entrance to a save harbor, it is the exit to the open sea. All the best for your 30th wedding anniversary.
Thanks for continuing to decide to stay married to me for 30 years in a row!
I wish you lots of love, happiness, mutuality and may all your dreams come true in the next 10 years of your marriage.