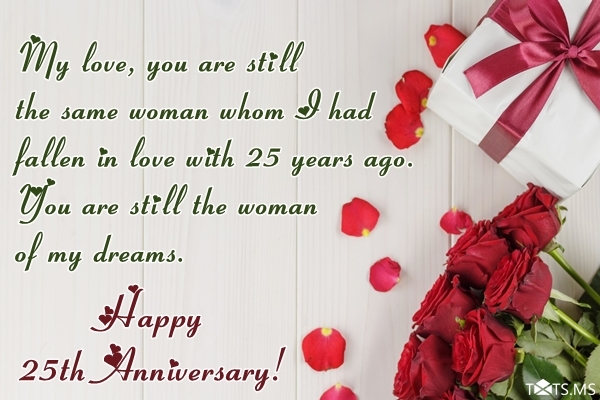 My love, you are still the same woman whom I had fallen in love with 25 years ago. You are still the woman of my dreams. Happy Anniversary.
It's been 25 years of our togetherness, I just want to tell you that my life would not be so easier without you. Happy anniversary my lovely wife.
It takes a lifetime to find a woman like you in this world. But God has been kind to me. He sent you for me and let me keep you for 25 years until now. I love you!
Tears, smiles, laughter, sadness, happiness, fights will always add spice to our married life. It is complete because of those. It is meaningful because you are there by my side for 25 years long.
We have spent 25 years together, in love, attraction, argument, romance and desire. Many storms come and go, but they never touch the love we share. 25 years is a beautiful journey and with you the rest of the life will be more beautiful. Happy anniversary.
We spend our days and nights of youth with one another. Now the period of after 25 years is going to start. I wish the same sincerity, honor and kindness between us. Happy silver anniversary.
My darling, Happy 25th Wedding Anniversary to us! Thank you for being the eternal companion of our bittersweet journey and never giving up on us. I love you!
Happy 25th anniversary my dear wife. Congratulations for the both of us for keeping the fire burning till so long. You and our children are blessings from heaven. Love the life with you sweetheart.
I can't live without you. It may sound absurd. But it is maybe because I love you too much. I wish our marriage can last forever. Happy 25th anniversary!
I can't believe we have spent so many years together. It seems like yesterday when we got married. My love for you is still fresh like the day I met you!
Every good thing that happened to my life started with you. Thank you for gifting me with the most beautiful family I could ever ask for! Happy Anniversary!
I don't remember a day in 25 years without falling in love with you. I fell for you every day and I still don't know how to lift myself up.
My life would have been a complete mess by now if you did not enter in it at the right moment. You have added so many colors into it for 25 years now that I feel like I'm in heaven!
You have such a rare combination of beauty and kindness in you. I know even if I search the entire universe I would never find a loving wife as you! Happy 25th anniversary!
Our marriage may have been a bumpy ride with many speed breakers, but that is what has made us circumvent those obstacles and fly high in the sky. Happy 25th anniversary.
A lock is nothing without a key, and my life is nothing without you. you are my key to love, joy, and happiness. Happy 25th anniversary.
Through good times and bad, through sickness and health, you're my number one, my love, and my wealth.
Among the million unresolved questions about the reasons for human existence, I've got the answer to mine – you. Happy 25th anniversary.
To my wife of many years, it never gets old to say I love you.
I feel so lucky to have a wonderful woman, a woman that made my life complete, a woman that makes my day by the time I woke up til I get home from work I Love you so much! Happy 25th Anniversary!
I know we fought together a lot on the very small issue, but the love in me for you never decreased. My love for you is the same as it was on our 1st anniversary. Happy 25th anniversary.