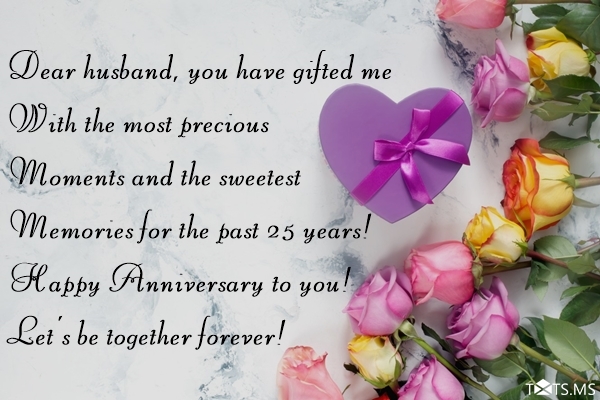 Dear husband, you have gifted me with the most precious moments and the sweetest memories for the past 25 years! Happy Anniversary to you! Let's be together forever!
It is with great joy I celebrate this day with you. To continue to love you forever until we grow old together and till death do us part. Happy 25th anniversary.
Thank you for being my husband, my partner, my lover, and my best friend till so long. Happy 25th anniversary!
Cheers at our silver anniversary my dear husband. Your 25 years with me are proof that you have serious thinking to me. Today is a special day for other members and us. Many happy returns of this day.
All these years, you have been amazing. As a dad to our kids and as my lover, I have been happy in your arms and I could see that we'll be happier for the rest of our days. Thank you for everything. Happy 25th anniversary.
You complete my life in a way I never thought possible. Happy 25th anniversary to you my darling husband.
I can't believe we have spent so many years together. It feels like yesterday when we got married. My love for you is still fresh like the day I met you!
After all these years together, I can proudly say that loving you is the best thing I have ever done, and taking care of you is the best hobby I have ever known.
We have changed over the years, but the sparkle in your eyes is as bright as ever, and my love for you is even stronger.
Every day of my life, with every breath of my being, I love you more than you can ever imagine. Happy silver wedding anniversary.
You make me happy beyond what words can express and I love you more than you even know. Happy 25th anniversary.
My husband, if I were to go back in time, I will choose you to be my life partner again and again! Happy 25th anniversary.
I don't remember a day in 25 years without falling in love with you. I fell for you every day, and I still don't know how to lift myself. I love you!
On our 25th anniversary, I want you to know how much I've enjoyed annoying you all this time and how excited I am to keep doing so in the future.
I am so lucky to have you as my husband and this is the best day of my life. Happy 25th anniversary to you my dear.
Happy silver anniversary to my husband. You are the most loyal and caring husband in this world. You always believe in equality and respect which is the most prominent factors of your personality. I will love you forever.
My love, my heart, my world, my soul mate. I am out of words on how else to describe you. Cheers to us. Happy 25th anniversary.
Our beautiful marriage has lasted this long, our bond remains ever so strong and our knot remains ever so tight. I love you always. Happy 25th anniversary.
I take pride knowing that you are my husband, the father of my kids and the love of my life. Happy 25th anniversary.
My darling, Happy 25th Wedding Anniversary to us! Thank you for being the eternal companion of our bittersweet journey and never giving upon us. I love you!
I love you not just for who you are but also for how you make me feel so many years long. Happy 25th anniversary.
I will love you for as long as eternity, which is the longest time, and my love will never fade. Happy 25th anniversary.
You are the type of husband any woman would die for. I feel lucky every day because I don't know what good I did to deserve you. Happy 25th anniversary, husband!
In the theory of my life, I learned much more from you and our relationship. I cannot think even for a second to live without you. My husband, the 25 years of the genuine partnership are delicate to you.
Very few women in this world can get a husband like you. I feel really blessed to have you beside me for all these years. Happy 25th anniversary.
I know too much time has gone when we married. The 25 years of love and understanding have worth. I wish to be with you for at least more 25 years. My lovely husband, Happy silver anniversary.
I am one of the few lucky women who got to spend 25 years of their lives with their true love. Happy 25th anniversary.
It is really an achievement to spend 25 years having significant understandings. You are my man, my role model, and my owner. I feel always happy when you are with me.
On this very special occasion, I want to let you know that you are the best husband there was, the best husband there is and the best husband there will ever be.
We spend our days and nights of youth with one another. Now the period of after 25 years is going to start. I wish the same sincerity, honor, and kindness between us. Happy 25th anniversary.
As each day passes, my love for you grows irrevocably. I wish you a very Happy Anniversary.