St. Valentine's Day is one of the best days to share your love with beloved ones. Many people can already be busy with a search for gifts for their lovers. Lucky those who do not need to cope with one more task. Now we are talking about people who need to get their online-projects ready for this very holiday. They can think of creating a romantic atmosphere on the website that will not be compared to others. In order to provide people with a warm aura and encourage them to stay longer on the website, they need to get something unusual. If you are one of these people and you need these very unusual things, you can get them here and now.
In this article, we decide to include 10+ WordPress assets to celebrate St. Valentine's Day in the best possible way. Among them, you can find different watercolor sets, illustrations, fonts, and WordPress themes to make your online-project stand out from the crowd. By the way, those people, who are searching for some materials to create their own greeting cards or invitations, will also find some pleasant things here. Let us not keep you intrigued anymore and present the most amazing assets to win your heart right now…
Valentine's Hearts Watercolor Png Illustration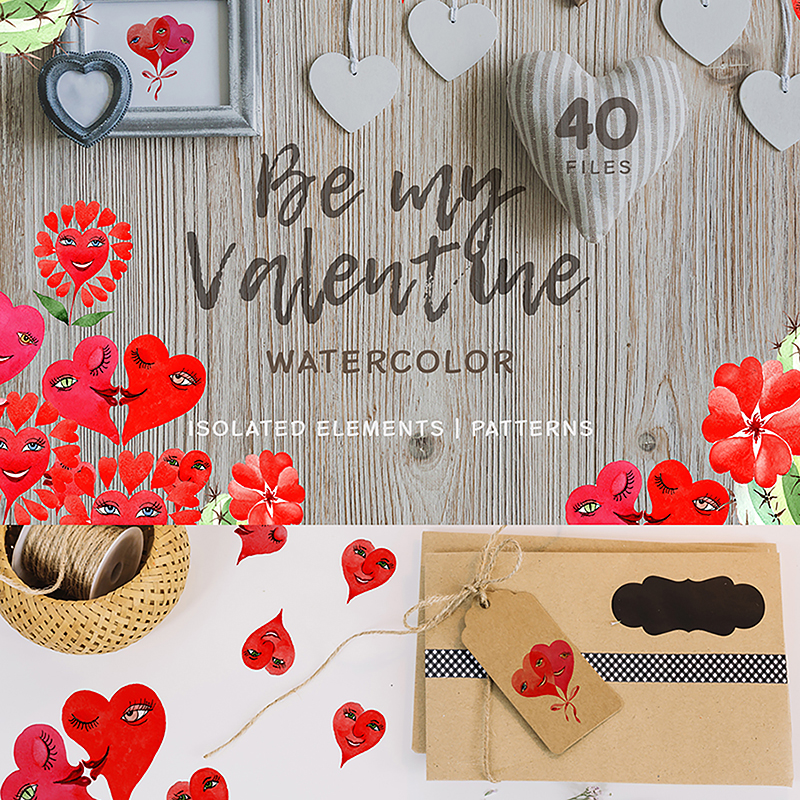 If you are looking for an aesthetically-spectacular watercolor set, this one really deserves your attention. Here you will find different kinds of illustrations that can be used in order to make your project look romantic. There are 40 files that will become your ideal choice to accomplish various objectives. You can easily create lots of stuff that will have not a boring but extremely attractive. As an example, we really offer you to include these images in your wedding invitations, posters, quotes, greeting cards, and so on and so forth. In general, there are four PNG-files (300 dpi) and 36 JPG-files (3500 x 3500 px). Among them, you will find frames, borders, patterns, and isolated images. All of them are highly-detailed. Using Adobe Photoshop, it is possible to change illustrations in their size and color. Do you think of printing these images? You will be always free to do it.
Pink Peonies Watercolor png Illustration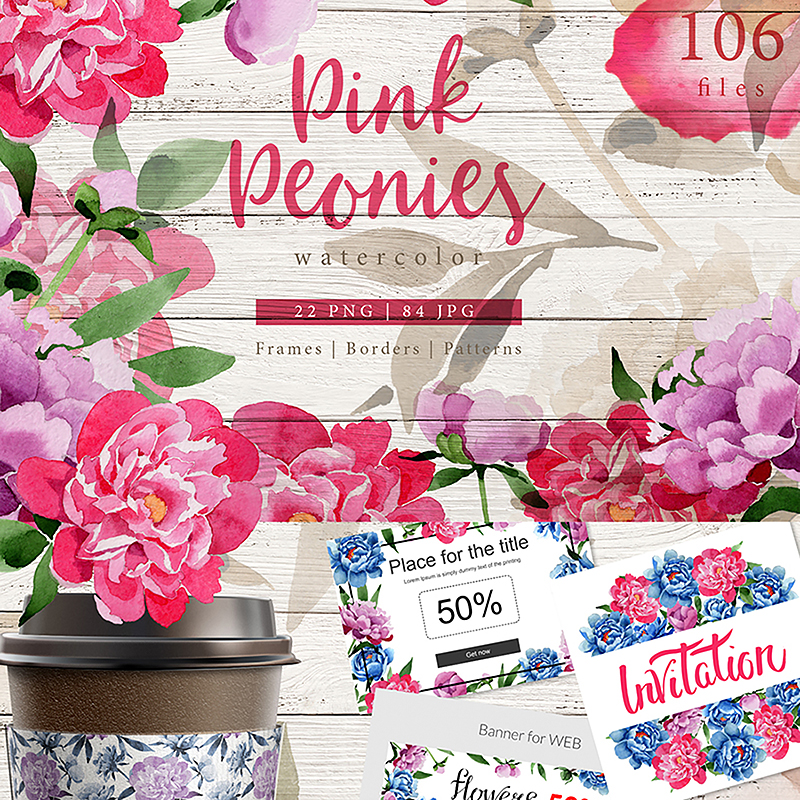 One more watercolor set that will impress your imagination with its bright and attractive design. Yet this time we are not speaking about a typical symbol of St. Valentine' Day that is a heart. We would like to present your pink peonies that will also capture the attention of people. As you can understand, this package is not a penny the worse than its predecessor mentioned on the top. There are 106 files included in this collection of aquarelle elements. Among them, you will get 84 JPG-files (3500 x 3500 px) and 22 PNG-files (300 dpi). It is also possible to use them for patterns, backgrounds, borders, and frames. In order to adorn your greeting cards, postcards, quotes, wedding invitations, and other creative things, you certainly need to choose these illustrations. If you need to make some changes (change them in color or size), you can open Adobe Photoshop and give them a look you are dreaming about.
Moon Flower – Flower Shop WordPress Theme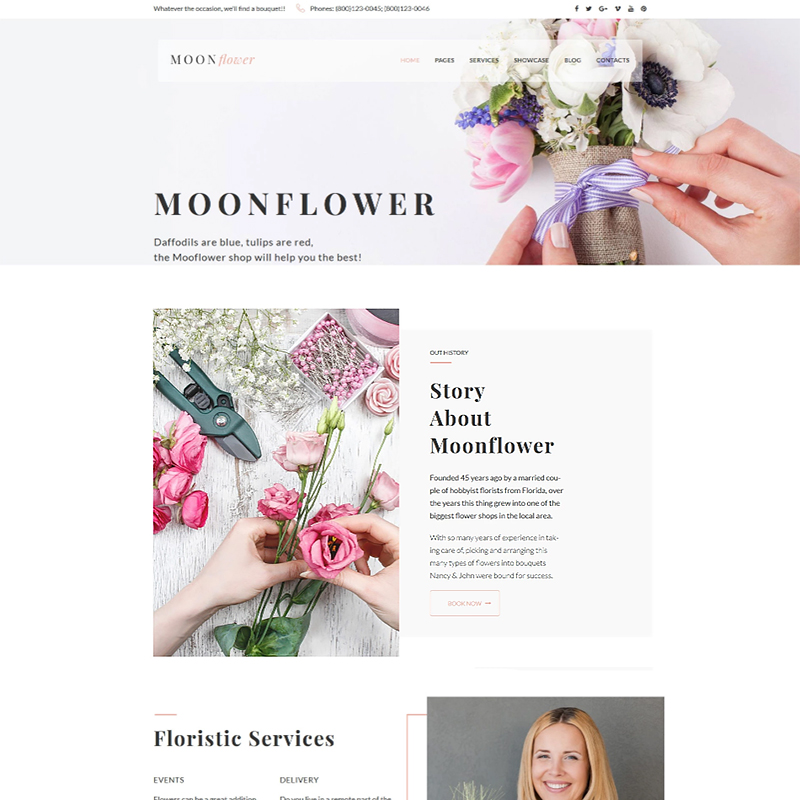 When we are talking about holidays, it is impossible to keep silence about gifts. For the reason that it is always a pleasure not only to get presents but also choose them. If you want people to purchase presents for their beloved ones exactly in your online-shop, you should grab this excellent WordPress theme. There are many tools included in its package that you will find extremely helpful. Let us get familiar with them together.
Main Features:
a drag-and-drop builder that allows building your pages without coding;
an ultimate package of Cherry Plugins to showcase services, team members, and testimonials;
multiple layout options to choose from;
different content modules that allow adding buttons, pricing tables, sliders, and other elements to your online-project;
a fully-responsive design that allows using different devices to browse your website;
seven marvelous header layouts;
lots of custom widgets to provide your website with advanced functionality.
Lovely Monograms: 26 elements in 3 color variations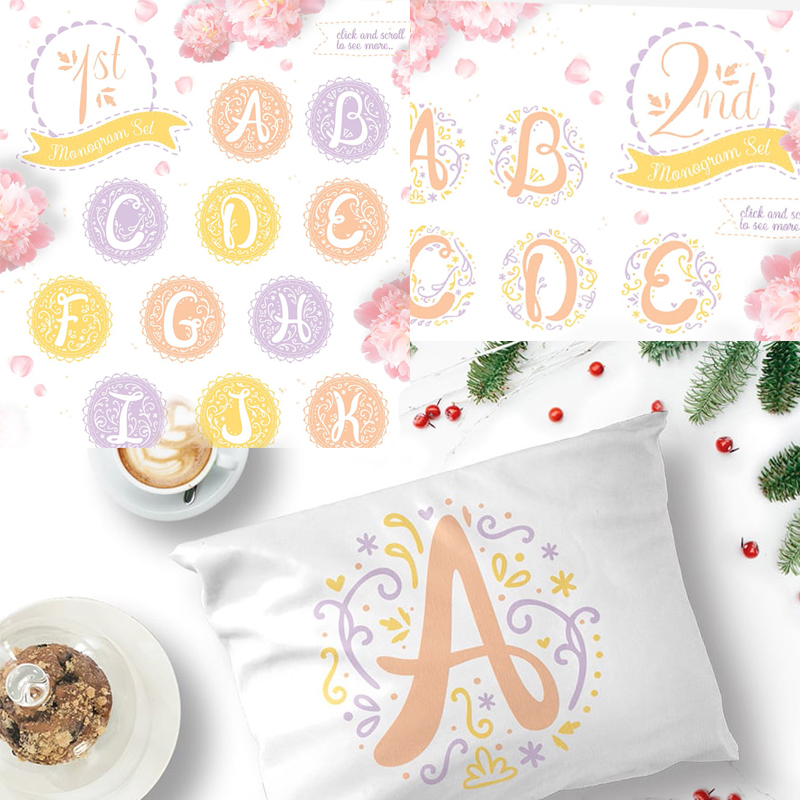 We are definitely in love with these cute monograms from MasterBundles. For the reason that they make it possible not to limit your imagination. You can create impressive cards, invitations, and different types of decor by means of them. There are some things about them that you should learn.
What Does This Package Include?
The First Monogram Set:
26 items that are available in three color variations (pink, violet, and yellow);
all in individual PNG and three ESP10 set;
Size – 3000 px.
The Second Monogram Set:
26 excellent items;
all in individual PNG and three ESP10 set;
Size – 3000 px.
Bonus:
Five graphic items that will make it possible to grab even more attention.
Some Additional Files:
you can download links used in the package (.txt);
info on the color palette (.jpeg).
You should also notice that PNG-files have a transparent background. Those of EPS10-format are vector files. They can be edited in size. Open them in Adobe Illustrator.
Geraldine – Vintage Fashion Blog WordPress Theme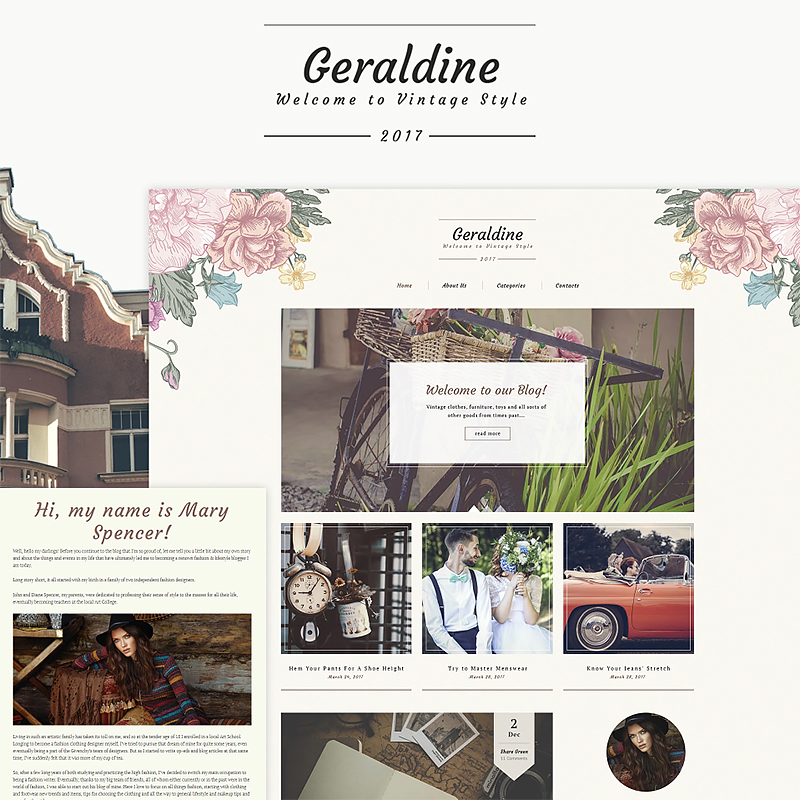 Geraldine is a modern WordPress theme that will meet all requirements of those people who want to create a fashion blog. It has a stylish design that really cannot be compared to others. Each of its elements was carefully crafted which means that your website will correspond to the latest web-design trends. Your future website will become an attention-grabber that more and more people will decide to take a look at. There are even more reasons to choose exactly this fashionable ready-made solution. You can find out more about them below.
Main Features:
a special bonus in the form of relevant images;
such custom widgets as a carousel, post slider, social media widgets, and many others;
an amazing WordPress Live Customizer that includes multiple customization options and allows making changes in a real-time mode;
a modern collection of Google Fonts to choose from;
a mobile-first and fully-responsive design to provide people with the best user-experience ever.
Hearts and Arrows Valentines Clipart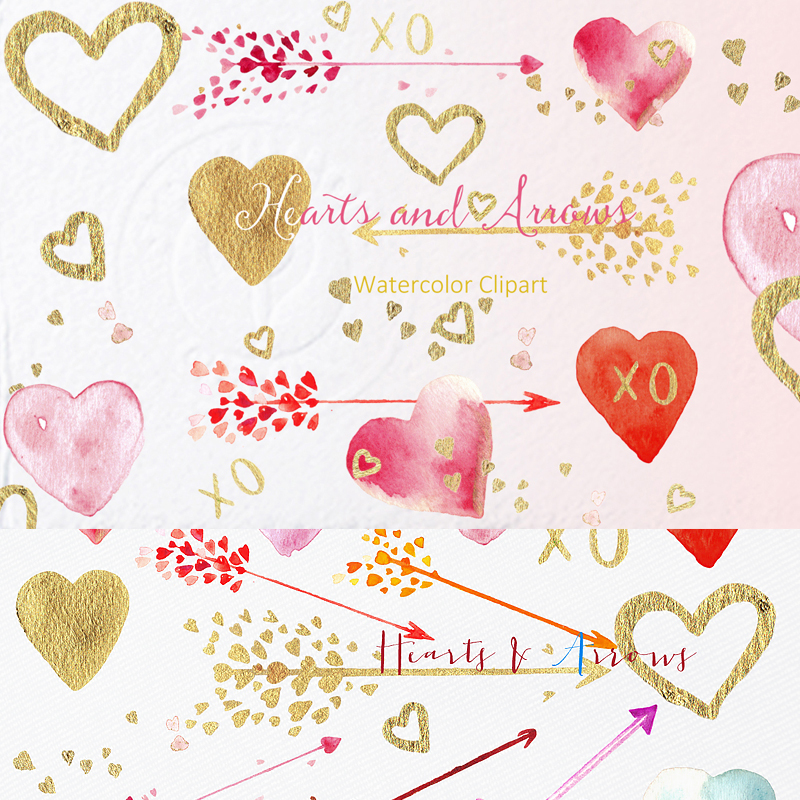 We have already mentioned a watercolor set with hearts. Now we want you to take a look at hearts and arrows clipart that also deserves to be recognized. These graphics were hand-drawn which means that all of them are meant to impress all possible people. Everyone will turn out to be a fan of your talent if you decide to try your luck using this digital clipart. You can use these illustrations to create cards, invitations, and many other things. If you are crazy about scrapbooking, you will also find lots of helpful things in the package.
The Package Will Gladden You With:
all elements were painted on the watercolor paper;
all images are 300 dpi (and a watermark is not included in the files);
1 ZIP with 18 PNG and 18 JPG (with the same coloring on the transparent background);
all elements have different sizes (from 100 x 100 px to 1200 x 1200 px).
100 Typography Logos and 100 Frames Bundle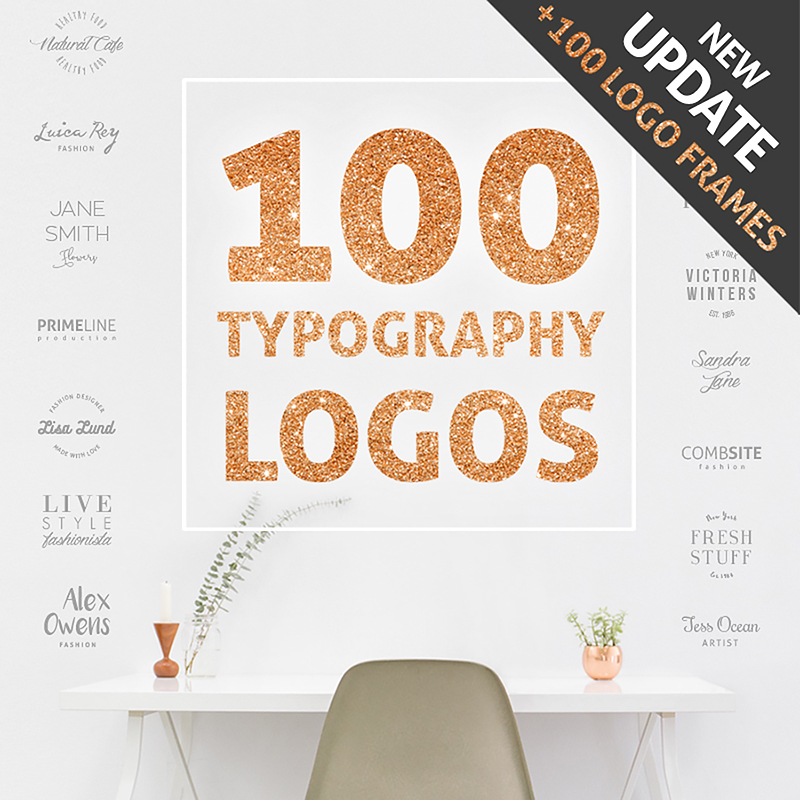 Choose this typography logos if you want to get a perfect combination of style and attractiveness.
What Will You Get Together With Your Purchase
100 typography logos:

Part 1: 50 typography logos for personal and commercial use;
Part 2: 50 typography logos created mainly for personal use;

100 logo frames;
AL, EPS, and PSD-files (all of the are fully-layered and fully-editable);
CMYK color-mode;
300 dpi;
1 font list with links to download and some additional information.
How to Work with Files?
Open a logo-file (AI, EPS or PSD).
Choose a logo and look which font is required for the logo you have selected.
Download those fonts that you need and install.
Add your text to the logo and color if there is a need to do it.
Copy your new logo and them to your business cards, brochures, websites, blogs, and so on and so forth.
Everything is ready. Now you can create your logo designs in a flash.
Love Story – Valentine Watercolor Kit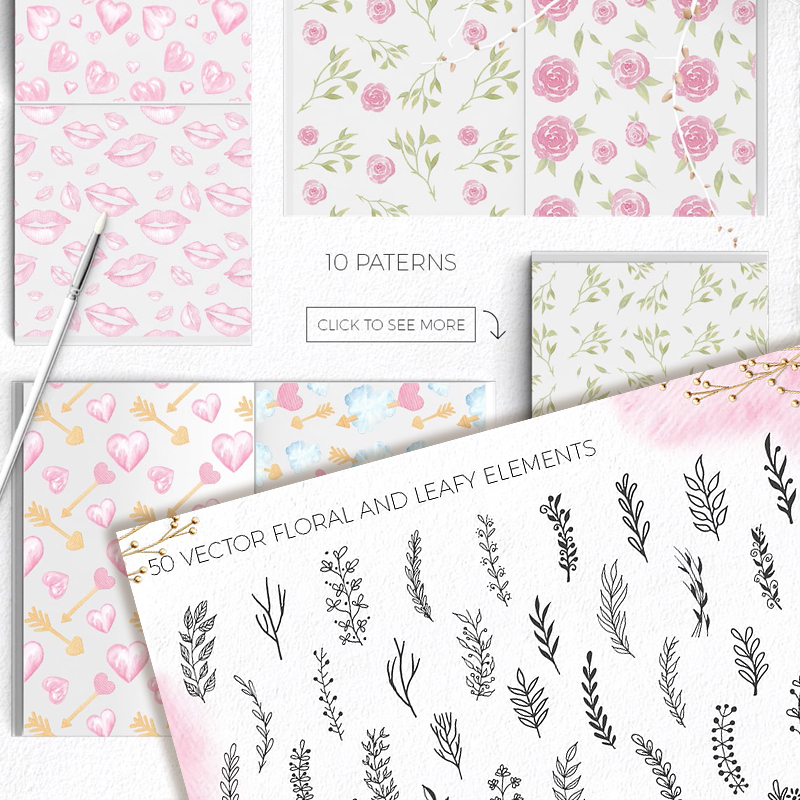 If you are searching for a little (or big) collection of hand-drawn illustrations, we have something to gladden you with. Actually, there is even more. You are going to get eye-catching patterns and decorative elements that will make a strong impression on everyone. It is possible to use these graphics for different purposes. Posters, romantic cards, postcards, book and notebook covers, quotes, greeting cards, and many others.
Illustrations, Illustrations, and Again… Illustrations:
21 watercolor floral and leafy elements (isolated PNGs at 600 dpi);
9 watercolor subtle textures (isolated PNGs at 600 dpi);
20 watercolor hearts and balloons (isolated PNGs at 600 dpi);
10 watercolor seamless patterns (isolated PNGs at 600 dpi);
50 vector wreaths (EPS + isolated PNGs);
50 vector heart-shaped wreaths (EPS + isolated PNGs);
8 watercolor couples (isolated PNGs at 600 dpi);
30 watercolor decorative elements (isolated PNGs at 600 dpi);
50 vector floral and leafy elements (EPS + isolated PNGs).
Mega Fonts – Bundle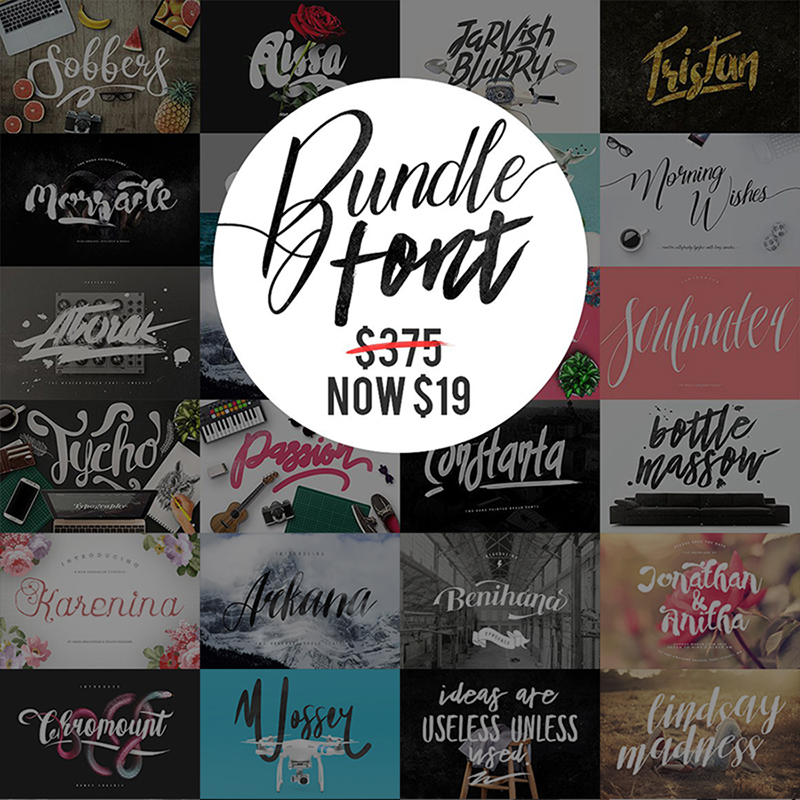 This bundle is overloaded with different fonts that have different styles. It does not matter what texts you want to adorn by means of them. You will always find something that will suit your special purpose. As an example, you can use them in various creative projects and include them in:
logos;
headings;
posters;
wedding invitations;
T-shirt designs;
badges;
signatures;
letterheads;
signages;
labels;
news;
and many-many others.
If you are interested in taking a glance at the names of these fonts, you can get familiar with all of them below.
Wolf Reality
Soulmater
Arkana
Elrotex
Jarvish Blurry
Roselowe
Sottafles
Passion
Constanta
Mornin Awesome
Morracle
Asia Otasi
Valdemar
Wosser
Sobbers
Rissa
Karenina
Morning Wishes
Tristan
Bottle Massow
Tycho
Atora
Zurich
However Store
Palm Brush
Stunning Red Tulips PNG Watercolor Set Illustration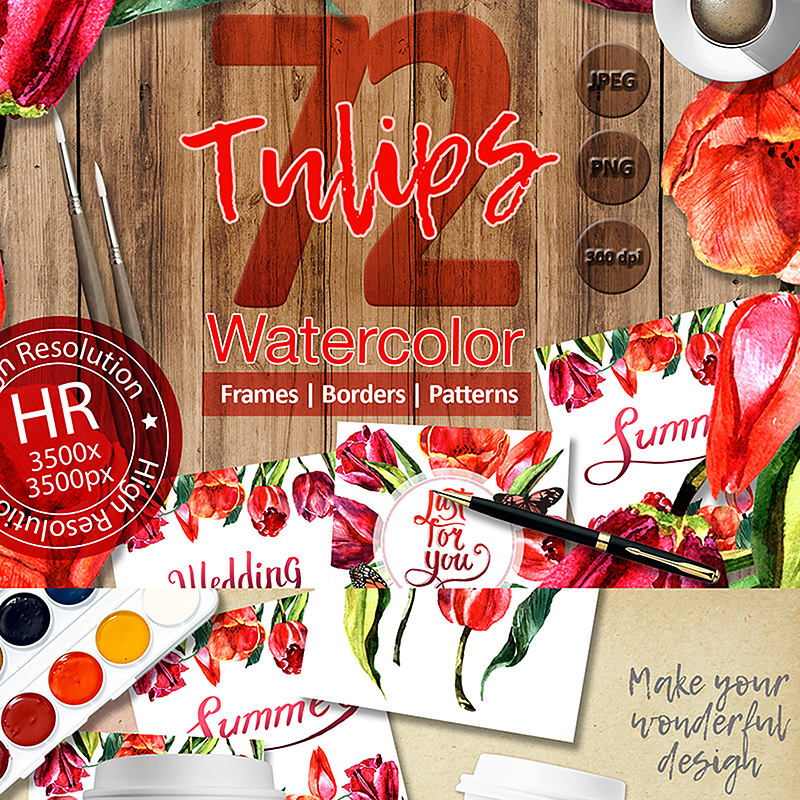 If you want to decorate your projects with passionate red tulips, you cannot pass by this small collection of illustrations. Here you will find lots of variants to create a romantic atmosphere and impress all possible viewers. Below you can find all needed details concerning these images and their properties.
Main Characteristics:
a watercolor set consists of 72 files to choose from;
ideal materials for creating wedding invitations, quotes, posters, greeting and romantic cards, postcards, and many other projects;
can also be used to decorate blogs, online-shops, ordinary websites, and so on and so forth;
various frames, isolated images, borders, and patterns to make use of;
aquarelle elements can also be used to create backgrounds;
fully-editable images (change their colors, sizes, and other aspects by means of Adobe Photoshop);
graphics are presented in PNG-files (300 dpi);
patterns are presented in JPG-files (3500 x 3500 px).
Stunning Roses PNG Watercolor Set Illustration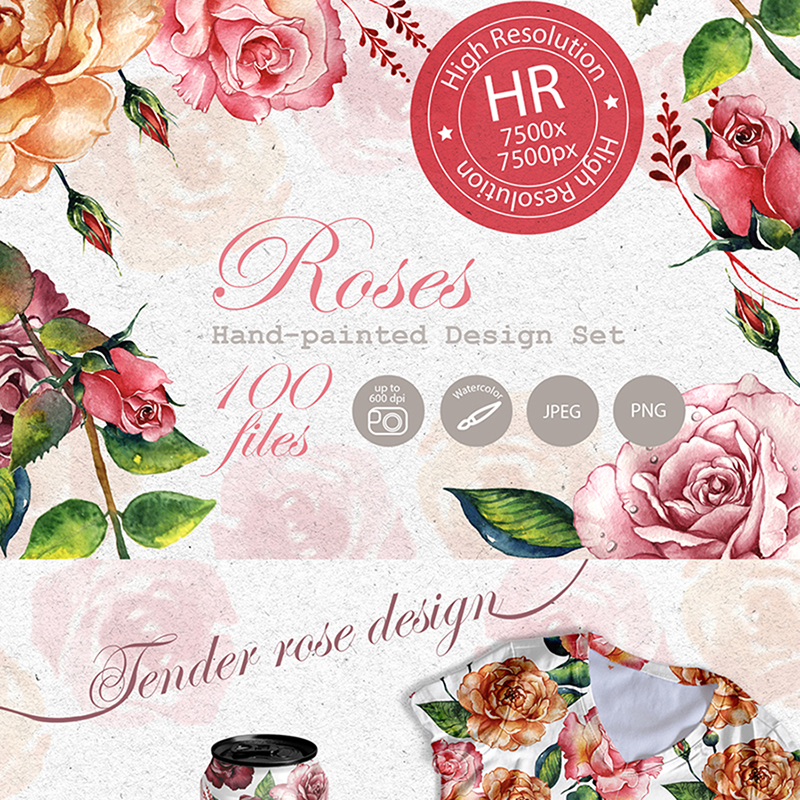 If illustrations of wild red tulips are not enough for you, we have more watercolor sets to provide you with. As an example, you can take a look at this collection of images. This time they will be with tender and cute roses. There are some main properties of them that you should be aware of. Give them a look here and now.
Main Characteristics to Take Into Consideration:
every image is a separate file;
graphics are PNG-files (300 dip without background);
patterns are JPG-files (7500 x 7500 px);
excellent frames, patterns, borders, and isolated images;
fully-editable (you can change their sizes, colors, and other aspects by means of Adobe Photoshop);
images are hand-drawn;
all illustrations are highly-detailed;
an opportunity to print all elements for anything your soul want;
can be used in order to create posters, postcards, quotes, wedding invitations, greeting cards, and so on and so forth.
Free Printable Valentine's Day Tags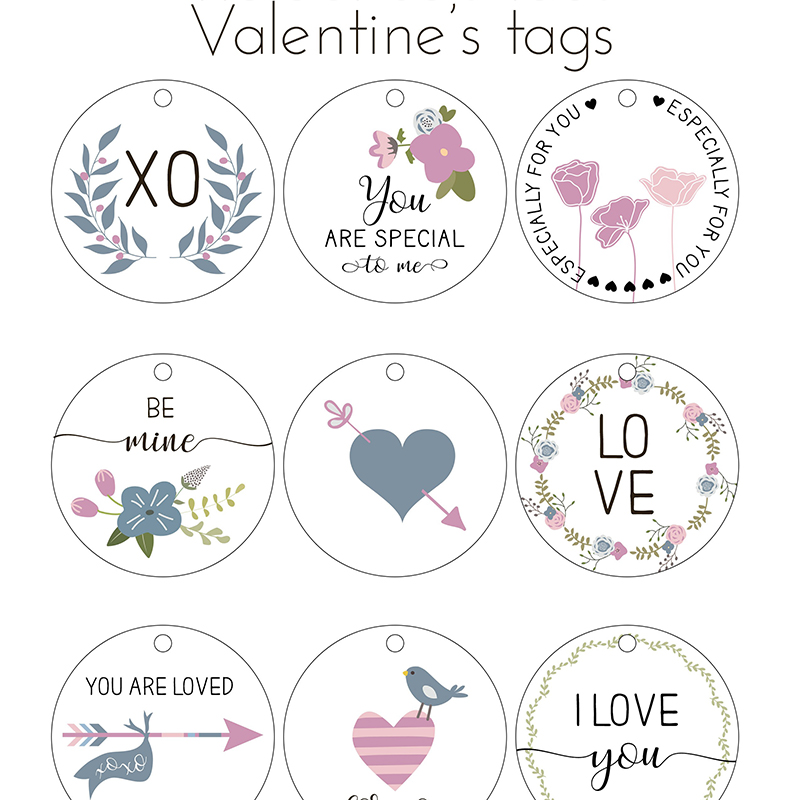 You may find various tags on the Internet. Yet it can be difficult to find those which can become a perfect fit for St. Valentine's Day. These tags will certainly make it possible to impress people and get more of their attention. There are some of the titles that you can find on them:
be mine;
especially for you;
you are so special to me;
I love you;
you are loved;
for you;
and some other nice words.
We hope that it will be possible for you to declare your love by means of these stunning assets. Show your love by creating the most impressive online-projects ever. Thanks for reading!