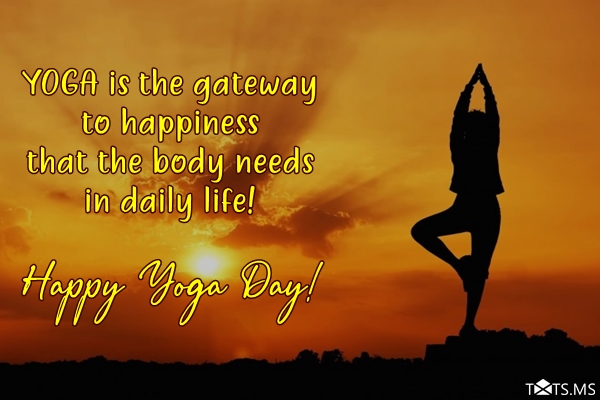 YOGA is the gateway to happiness that the body needs in daily life! Happy yoga day!
Happy soul, fresh mind and healthy body. All three can be achieved with yoga! Happy Yoga Day.
When you embrace yoga, you are actually accepting the good thing around you. Happy Yoga Day.
The most important pieces of equipment you need for doing yoga are your body and your mind. Happy Yoga Day!
Live long and healthy life. Each aasan a day keeps illness away. Enjoy yoga!
Become friends with happiness and health with yoga and meditation. A very Happy International Yoga Day.
Yoga is all about striking a balance in life and therefore, you must make it a part of your life. Happy Yoga Day!
Yoga implies, Addition of Energy and subtraction of wasting energy, Strengthen the Beauty of Body, Mind, and Soul with Yoga.
Yoga is Like Music. The Rhythm of the Body, The Melody of the Mind, and Harmony of the Soul Create the Symphony of Life. Happy International Yoga Day!
Want to live a disease-free life. Pour habit of doing regular yoga.