The popularity of website builders is on the rise today. These are in the great demand among the expert webmasters and beginners alike. Using a business website builder is the win-win solution for everyone who looks forward building a website without hiring a web developers. As a rule, website builders are easy-to-handle even by beginners who have little to no programming skills.
With the growing number of website builders, choosing the one that will be the right solution for your own online project is not as easy as one may think. So, we've decided to help you make the right choice with the help of the quick review of the top website builders, their features, and pricing plans.
Why Do You Need a Website Builder?
Website builders are the impressive assets for everyone looking for the quick and usable solutions to get started with the personal or small business online projects without investing extra cash and efforts in the web development routine. A website builder is the best solution for you if:
you need to launch a blog, landing page, a small business site or a personal brand;
also if you want your website to include the online store functionality;
then if you launch a startup and want to bring it to the web ASAP;
and if you do not have extra time and budget to pay for the services of freelancers and web design studios.

How to Select the Best Website Builder
Before we move to the review of the top website builders, we recommend you to write down the goals of the site creation that you pursue. What are the features that you expect the website builder to include? What functionality is indispensable for your future online project?
For example, if you decide to launch a blog or a personal portfolio site, then you may write down things like photo gallery, slider, commenting system, newsletter subscription form, advanced search, etc. In case you do not know what particular elements can be present on your web page, then check out what your competitors offer. This will help you to get inspired for choosing the optimal functional filling for your own web page.
Additionally, most of the website builders offer free trial versions. So, if you cannot decide whether or not a specific site builder matches your needs, you can check out how it works and feels without spending a single dollar.
Also, you should mind that your demands will grow as your blog or website evolves. That is why it's important to check whether or not the chosen page builder is capable of handling your needs as your business grows.
That being said, let's get straight to the list of the top website builders on the market.

This is one of the most popular drag-and-drop website builders offering explicit sets of tools that can be used for the quick start of any small to medium-sized online project of yours. This is a usable solution featuring an intuitive WYSIWYG interface that can be handled even by the non-techies easily. Since its launch in 2008, MotoCMS has attained an impressive community of fans and supporters who use the page builder to create business websites, professional portfolios, and even eCommerce projects. In order to get started with your website in a couple of days, you need to select a ready-made design from 700+ templates that are intended to be used for niche-specific online projects. Next, you will be provided with the access to the admin panel featuring the drag-and-drop page builder. With its help, you can tweak the theme's layout just the way you want, watch all changes in the real-time, and get your project online as soon as you are pleased with the final results.
Pros
All MotoCMS templates feature free 14-day trial versions.
All designs are 100% responsive.
MotoCMS supports eCommerce functionality, making it quick and easy to launch web stores on its basis.
Free 24/7 lifetime support and updates are included.
Web developers will enjoy White Label functionality that the themes include.
Cons
There isn't a fully-fledged blogging platform.
The page builder doesn't offer the possibility to create custom designs from scratch.
Pricing
The cost of MotoCMS themes varies from $199 to $229.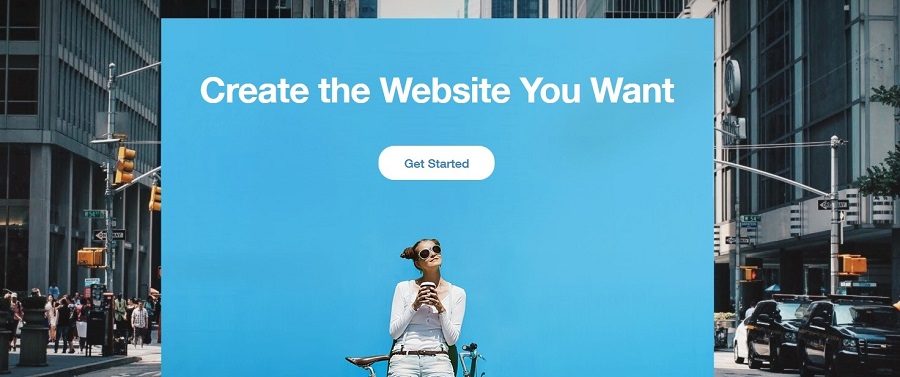 Wix is a cloud-based website builder. This is the all-inclusive solution providing you with an explicit set of tools and features that you will need to build your own website.
Wix is one of the first website builders that were presented on the web. Intended to be managed even by the newbies, the page builder is made to be simple and rather intuitive. There are 300+ basic themes available. Also, you can play with the image filters, video templates, etc. The extensive blog and help center provide customers assistance.
Pros
Choosing Wix, you do not need to pay for hosting because this is a fully hosted platform.
There is a selection of pre-designed templates that you can use to build sites, using the power of the drag-and-drop website builder.
The builder includes free and premium apps that are ready to be installed on your site. Some of these apps are created by Wix, others are crafted by the third-party developers.
Cons
Free and Connect Domain plans will show Wix ads on your site. In order to remove these, you will need to upgrade to the Combo or Unlimited premium plans.
The cheapest premium plan ($5/mo) allows you to connect a domain name. Still, you need to buy a domain name separately.
Pricing
Wix offers free and premium plans, starting from $5/mo.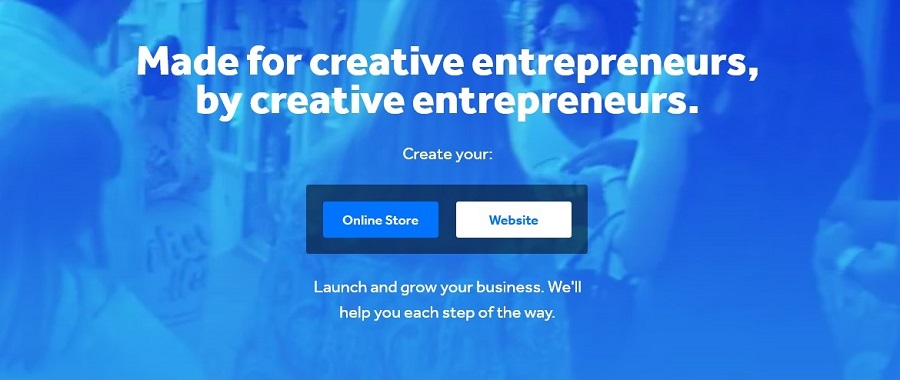 Here is one more well-established web solution that has proven to be one of the top website builders on the market. Weebly is an easy-to-use drag-and-drop website builder featuring tons of usable features, which make it possible to bring the necessary changes to websites in the visual mode. Although the page builder is known for its intuitive design and affordable price, the builder is rather limited in terms of its utility and forces. Using pre-designed themes, you can build a website and eCommerce platform code-free.
Pros
Weebly is a hosted platform, so there will be no need to install and manage the software.
You may feel free to choose from dozens of ready-made designs, which are intended to be modified by means of the drag-and-drop page builder.
If you need to enhance your web page with eCommerce functionality, Weebly allows you to add the respective functionality to your site and start selling.
Weebly offers a range of built-in tools like photo galleries, sliders, and contact forms, which can be integrated into your web page with a few clicks.
Cons
Since Weebly is a fully hosted platform, you are limited to those features that you are offered.
In order to avoid the additional 3% fee for every purchase made on your Weebly-based eCommerce site, you will need to upgrade to the premium business plan.
Pricing
Weebly offers free and premium plans, which start from $4/mo.

This one more well-establish website builder that allows you to create a fully-featured website and staff it with everything that's needed to bring your business to the web. One of the strongest characteristics of the page builder is its ease of use. Still, GoDaddy is the better option for the development of smaller websites.
Pros
The website builder is easy and intuitive enough in order to build professionally-looking web pages.
The page builder has integration with the photo library featuring high-quality images from Getty Photography. The page builder also lets you upload your own images to the galleries.
Also the page builder performs well on smaller screen sizes. This allows you to bring changes to your site's layout on-the-go, while simply working on your smartphone or tablet.
Cons
The page builder is not as feature-rich as the majority of its competitors.
Once you build your site on GoDaddy Website Builder, it will be hard to move your site to a different platform like WordPress.
Pricing
Free trial available, premium pricing plans start from $167.99/mo
That's our hand-picked collection of the top website builders that you can use for the code-free site development. Which of them have you ever tried? Is there a different drag-and-drop website builder that you thing is worthy to be mentioned here? Feel free to share your suggestions with us!