Each website has its specific objectives. Yet all of them are united by one single purpose – to reach out to a target audience. There is a great bunch of tricky things that you may use in order to allure as many people as possible. Actually, we have already learned what tricks can attract potential customers to a powerful landscaping business. What is more, we want to share these secrets with you. For this reason, in this article, you will find a collection of impressive
landscaping WordPress themes
. We tried to include the most eye-catching and powerful solutions that will assure your customers that grass is not greener on the other side. It's greener where your company is.
Why Opt for These Marvelous Landscaping WordPress Themes?
All of them have expressive designs. This means that your message will definitely hit the target. In general, you can be completely sure that you will gain a lot of attention from your viewers.
One more strong point of these ready-made solutions is their functionality. Without a doubt, these good-looking WordPress themes will impress your imagination with their features. For example, in order to create a unique structure of your pages that will suit your online-project at its best, you can use a fully-fledged drag-and-drop builder.
Don't forget to use a great bunch of plugins that will add more credibility to your website. For the reason that you can introduce your services and its full list of advantages, your team members and their skills, and other crucial points regarding your business.
We think that your landscaping business is only waiting to get its recognition. For this reason, it's time to choose your perfect theme and start promoting it on the web right now…
Jardinier – Bright Landscaping Services WordPress Theme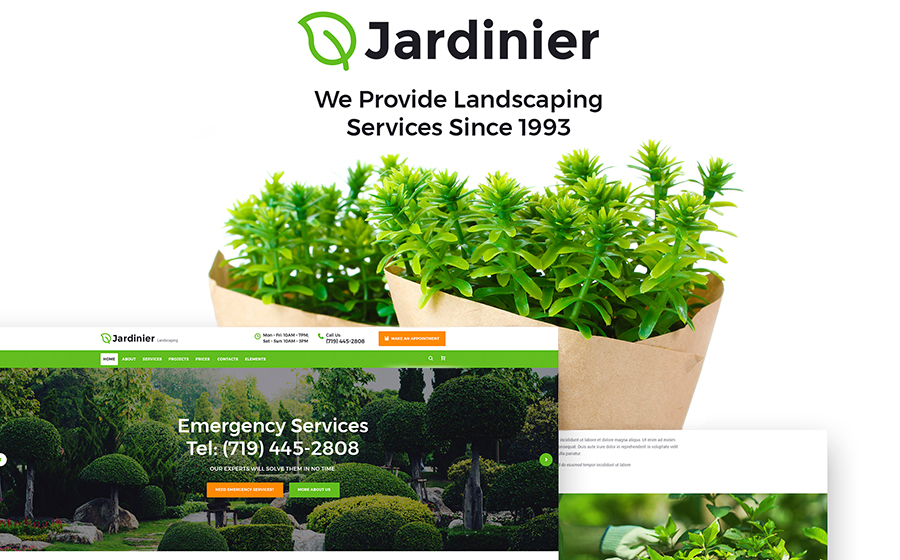 If you come up with an idea to make a stir on the Internet by means of your landscaping website, you should take a glance at this marvelous theme. With the help of various impressive tools, you will be ready to arrange your appointments, present reviews on your services, and master your projects. Furthermore, you will get different types of headers and footers. Vibrant color schemes and eye-catching Google Fonts will assist you in building a tailor-made website.
Lawn Care – Impressive Lawn Mowing & Landscape WordPress Theme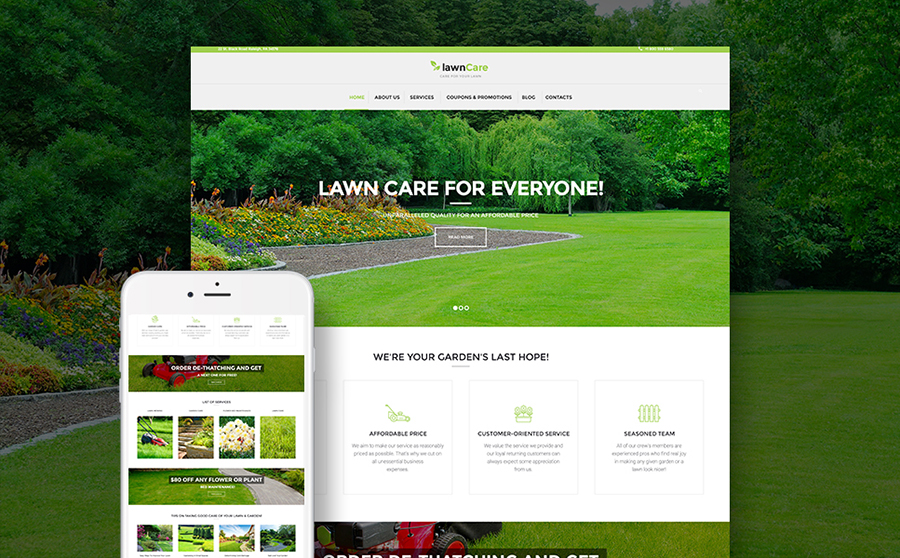 A modern template that will allow you to express the identity of your lawn mowing business in the best possible light. Thanks to a stunning Cherry Services plugin, you will be able to show off your services and describe their ultimate benefits. In addition to this, it will take you nothing to increase a number of followers in various social networks if you make use of amazing social options.
The Garden Decor – Elegant Garden Design WordPress Theme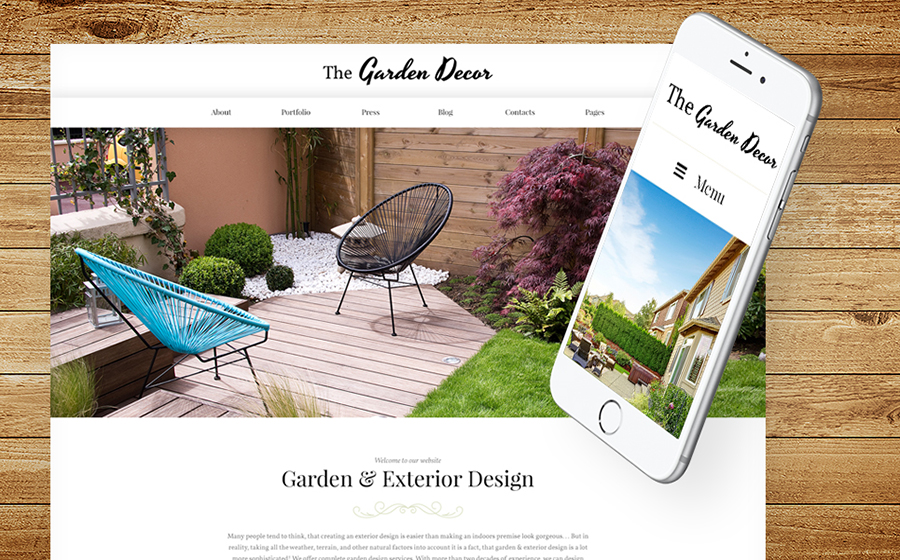 Spread the word about your professional and impressive garden design together with this stylish template. Without a doubt, people will be glad to communicate with you and leave some feedback on your services. They can do that using a powerful commenting system and contact form. They will also become more interested in your website thanks to eye-catching animations.
Jonah – Bright Landscape Design & Lawn Mowing WordPress Theme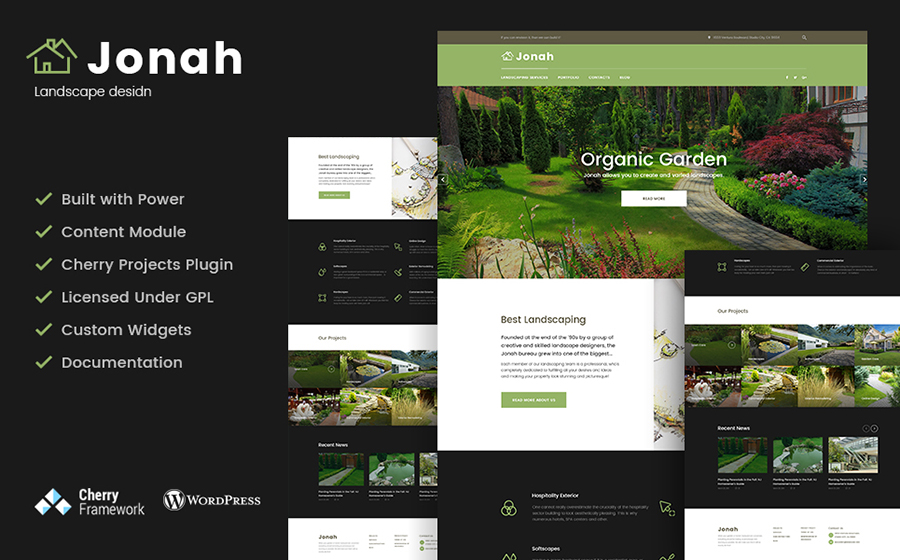 Jonah is an incredible template that will add fresh a coat of paint to your online-project. Moreover, in order to build pages without touching even a single line of code, you just need to take advantage of the wonderful drag-and-drop builder. Thanks to a stunning Cherry Projects plugin, you will get the opportunity to showcase your upcoming projects using a wide range of layouts and filter options.
Zetta – Stylish Garden & Landscape WordPress Theme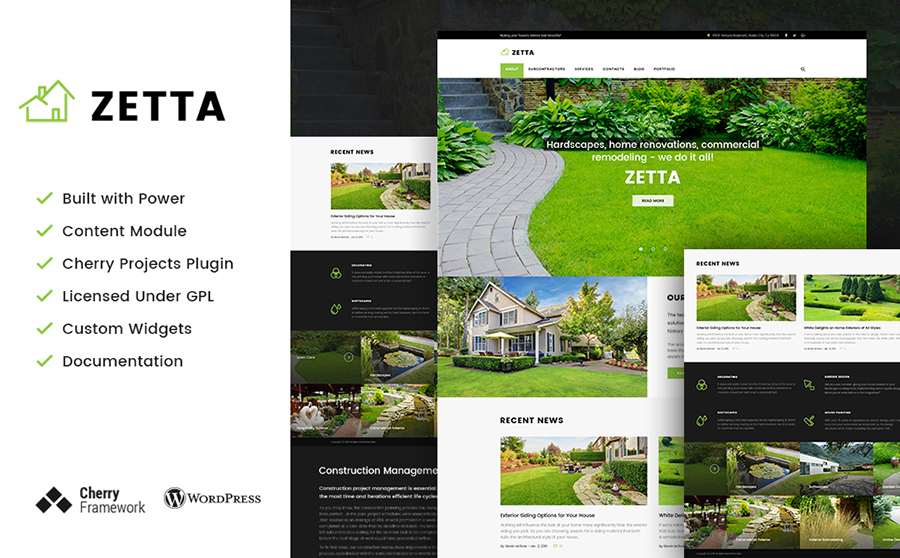 If you think of getting a good-looking website that will attract hundreds of new customers to your company, you shouldn't pass by this vibrant template. It will catch your eye with a huge number of powerful features that include a fully-functional WordPress Live Customizer, search form, newsletter subscription, various background options, and Google Fonts. In addition to this, a great commenting system will make it possible to read reviews on your services.
Scapex – Wonderful Garden Portfolio WordPress Theme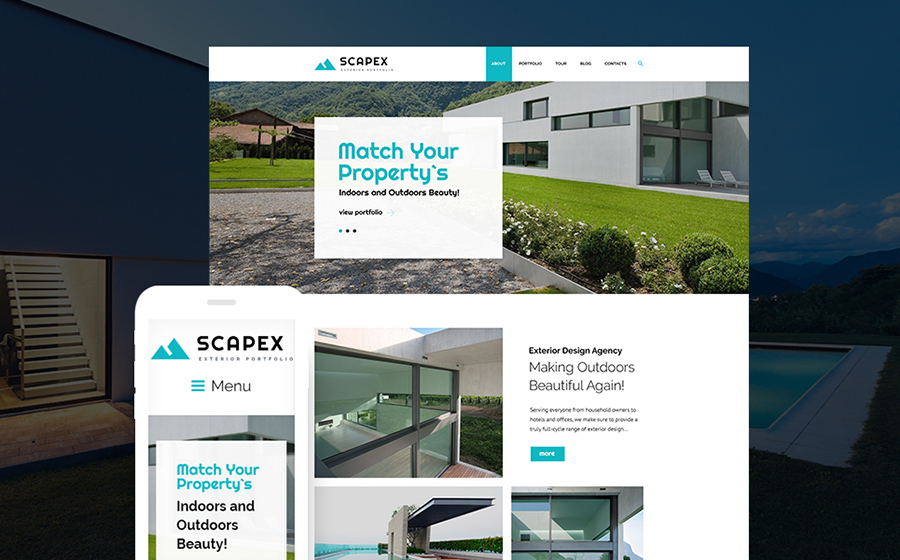 A beautiful minimalist theme that will present all your ideas regarding a perfect garden in the best possible light. With the help of the marvelous TM Gallery, it will be possible to refresh your website with some eye-catching photography. Moreover, a stunning Cherry Search will improve the usability of your website and allow your readers to browse the quick search results.
Garden Master – Unusual Landscape WordPress Theme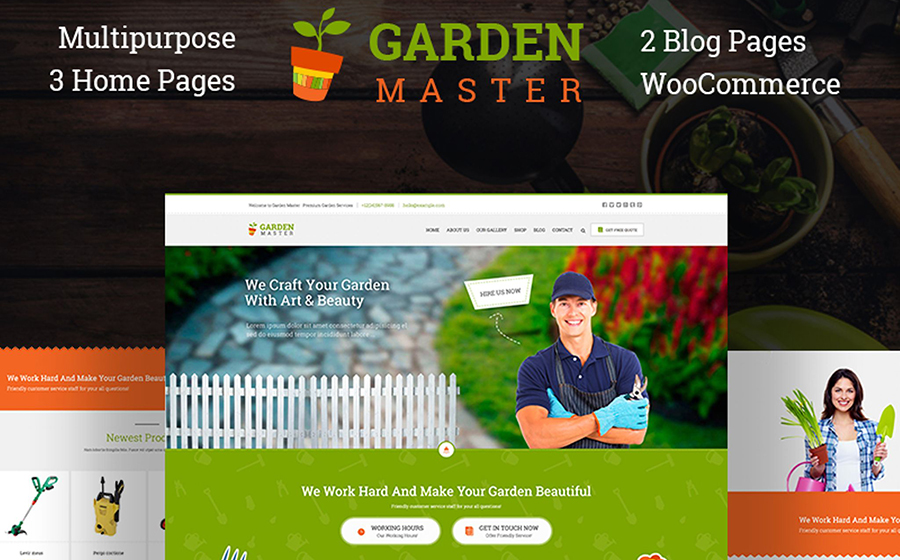 If you consider yourself to be a garden expert, there is no need to keep silence about your talent. You can show off your wonderful skills using this vibrant and attractive template. It comes alongside with a great Revolution Slider that will make it possible to create nice-looking sliders and carousels. In addition to this, a marvelous Visual Composer will assist you in building a website without coding.
Exdesimo – Remarkable Landscape WordPress Theme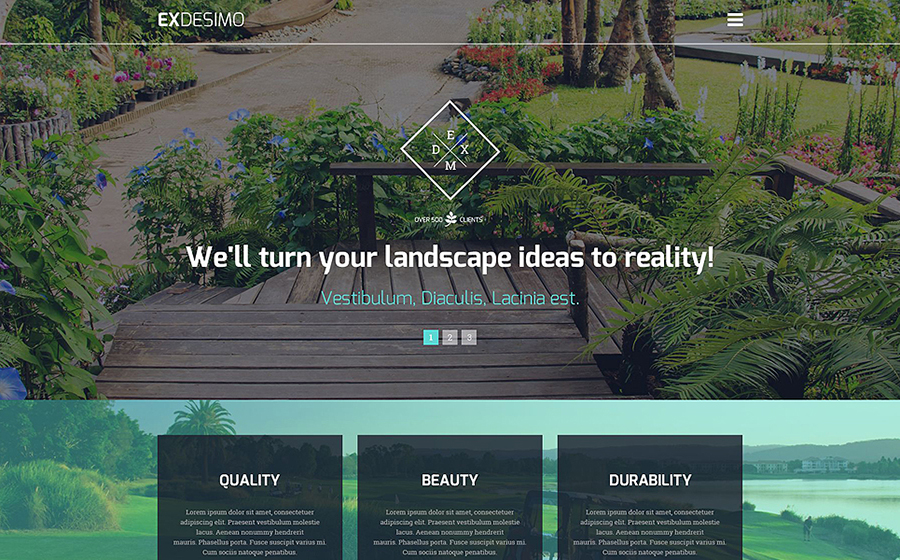 Do you want to turn various landscape ideas into reality? You should tell everyone about your talent using this eye-catching theme. By means of audio and video integration, you will be ready to present your crucial content in an out-of-the-ordinary way. You can also pay your attention to different variations of the gallery in order to showcase your high-quality images.
Deco – Attractive Exterior Design WordPress Theme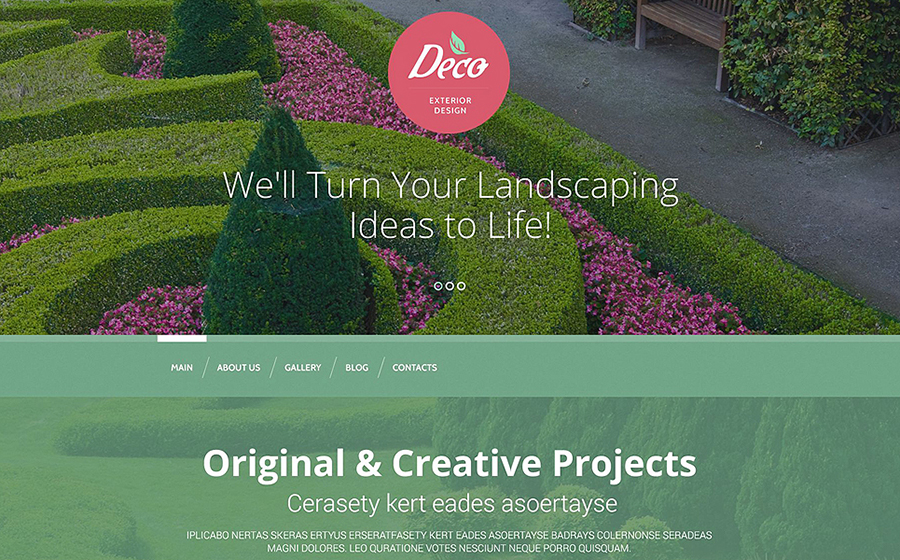 Deco is a convincing template that can be called a right choice to promote your exterior design business on the Internet. Additionally, its two-column content positioning will certainly fix everyone's eyes on your content and its online-presentation. Moreover, you can be sure that engaging animations, various gallery types, and Google Fonts have the power to make your website look even more remarkable.
Xterey – Amazing Exterior Design Bureau WordPress Theme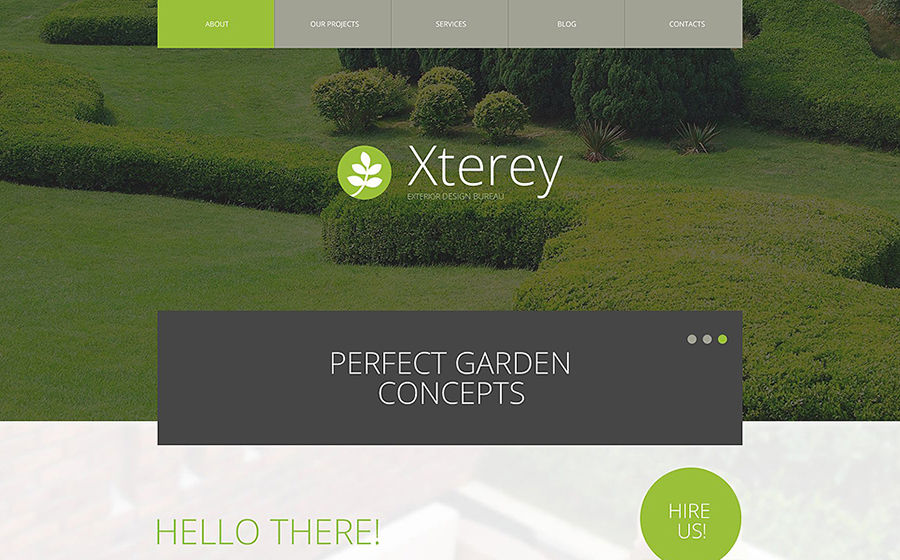 An unusual theme that will show off your perfect garden concepts in such a way that it will be possible not to choose your services. Thanks to a wonderful newsletter subscription, good-looking galleries, and video integration, your online-project will certainly turn out to be an attention-grabber. In addition to this, various Google Fonts will make it possible to improve the readability of your website just in a few clicks.
MariGold – Stunning Gardening & Landscape Design WordPress Theme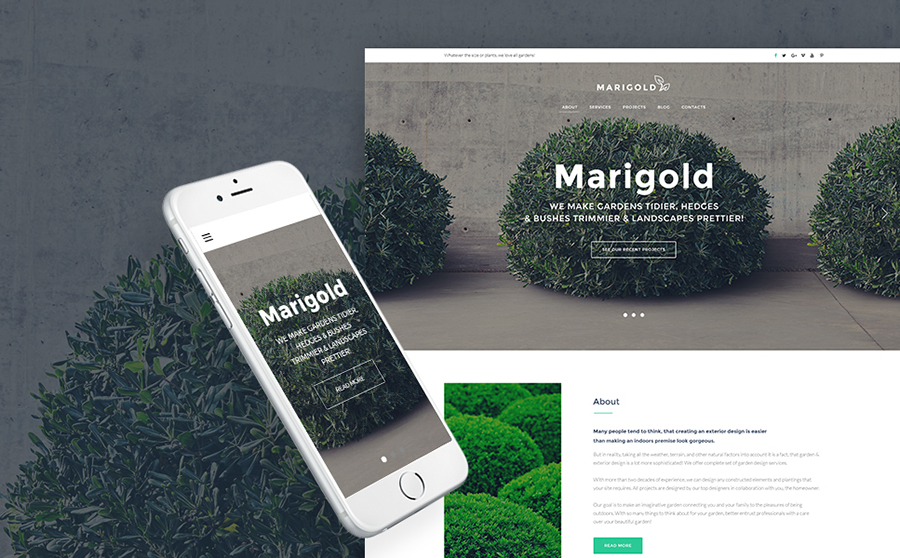 MariGold is a stylish solution that features a lot of widely-used options to build a professionally-looking website. With the help of the amazing Power Page Builder, you won't do a lot of efforts in order to build an attractive website. You will be also impressed with such elements as a marvelous Parallax effect, background options, and live search.
We are completely sure that you won't regret choosing one of these eye-catching templates. Actually, how is it possible? People won't be ready to leave your future online-project out of their account. For the reason that they have never seen such an attractive design and wonderful functionality. We wish you success and hundreds of new clients. Thanks for reading!