If you are not picking the right weapon for your job, you wouldn't be able to do the job perfectly.
Whether you are a newbie or a professional chef, you will have to pick the best knife set that can help you cut vegetables and meat with ease.
But wait! Do you know how you can pick the right knife set?
If not, no need to worry because we are here to help you with it. Here you will give some effective tips that will let you pick the best dishwasher knife set.
There are multiple elements that you have to check before choosing the knife set and the most important among them is that the set should be built to last long. We will discuss each of the tips in detail that will help you choose the best dishwasher safe knife set.
What Is a Dishwasher Safe Knife Set?
Before we dig deep and start discussing the tips, it is important to get an idea about the dishwasher safe knife set.
This kitchen knife set is made of premium stainless steel that increases the rigidity of the blade as well as makes it usable for heavy-duty jobs.
On top of all, you can wash the knives with your hand as well as in the dishwasher. The material of the blade never gets rusted nor does it break.
That means these knives have excellent corrosion resistance ability and keep the material away from the oxidation factor.
Things that Make Your Dishwasher Safe Knife Set Good
It is not possible to be a knife expert overnight. In fact, you need to get an idea about the elements that make a knife strong and long-lasting.
We are going to talk about the factors that you need to look for while choosing a dishwasher knife set. Let's dive deep and have a look at each of these elements in detail.
Material
Material is the first and most important thing that you have to look for in the dishwasher-safe knife set as it will define the lifetime of the knives.
If you are picking a knife with low-quality steel, it will soon get rusted and break while cutting the food. So, it will end up wasting your money.
The most common and widely used material in knives is stainless steel because of its reliability and non-rusting ability.
Furthermore, you can also look for the carbon steel knife as it ensures long-lasting sharpness. So, you will not have to hone the blade after every usage
Among the premium plans, you can consider Damascus steel as it has an exterior made of stainless steel, and the long-time sharpness of the blade is also ensured here.
Handle Quality
The handle is another important thing that helps you decide on the right knife for your kitchen job. Therefore, you need to pick a knife with a comfortable and rigid handle.
Dishwasher-safe knife sets come with a lot of handle materials. You will see the knives having wood, metal, plastic, ceramic, resins, and many other levers.
You need to look for the hardness if you can use it for heavy duties. Other than that, the handle should be easy to hold so that you can carry it for a long time without feeling any pain in the wrist.
One of the most important elements that will make the knife more reliable is that its grip should be non-slippery.
This element will let you do your cutting and mincing job even with wet hands. Furthermore, it will give you more accurate slices while cutting the vegetables or fruit.
Customer Reviews
It may happen that you may not have enough time to go to the market and check the material there. So, the best thing here is to read the reviews of other customers. This will give you an idea about the value of the product.
Users don't give fake reviews about the product. In fact, they share their personal experience and this is the most authentic way that you can use to decide if you will buy the knife set or not.
Sometimes, you will not get enough reviews from customers so here you can check the overall rating of the product. This will also give you an idea about the reliability of the product that you are going to purchase.
Brand
Often it happens that you get trapped by getting a low-quality knife set because of low knowledge about kitchen knives. So, the best trick to avoid these frauds is by purchasing top-brand knives.
There are a lot of brands that have been selling knives for decades and are trusted by millions of expert chefs. So, you need to buy the knife from these top brands.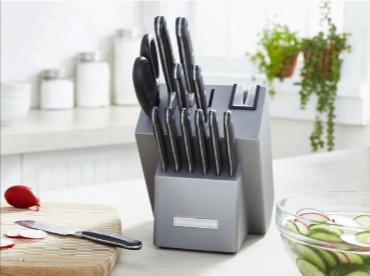 Even though you may have to pay more money here for purchasing a dishwasher-safe knife set, it would be value for money and you can use the knives for years.
Furthermore, most of the brands give lifetime warranty for their products. So, if you face any issue with the item, you can ask for repair or replacement.
Conclusion
While choosing a dishwasher-safe knife set, you will get plenty of options so it would confuse you while picking the right tool among a bunch of knife sets. Additionally, most of the knives are not rust-resistant so you may get dodged by the retailer.
So, the best tactic that you can use for choosing the best dishwasher knife set is by looking for the qualities and comparing them with the other one.
Here we have talked about all the important elements that make a knife set more reliable. Therefore, you must remember these tips as they may assist you in selecting the perfect set.
Furthermore, if you are purchasing a knife set online, the best way is to check the reviews of other buyers and read their opinions about the dishwasher knife set.