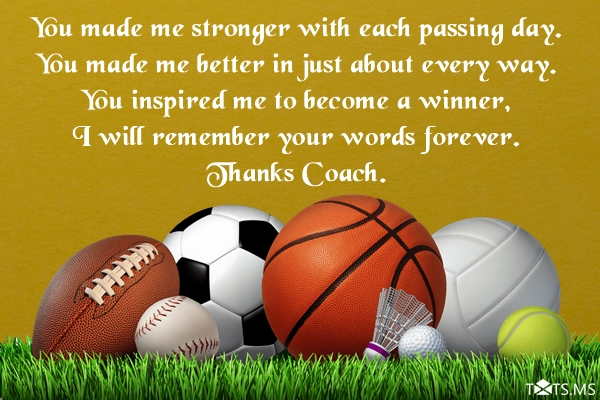 You made me stronger with each passing day. You made me better in just about every way. You inspired me to become a winner, I will remember your words forever. Thanks coach.
Thanks for believing in me when I was down and out. Thanks for trusting me when even I had my own doubts. Thanks for pushing me to emerge as a champion – coach, you are my ultimate source of inspiration.
You believed in me when I doubted myself, you appreciated me when I hated myself, thank you very much for remaining in my life through it all.
Your belief in me and your words of wisdom are my sources of inspiration and strength which is why I am never afraid of challenges. Thank you very much.
It is just amazing how you willingly take blame for my failures and give me credit for my success. Thanks coach.
Just like there is no substitute for hard work on the journey of greatness, there is no substitute for a coach like you if I intend to succeed, thank you for all you have done for me coach!
I might have being the one bringing home the medals, but it would have being impossible without you in my life, thank you very much.
I always knew how to play, but you taught me how to win. Thanks coach.
Only a coach like you can help us convert the bitter pain of sacrifice into the sweet taste of victory. Thank you.
Coach, you trust my abilities and I trust your advice. No wonder I have continued to scale new highs. Thanks.
You light the fire within us and spur us to greatness, for this we say thank you for much coach.
Thank you very much for having faith and still believing in me even when I was at my weakest and fully doubted my abilities. Thank you for trusting me when even I did not trust myself and no one else did. Thank you for constantly pushing me to emerge as victorious – simply put coach, thank you for creating my success story.
I see your wonderful vision for my future and I am glad you are determined to see me achieve it, thank you very much beloved coach.
Your motivation is to fuel for our victorious. Thank you Coach!
I do not know if you receive this often, but I believe that you should, thank you for being an amazing coach and I doubt that I am the only one that feels this way, may you always reap great benefits from all your toil regarding those you coach.
Every game I play is fuelled by two things – motivation to become a champion and an obligation to do justice to an exceptional coach. Thanks for everything.
My muscles power me, my heart powers my muscles, my mind powers my heart and your inspiration powers my mind. Thanks coach.
My heart is my body's engine but your inspiration is the fuel. Thanks coach.
You did not only influence my game skill, you also influenced my life and the decisions I have made, thank you very much.
Just like how the roots of my strength lie in hard work, the roots of my success lie in your guidance. Thanks coach.