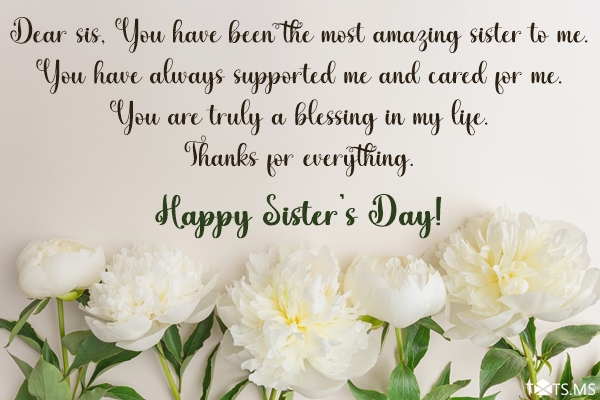 Dear sis, you have been the most amazing sister to me. You have always supported me and cared for me. You are truly a blessing in my life. Thanks for everything. Happy Sister's Day.
Happy Sisters Day to my sister who has given me so many beautiful memories to cherish, so many laughs to live and so many smiles to share.
You are not just my elder sister as you always help me as a friend and guide me as a mentor. You are the best sister I would have, have a happy sister day!
You are the only person I would trust with my life! Thank you for being my guardian angel! Happy Sister Day!
To my dearest sister who is my best friend. Thanks for being holding my hand, guiding me through and loving me unconditionally. Happy Sister's Day!
On the occasion of Sisters Day, I wish that we stay as bonded, as close as we always have been…. Happy Sisters Day to the sister who is the reason behind my smiles.
You have always taken care of me like a mother, you have pampered my like a father, you have tolerated me like a true friend and you have loved me like the best sister in this world…. I am so happy to have you in my life…. Wishing you Happy Sister's Day.
Sharing, caring, bearing, teasing and helping that's all we sisters do, Happy Sister day!
You are not only a caring sister but also a best friend whom I can blindly trust! I am so lucky to have you in my life. Happy Sister Day!
You inspire me to be a better, kinder, and more humble human being every day. You are my role model indeed! Happy Sister Day!
To the best sister in the world, who is more than a friend and more than a sibling to me.
When you are around, there are only smiles and happiness! Happy National Sister's Day to my sister.
To have an enjoyable sister day, we just need to take out time from our busy schedules and sit together. I miss you, my sweet sister!
Happy Sister Day to my sister and friend, because of you I never need a friend!
In the honor of Sister day, I want to tell you that I feel so lucky to have you as my sister, Happy Sister day!
A Sister day is just another day for you if you don't have one. Luckily, I have a sister whom I am wishing happy sister day!
The bond of love that holds us together is the most beautiful relationship. I promise that I will always do my best to nourish this association. Happy Sister Day!
We should all thank God for the blessings, He bestowed upon us. So today on Sister's day, I thank God for giving me a sister like you, love you sister.
"Sisters make the best friends in the world." – Marilyn Monroe
"A sister is a gift to the heart, a friend to the spirit, a golden thread to the meaning of life." – Isadora James
"Sisters and brothers just happen, we don't get to choose them, but they become one of our most cherished relationships." – Wes Adamson