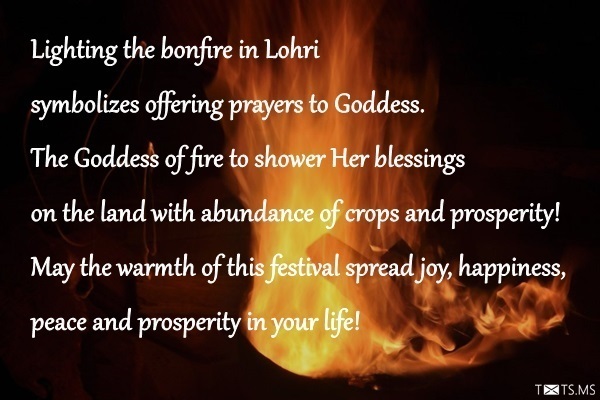 Lighting the bonfire in Lohri symbolizes offering prayers to Goddess the Goddess of fire to shower Her blessings on the land with abundance of crops and prosperity! May the warmth of this festival spread joy, happiness, peace and prosperity in your life!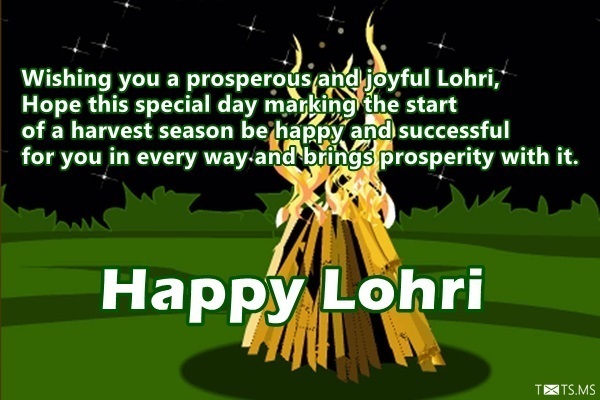 Wishing you a prosperous and joyful Lohri, Hope this special day marking the start of a harvest season be happy and successful for you in every way and brings prosperity with it. Happy Lohri!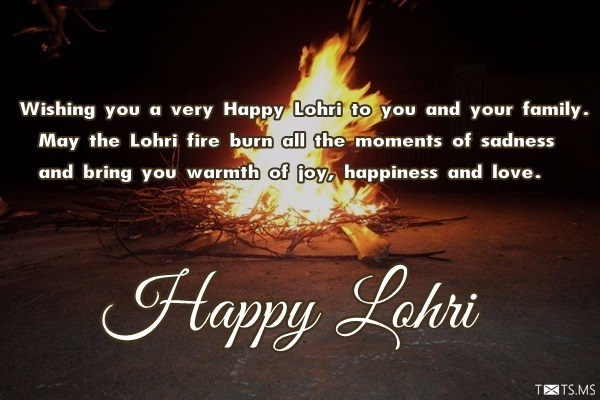 Wishing you a very Happy Lohri to you and your family. May the Lohri fire burn all the moments of sadness and bring you warmth of joy, happiness and love. Happy Lohri!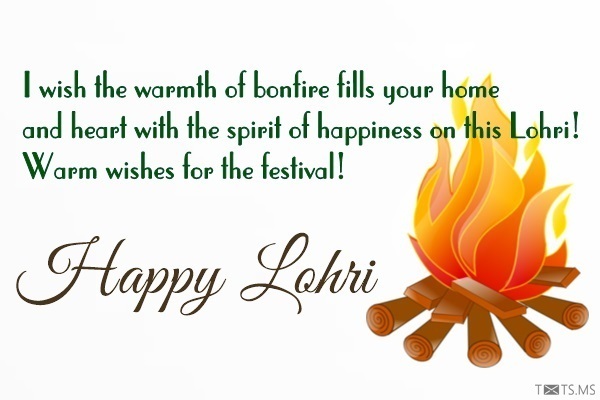 I wish the warmth of bonfire fills your home and heart with the spirit of happiness on this Lohri! Warm wishes for the festival!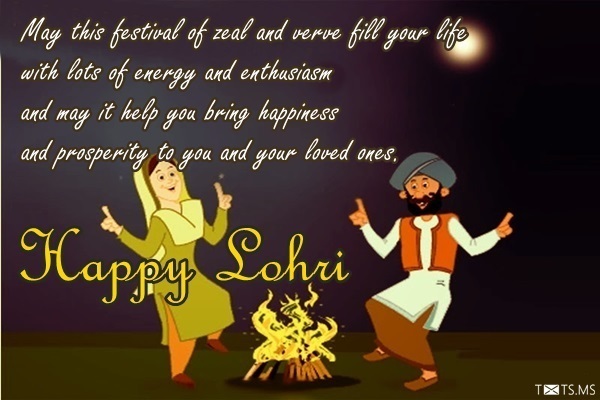 May this festival of zeal and verve fill your life with lots of energy and enthusiasm and may it help you bring happiness and prosperity to you and your loved ones. Happy Lohri.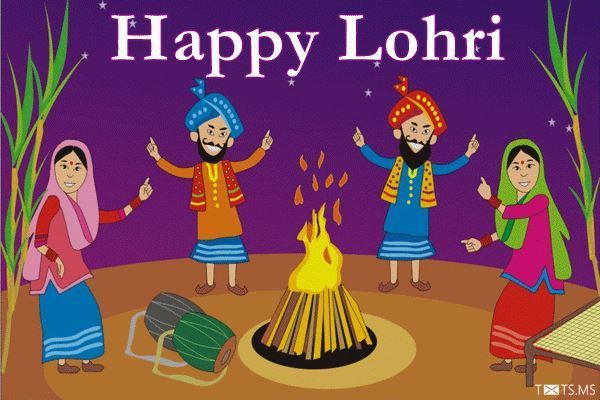 May your success soar high like a kite; your sorrows burn in a bonfire;
you experience a very sweet life like Reoris; and may God always protect you in a shell like peanuts! Happy Lohri.
Popcorn ki khushbu, Mungfali ki bahar, lohari ka teohar aane ko Tayar..
Thodi si masti, Thodasa pyar, ek din pehle o mere yaar, mubarak ho aapko lohri ka teohar.
May the festival of Lohri, Sweetens your life like Reori; Crunches it like Peanuts; Flavours it like Seasame Seeds; And gives you the warmth of Bonfire. A very happy Lohri!
Happy Lohri vekheya sadi yaari, Sawere sawere hi wish maari, Ehnu kehnde ne hushiari, Hun wish karan di tuhaadi hai vaari.
Days filled with joy, Weeks of Happiness, Months filled with prosperity, Years of celebrations are sent your way. God bless you today and everyday.
Happy Lohri.
I wish that Warmth of bonn fire, sweetness of GUR & REWRI at Lohri
remain with you for ever. Happy LOHRI.
Sunder Mundriye! Ho; Tera Kaun Wicahara! Ho; Dullah Bhatti Walla! Ho;
Dullahe Di Dhee Vyayae! Ho; Ser Shakkar Payee! Ho! May God be your saviour like Dulla Bhatti at all times. Happy Lohri!
On this Lohri: May your worries get crushed like sugarcane; You toughen like the cane juice becomes jaggery; Your life becomes flavourful like reoris in sesame; And the problems in your life get burnt in bonfire! Happy Lohri!
Sunder mundarie hoy, Tera kaun vichara hoy, Dula bhati vala hoy, Duli di dhi viyai hoy, Bus bus aa le 1 rupea baki lodi te ayi Happy Lohri.
Happy Lohri Vekheya Sadi Yaari Sawere Sawere Hi Wish Maari Ehnu Kehnde Ne Hushiari Hun Wish Karan Di Tuhaadi Hai Vaari.
Twinkle Twinkle Little Punjabi; Peeke Daaru Oh Ho Geya Sharabi; Chicken Tandoori Te Daal Farayi; Tuhanu Lohri Di Lakh Lakh Vadhai!
Pher aa Gayi Bhangre d vari, Lohri Manaun d karo Taiyari, Agg de kol saare aao, Sundariye Mundariye jor naal gao!! HAPPY LOHRI TO YOU and YOUR FAMILY!!
Is se pahle k lohri ki sham ho jaye, Mera sms auron ki tarha aam ho jaye,
aur Sare mobile network jam ho jaye, Apko lohri ki shubh kamnayen …
HAPPY LOHRI.
Tamam sabuton or gawahon ko nazar me rakhte hue msg pdhne wale ko
Happy Lohri kahte huye zindagi bhar khush rehne ka hukum sunaya jata hai.
Kaash Jyaada Par Chalegi Thodi; Saath Jab Ho ek Sunder si Chorri; Mil Baant Khayein Gud ki Reori; Aur Dhoom Se Manayein Hum Sab Lohri!
Happy Lohri!
Mitha gurh te vich mil gia til, uddi ptang te khil geya dil, har pal sukh te har din shanti pao, rab agge dua, tusi "Lohri" khushian naal manao. 'HAPPY LOHRI.'
Is se pahle k Lohri ki sham ho jaye, Mera sms auron ki tarha aam ho jaye
Aur sare mobile network jam ho jaye. Apko lohri ki shubh kamnayen …
HAPPY LOHRI.
May the kites of your dream always fly high; May the bonfire keep you warm with gratitude; May you experience sweetness of Reoris at all times;
And may the sesame impart flavour to your life! Happy Lohri!
Gud Hum Hein aur Til Ho Aap; Mithai Hum Hein aur Mithas Aap;
Har Din Hum Karte Hein Aapka Jaap; Lohri Aate aur Naam Aapke lete Ho Jati Hai Garmi ki Shuruaat! Happy Lohri!
Sher kabi chupkar shikar nai krte bujdil kabi khulkar war nai krteaur hum wo hai jo "HAPPY LOHRHI" kehne k liye intzar nahi krte.