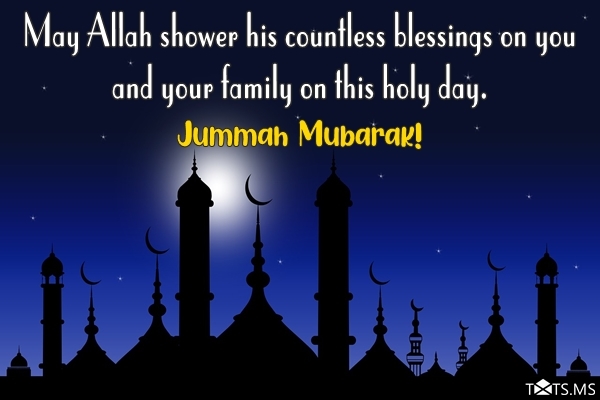 May Allah shower his countless blessings on you and your family on this holy day. Jummah Mubarak!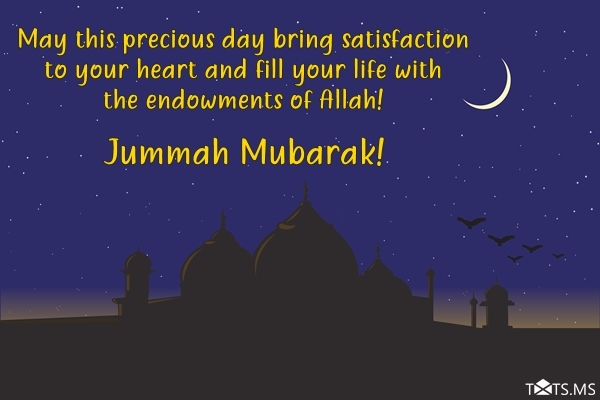 May this precious day bring satisfaction to your heart and fill your life with the endowments of Allah! Jummah Mubarak!
May the Almighty grant his many favors to you and your family every Friday! Happy Jummah.
All I wish is that each Jummah prayer brings peace, joy and forgiveness to all your lives and strengthens faith in him. Jumma Mubarak.
Seek forgiveness to Allah on this blessed day! Happy Jumma to you!
Praying for this sacred day to grace our lives with holy blessings! Jumma Mubarak!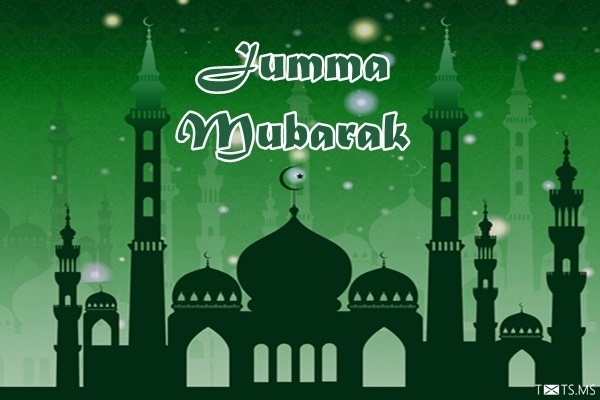 May you be blessed with peace of mind, good health and uncountable favors of Allah! Jumma Mubarak!
Praying for this sacred day to grace our lives with holy blessings! Jumma Mubarak!
Again the day of Rahmat- Jumma is here. May Allah bestow His blessings and mercy upon you and your family!
Prayer is a perfume to your soul and a fragrance that pleases God, Wear your prayer everyday and let it fresh in you anytime and anywhere you go. Jumma Mubarak!
Today is Friday… the day of acceptance of Dua! I pray to ALLAH for you and your family a good health, long life, brilliant success, Barkat-e-Kaseer in your Jan-o-Mal, Izzat, Eeman, Sehat, Rizq, Elm and Umr and all joys of life
which u have ever wished. AAMEEN Jumma mubarak.
When All Things Went Dark, And You Search For A Light To See Things Clearly, Then Hidaya Is The Light Waiting For You. Don't Wait For It But Start You Search For It From Now. Have A Fruitful Jumma.
Happiness, Prayers, Respects, and Love, All of those comes on the Friday, I request you to remember me in your Prayers. Jumma Mubarak!
Let us pursue good and nice things that will help us get close to Him, not negative things that will drag us away from the Lord. Jummah Mubarak!
Allah the Exalted enjoins: "O you who believe! Fear Allah. And let every soul look to what it has put forth for tomorrow" Jummah Mubarak!
May the Almighty Lord never spare us a second from the abundance of the word of testimony. May He grant us to be among those who lead a life in His path and who take every breath and the last with the word of testimony. Jummah Mubarak!
Each of you is a mirror of his brother, if you see something wrong in your brother, you must tell him to get rid of it. Jummah Mubarak!
Whoever Reads Surah-Al Kahf On Jumma, Allah Promises He Would Have Light In His Life That Shines From One Friday To Next. I Wish You Too Have The Same With Blessings Through Out The Week. Jumma Mubarak.
Narrated Abu Hurairah (RA): Allah's Messenger (SAW) talked about Friday And said: 'There is an hour on Friday And if a Muslim gets it while offering Salat (prayer) and asks something from Allah (SWT), then Allah (SWT) will definitely Meet his demand.' And he (the Prophet (SAW)
Pointed out the shortness of that Particular time with his hands.
F R I D A Y:
F = Farz Allah Ka Aada Karo
R = Rab Ko Razi Karo
I = Ibadat Dil Se Karo
D = Durood Kasrat Se Parho
A = Allah Se Maango
Y = Yaad Rakho Mujhe DUA ME…
Pray is an Amazing Exchange. You handover Your Worries to ALLAH and Allah hands over His Blessings to you. Jumma Mubarak!
O Allah, forgive me all my sins great and small, The First and The Last Those that are apparent and Those that are hidden. Jummah Mubarak!
Prayers & seeds are similar in nature. Both having nothing within, but have the potential of creating everything..!! So remember me in your prayers. Jumma Mubarak.
Your deity is One Allah. There is no God but He, the Beneficent and Merciful. Jummah Mubarak!
Whenever you have a burden on you and If the road is uphill then don't Despair… Cause the view from the top is breathtaking and Allah is always with you. Always Follow Your Heart. Jumma Mubarak
MAY YOUR HEART BE HAPPY & YOUR DAYS BE BRIGHT.
MAY YOUR ROADS BE SMOOTH & YOUR BURDENS BE LIGHT… MAY YOU FIND THE DREAMS & TOUCH THE STARS
& NEVER FORGET HOW SPECIAL YOU ARE !!!! GOD BLESS YOU… Jumma Mubarak.
The word of testimony is a solid oath we take for our Lord promising a
believer's attitude during our entire life. Jummah Mubarak!
"O Allah! Our Lord! Give us good in this world and good in the Hereafter,
and defend us from the torment of the Fire!" (Bukhari, Prayer, 55) Jummah Mubarak!
Have fear of the One by whose Name you swear to settle your differences and have respect for your relatives. Allah certainly keeps watch over you. Jumma Mubarak!