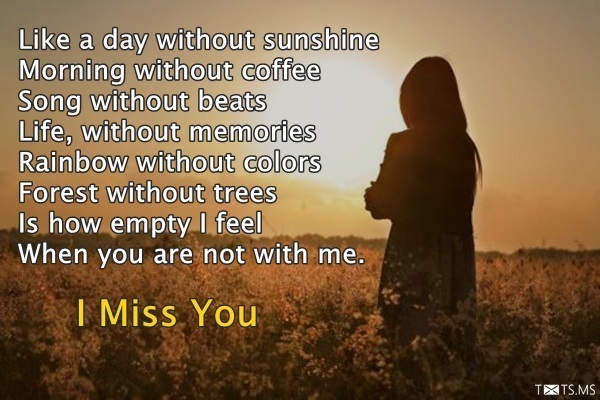 Like a day without sunshine, Morning without coffee, Song without beats
Life, without memories, Rainbow without colors, Forest without trees, Is how empty I feel When you are not with me. I miss you
Your eyes are boundless, I look at them and I do not feel the bottom,
and I melt in your warm hands. I miss you, come back soon and give me happiness.
I cry alone so that no one knows, I often take a walk alone I do not want, To show the world that I am in pain, But I surely want you to know that I am missing you so much my love. Life is not the same without you please come back and give me back my life and my lost glee. I am missing you so much!
I Miss you more when I am lonely, Miss you more in the darkness of life, I ought to see you in my thoughts, Whenever there is a pain in strive, I miss you more than me I know and I am waiting for a day in life, When you will come back and hug me back, I am really missing you so much and your loving touch. Please come back soon my love!
Time just takes away my peace of mind, When you are not there beside me
I feel the pain in my heart my love, It's like life is full of shove, That shove that forces me to cry, And ask answers to why you are not there besides me, I am really missing you to thee, Please come back soon!
My heart aches for you, My eyes cry for you, My senses long for you, I feel numb without you, My smiles wither without you, My soul thirsts for you, My body shivers without you, Please, tell me what to do. I miss you
Loving you is the most beautiful pleasure I have ever experienced… but missing you is the ugliest pain I have ever suffered. I miss you too much.
Like a tree, withering away without rain, Like a bird, trapped mercilessly in a cage, Like a fish, doing circles in a tiny bowl, Like a tiger, chained and loathing in rage, Like a flower, dying under the harsh sun, Like a lake, drying up in a drought, This is how I feel from within, When I'm lost in your thoughts. I miss you
Can you feel the love my girl, Can you feel the pain I am going through,
Can you feel all the moments that, Prove that I am so missing you, I am missing you being besides me, I am missing you so much my love, My love that you can see, I miss you so much..I love you so much!
I don't know how you're coping up with being hundreds of miles away but I feel like a star in the sky fading away, day after day it's been too long since the last time we were together without you, life means nothing to me. It feels like everything is over. I miss you
If it is bright and sunny, I miss you because you are the light of my life. If it is raining, I miss you because I feel like hugging you in the rain. If it is a night with a clear sky, I miss you because the moon and the stars remind me of romantic times we have spent together. I miss you.
So missing your tight hugs, So missing your cuddly ways, So missing your kiss on my cheek, So missing the way we danced, So missing that gazing of the sky, Sitting on that rock, When will you come back, I am missing you so much my life, I love you a lot, I miss you a lot!
I'm missing you now, I missed you before, I'll keep missing you, My heart will go sore, It's not my fault what can I do, If I just can't stop thinking about you, I feel like a lost puppy looking out for some TLC, In other words, I just want you to hug me.
Missing you is not just a habit, it is a deadly addiction. Missing you is not just a compulsion, it is a painful desperation. I miss you girl.
You are always on my mind, There is not a moment to unwind, Since the time you have left my girl, I am not as I used to be, It's everywhere you I can feel, All your memories keep haunting me, I am missing you so much,
I am missing your touch!
I miss your smile, I miss your voice, If I got to see you i would rejoice, I miss your lips, I miss your kiss, The way it makes my life full of bliss, I miss you face, I miss your eyes, I hated when we exchanged goodbyes, I miss you now, I missed you before, Please come back my heart is sore. I miss you
You may many many miles away from me, but all I need to do is close my eyes to feel as if you are sitting right here in my lap. I miss you.
These days, nothing seems enough, Everything seems heaving and tough
Even smiles don't make sense, The mist in my eyes has become dense, Nothing I do, seems fun anymore, I keep feeling very sad and sore, It's because, when you are not around, In shackles, life seems to be bound, I miss you
The tears in my eyes say it all, I do not feel like talking any more, This distance has surely made me weak, It has taken something away from me, You are my strength and my love, I want you to come back soon, I am missing you so much!
Just like how a beautiful day is incomplete without the bright SUN and a picture perfect night is incomplete without the radiant MOON and shining STARS, I am incomplete without YOU. I miss you.
I am a loner and the reason is clear, Simply as you are not there besides, There is nothing to by happy about, I am not the same and wise, I have lost all my feelings, I am longing for your love some more, Baby come back in my life, Give me back the love I need, I am missing you so much!
The worst day of my life is when you went overseas, I have desperately waited pleading, Come Back Please, Days have passed and become months, Almost a year has gone by, Just thinking about how long it's been makes me feel like I want to cry. I miss you
I may have many reasons to smile, I have reasons to cheer, But, I also have reasons to cry, Coz you are not near, Miss you so much my dear!
When you are with me, my life feels like the sight of a clear blue sky jeweled with a vibrant rainbow. When you are away from me, my life feels like the scary silence of a pitch black night. I miss you.
I am missing your warm hug, The warmth of your kiss, Baby when you are not around, I really miss you, Please come back soon!
Someone to hug, someone to kiss. Someone to talk to, someone to caress.
Someone to make me smile, someone to make me laugh. Someone to love, someone to make me feel complete. YOU are the only person who can fill the shoes of all these SOMEONEs. I miss you.
A fish without fins, a bird without wings. A crab without claws, a cat without paws. Me without you, you without me. I miss you.
Remembering memories of us together, time seems to have paused forever. Nothing seems to be going my way, every since you've been away. I've been gasping for you to hold me close… how I'm limping along, only my heart knows. I miss you.
The worst thing in the world for me is to think about
your perfect eyes and do not have an opportunity to look at them,
to think about your gentle hands and not to be able to feel their warmth,
I am missing you. Come ASAP.
My life feels like a beautiful sunrise when you are with me.
But when you're away, it feels like a scary thunderstorm.
Please come and bring the sunshine back in my life.
I miss you.
I am tired of meeting you, Again and again in my dreams, To meet you in person, My heart is bursting at the seams, My mind and my soul, Desperately need a sweet treat, I miss you so much Baby, when will we meet?
A princess, is how I feel when I'm with you and an angel whose wings have been clipped, is how I feel when I'm missing you.
It does not matter how many miles you are away from me because I'll always be with you, and if you listen, you will hear the beating of my heart, it beats for you. I miss you.
Every night in my dreams I see your gentle hands and beautiful eyes, I miss you unbearably, but our love is worth waiting.
Missing you is a state of my mind which I love and hate. Hate… because you aren't here. Love… because it reminds me of all the romantic memories that we share.
How much I miss you when you are not with me. It is difficult to express
without sounding cheesy but even when we are apart for just a few minutes. I feel lost and confused at the end of my wits, I don't care how much time we spent together today. I start missing you the very second you walk away.
Your love is a heavenly gift which I was lucky enough to get because your love has changed me and the world around me became brighter. I miss you, my sweetheart.
You know, there are people, with whom you feel warm, cozy and comfortable and when you hug them, you feel as if you are at home. You are my home, my haven, my lovely second half.
I'm flipping through all our selfies, I'm fondly remembering the naughty memories. I'm thinking about all the romantic dates, I'm wondering how beautifully intertwined are our fates. But being away from you is draining me down, baby I need your kisses to wipe off my frowns. I miss you.
When I miss you I miss a part of me, My life is shattered this is what it has come to be baby all I want you to do is hold me in your arms, My heart is craving to succumb to your charms.
My boy, I sorely miss you, I need to see you at least a few times a day every day for the rest of my life.
I've always thought that the most difficult thing is to smile through tears,
but now the hardest thing for me is to miss you, my heart is torn apart! Come back soon, I miss you.
I look into the mirror and I see a thorny rose without its petals. I look outside the window at the clear blue skies and I feel like a bird without wings. Come give me a hug so I can feel like a pretty rose and a free bird all over again. I miss you.
I miss you at night, I miss you during the day, Please do something and find a way to end my pain and calm the agony soon and often you must meet me, I can't bear the distance, I can't handle the stress, I need hugs from the guy Who calls me princess.
Every drop of rain is my tear, my heart weeps with longing for you. I love you madly, come back soon, I miss you!
It is awful to love you without having an opportunity to touch you. You're far away and I cannot think of anything else as our last meeting. I miss you and I wait for you with impatience.
Your girlfriend is sweet, cute and pretty most of the times. But if you don't meet her often, she will become bitter, nasty and annoying. I miss you.
Every day without you is a scar on my heart, have mercy, come back soon, I cannot live without you. Kisses.
You are my sun, and if I were a planet, I would stop spinning, and would look at your beauty and admire you. I really miss you, my favorite.
When I met you I was afraid to kiss you, when I kissed you I was afraid to love you, now that I love you, I am afraid to lose you.
Heart never hate blood, Fish never hate water, Flower never hate honey,
Earth never hate rain, My heart never hate you My Friend. Missing you a lot..