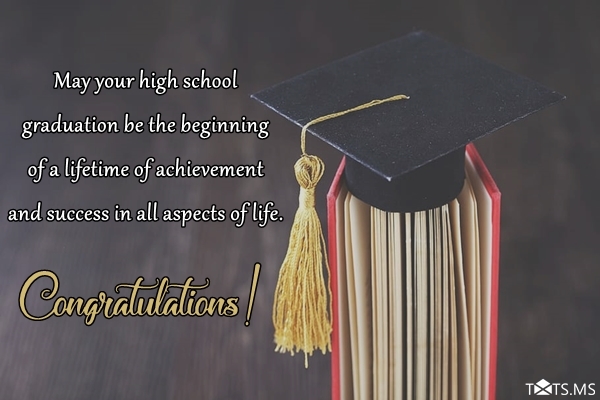 May your high school graduation be the beginning of a lifetime of achievement and success in all aspects of life.
Congratulations and Happy graduation day to you. I wish you all the best in your next endeavors in life.
May your graduation day be a day for you to look toward the future and think about all that is to come in your life.
Schooling is just a part of education and you have been successful so far, strive to be fully educated. Congratulations.
Happy Graduation! You deserve everything that is good and worthy because you have earned every bit of it!
You are very special today because you have done the things many would do but few would really cherish. Happy Graduation day.
High school is tough but life does not end there. You have to move on to what the world will give you as your next challenge.
You have become an inspiration to anyone chasing their dreams. You worked hard and gave it all. Congratulations on graduating with honors. You deserve this.
This is the highest accomplishment that you have done for your life. Be happy on your graduation day!
Congratulations on your successful completion of High School. I am so proud of you.
Hands off to the young ones who have rose above the adversity of living the high school life.
You have done it! You are truly one that does not give up! Congratulations!
After this day, you will have more challenges to face but you will be older and wiser by then. Enjoy the ride!
You have a next adventure to conquer! Get your battle vest ready for the war.
Take it easy from this moment on until the next school year. You deserve rest and relaxation.
I hope that your high school graduation day is a day that is all about you and that is filled with bright thoughts!
We're celebrating with you on this happy occasion of your high school graduation. Cheers!
The evidence of your performance in high school will be shown through your passion towards college and in life later on.
Today we celebrate your graduation because it is your success.
Congratulations on showing that hard work pays. You have been a wonderful friend.
I hope that you know just how much you mean to all of us on this special high school graduation day, and that you feel celebrated!
The future is so bright. Bring your shades when you get to college! Happy Graduation day!
There is no greater reward for parents than to see their son grow up to be a good person and find success in life. Your high school achievements provide hints of a great future.
I want you to know that I am proud of you for the effort that you put in to reach your high school graduation!
Congrats on surviving High school, now you are better equipped to survive any challenge that comes your way.
Going out from high school may be tough but growing is a part of life and you have to be string for the next waves that will come upon you.
I pray that you will have more blessings from this day on.
Reach for your dreams and make it your reality. High school graduation is just a milestone.
but a beginning of another journey that one has to finish.
All of the things you have learned in high school will be needed for your future life. Appreciate the grind of how hard it is because it prepares you for something much bigger than anything that you have seen.
It has been hard and also fun. Make lasting memories from all your experiences in school. Congratulations.
Keep being excellent, it would mark you out in the future. Congratulations.
It is a special day because it's the only day you would graduate from High school, so make the most of it. Congrats.
The future does not have a map to it, let God guide you. Congratulations on your graduation.
Once you move out from this high school setting, you will be confronted with more problems so you have to do your best.
I was staring at you while you were walking down the stage and I saw all the pain that you went through in high school. Happy Graduation!