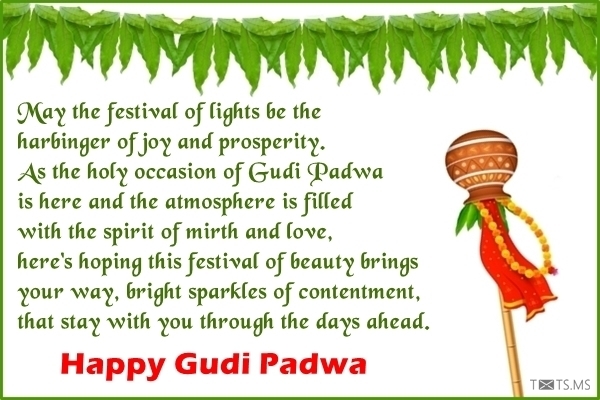 May the festival of lights be the harbinger of joy and prosperity. As the holy occasion of Gudi Padwa is here and the atmosphere is filled with the spirit of mirth and love, here's hoping this festival of beauty brings your way, bright sparkles of contentment, that stay with you through the days ahead. Best wishes on Gudi Padwa and New year.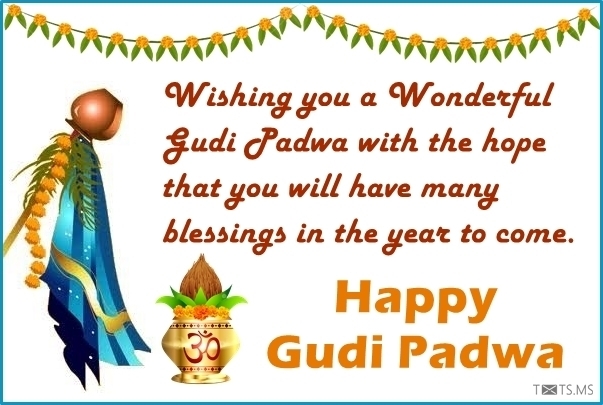 Wishing you a Wonderful Gudi Padwa with the hope that you will have many blessings in the year to come.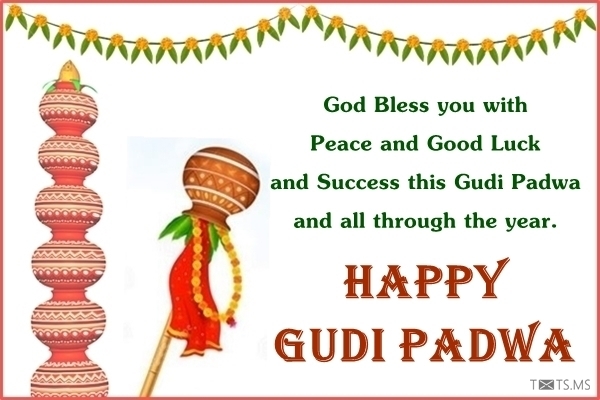 God Bless you with Peace and Good Luck and Success this Gudi Padwa and all through the year.
May this New Year brings in Happiness and prosperity in your family. Happy Gudi Padwa!
May this Gudi Padwa bring joy, health and wealth to you. May the light that we celebrate at Gudi Padwa Show us the way and lead us together On the path of peace and social harmony.
Bevu Bellagalante, Bereyaly Nohu Nalivu, Halu Jenu beretante, Badhukina Yella Novu Maretante.
Soneri suryachi soneri kirne, Soneri kirnancha soneri diwas.. Soneri diwasachya Soneri Shubhechha! Gudipadvyachya Hardik Shubhechha.
Lets pray for Peace and Harmony for our country in coming year on this day Wish you a very Happy Gudi Padwa
Fortunate is the one who has learned to Admire but not to envy. Good Wishes for a joyous Ugadi and a Happy New Year with a plenty of Peace and Prosperity.
Ubhara Gudi Sukhasamrudhichi Suravat Karuya Nav Varshachi.. Visru Ti Swapne Bhutakalachi Vatchal Karuya Nav Ashechi
New Year is the time when, all your hopes are new, so are your aspiration,
new are your resolutions and new are your spirits… so here's wishing everyone a very promising, fulfilling and a very happy Gudi Padwa 2022!
One year gone One New Year comes It happened so And it'll always be so But you can make it a better one Happy Ugadi.
This Gudi Padwa, may you be blessed with good fortune as long as Ganeshji's trunk, wealth and prosperity as big as his stomach, happiness as sweet as his ladoos and may your trouble be as small as his mouse. Happy Gudi Padwa
Naxidar kathivari Reshmi vastr, Tyachyavar chandicha lota, ubharuni Marathi manachi GUDHI, Sajra karuya ha Gudi Padwa! Nutan Varshachya Hardik Shubheccha.
Khushian ho overflow, Masti kabhi na ho low, Dosti ka surur chaya rahe, Dhan aur Shorat ki ho bauchar, aisa aye apke liye Gudi Padva ka tyohar!
On this auspicious occasions of Gudi Padwa, may you be endowed with Happiness, Health & Wealth. Happy Gudi Padwa!
Shrikhand Puri Reshmi Gudi Limba che Pan Nav Varsha jaao chhan. Amchya sarvanchya tarphe hardik shoobhecha. Happy Gudi Padwa.
Hope the new year has all the Colors of Happiness & Laughter. Happy Gudi Padwa!
Shant niwant shishir sarala, Salsalata hirwa vasant aala, Kokilechya suravatee sobat chaitra PADVA dari aala, Nutan Varshabhinandan
Lets come together to have a resolution to spread, Love and Peace in Lives on this Honorary Day… Happy Gudi Padwa
Aaushya ek vina Ana sur bhavnanche. Ga dhund hovun tu sangit navin varshache. HAPPY GUDI PADVA
Memories of moments celebrated together… Moments that have been attached in my heart, forever… Make me Miss You even more this Gudi Padwa. Hope this Gudi Padwa brings in Good Fortune & Abounding Happiness for you! HAPPY Gudi Padwa.
Wish you and your family a Happy Gudi Padwa. May this day bring in your life – happiness, prosperity and good luck!