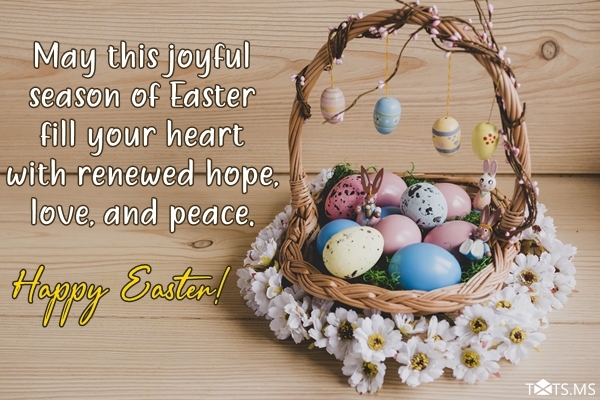 May this joyful season of Easter fill your heart with renewed hope, love, and peace. Happy Easter!
Easter is the time to remember the miracle of the resurrection of Jesus Christ and thank the Lord for paving the right way of love and peace for humanity. Happy Easter!
May Easter Day Brings Lot of Happiness And joy in your life, May you live long life And Easter Day comes in your life hundred times, Wish you and your family a Happy Easter!
Wishing you a basketful of springtime smiles and flowers. I hope this Easter turns out to be one of your happiest!
Wishing you were here to celebrate this holy occasion with me. Have a wonderful Easter!
Wishing you an Easter that is bright, happy, and filled with the contentment of the Lord.
May the risen Christ bring you and your family abundant happiness. Have a blessed Easter.
He was born to die and rise into the sky, so that one day we all could pray to him to save our lives. Here's wishing you a very Happy Easter.
On Easter Sunday, Jesus Christ promises us never to leave our side and to love us this way forever. Let us place all our hope and trust in him. Have a Joyous Easter.
Here's to hoping this Easter holiday brings your family health, happiness, and lots of love.
The great gift of Easter is hope. May the spirit of Easter bloom in your heart!
There has never been and will never come a day when our loving Jesus is not a part and soul of our life. He will never ever forget us. He has carved each of our names on the palm of his hands. So let us all together thank and praise our risen Lord for his abundant and unconditional blessings. Happy Easter to you.
Praise God for He loves us so much! Thank Jesus for living among us. Be worthy of the life we have been given. Celebrate Easter with joy!
May the spirit of hope that Easter brings, Help you find contentment in little things, And restore your faith in the Lord above, Who gave His life for the ones He loves. Happy Easter to you and your family!
Easter is more than just eggs and candy. It is also about peace, love, and family.
May all happiness be yours on this beautiful day! Best Easter wishes to you!
Thinking of you at Easter, and wishing the wonders of springtime fill your heart with happiness. I wish you a very happy Easter!
May your Easter be filled with lots of Easter eggs, presents from the Easter bunny, blessings from Jesus Christ and most of all happiness that lasts for a life time. I'm sending lots of love on your way. Happy Easter to you.
Just like after every night comes a new day and after darkness comes light, after a painful death comes new life. Happy Easter.
Easter is the time to spread the joy and happiness that Christ has brought about into our lives, to everyone we meet. Wishing you and your loved ones a Meaningful Easter.
Sending a basket full of love to help you celebrate the joy of the Spring season.
Wishing you a very Happy Easter that is filled with plenty of love and happiness.
Rejoice and sing praises to God. For Jesus Christ has risen from the dead, just how he had promised. Here's wishing a very happy Easter to you and your family. May your hearts be filled perpetually with compassion, hope and love. Happy Easter.
This Easter may the resurrected Lord bring you loads of happiness and joy. Happy Easter to you and your family.
Spread hope, faith and love all around you this Easter. Have a Happy Easter.
I hope you have colorful eggs, candy, grass, and chocolate bunnies in your Easter basket this year.
Happy Easter to you and your family as we celebrate our Father's greatest sacrifice through his Son, Jesus Christ. Have a blessed Easter.
I hope this Easter holiday fills your home with peace, joy, and plenty of colorful Easter eggs.
May you feel the bright, joyful blessings God has to offer you during this Easter holiday.
May Jesus bless you immensely on this auspicious occasion. May you have a pleasant Easter.
Wishing you an Easter holiday filled with the blooming promises of happiness and love!
Wishing you Happy Easter with new joys and new promises… and blessed with love and happiness!
Easter teaches us the meaning of faith and what it is to feel the Lord's blessing in our lives.
The risen Lord has come into our lives and blessed us with abundant happiness and joy. Let us all together sing out praises to our heavenly Father. Have a Blessed Easter.
May you celebrate Easter with all happiness and joy! May Lord Jesus bless you! Wishing you joyous Easter!
***@–@–@
****@————@
***@—————–@
***@–Happy Easter–@
***@——–2022——–@
***@–((\———–/)/)–@
***@–(=':')——-(':'=)—@
***@—(,(")(")..(")("),)—@
***@———————-@
@-@-@-@
* @————–@*
* @——————-@**
*** @——- Happy ——@* ** @——– Easter ——-@
** @—((\———-/)/)—-@***
** @—(=':')——-(':'=)—@***
** @–(..(")(")..(")(")..)—-@***
*** @———————-@****
* @—————-@****
*** @-@-@-@*