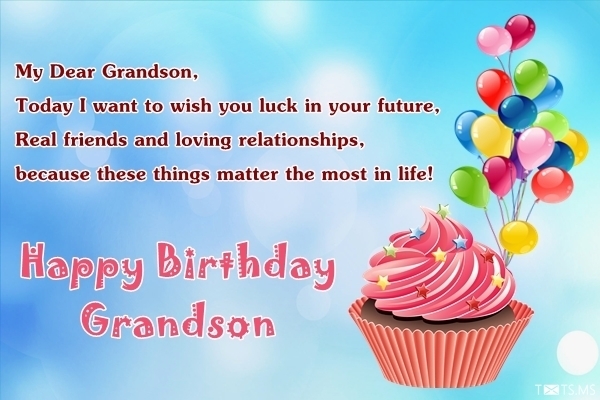 My dear grandson, Today I want to wish you luck in your future, Real friends and loving relationships, because these things matter the most in life! Happy birthday!
Happiness can never be constant, but that is we started believing after you came into our lives. Happy birthday.
Fortune and wonder, abundance and cheer Congratulations on another fine year! Hope that your birthday brings even more Filling your life with all you wish for!
Grandsons like you are so rare. We feel so blessed to have you in our lives.
You are our prince, our hero, our light. Happy birthday!
Your delightful squeal is like a melody and laugh is like a rhapsody.
My dearest grandson, you fill our life with beauty. Happy birthday.
I am so blessed that you are my grandson, because of that I can call you any time and I know that you will be there for me, like I will be there for you all the time! Have an amazing day, dear.
Excitement! Happiness! A warm heart! With you, Grandson, I get all types of great feelings! You make being your grandfather extra special! Happy Birthday!
The twinkle of the candles on your birthday cake signifies that shining star that you are going to be. Happy birthday.
Happy birthday, Grandson! I know your special day will be a major hit, just like you!
Dear Grandson it's your birthday I hope you get lots of toys and lots of birthday cards. Like all very good little boys.
The best achievement in my life which required no effort at all – becoming a granddad. Happy birthday.
From the day you were born till today when you have become a teenager, we have had a twinkle in our eyes and a healthy glow on our faces. Obviously, these are signs that you are good for our happiness and health. Happy birthday to our dear grandson.
As you blow the candles on your cake, here's a promise we want to make.
For you we'll always be here, whenever you need any help my dear. When all doors are shut on your face, you'll always have a home at our place. Happy birthday.
It is a good occasion to tell you how much we are proud of you. May you live your life with passionate heart and wide open mind!
From the day you were born we knew that you'd be the most ideal grandson ever. Thank you for giving us the opportunity to call ourselves proud grandparents. Hope your birthday is filled with all the fun you can handle!
Celebrations last for hours, days or weeks. But with a grandson like you, ours will last a lifetime. Happy birthday.
May the sun spread cute teddy bears instead of sun rays, may the clouds shower toys instead of rain and may the night shine with millions of candies instead of stars for my grandson's birthday.
Happy birthday! There's not a single grandson in this world who can come close to your incredibleness. After all, you're related to us!
May every minute of your life be filled with fun! Happy Birthday grandson!
Right from the very first time we held you in our arms, we knew you were special. Today we find ourselves really happy to see you grown up so beautifully. Happy Birthday.
When a smile on your face reaches your eyes, its warmth reaches our heart. Happy birthday.
I wish that your special day is going to be nice and colourful like a rainbow!
Happy birthday! You are exceptionally handsome, smart and talented… I guess you take after me! May you become more like me every day — you know, modest.
I still remember the days you were our little grandson, the boy who runs around the house, breaking everything in sight, you were one happy kid! Happy birthday!
Your grandmother and I promised each other to never fall in love with anyone else in the world. But then we became grandparents and ate our words. Happy birthday.