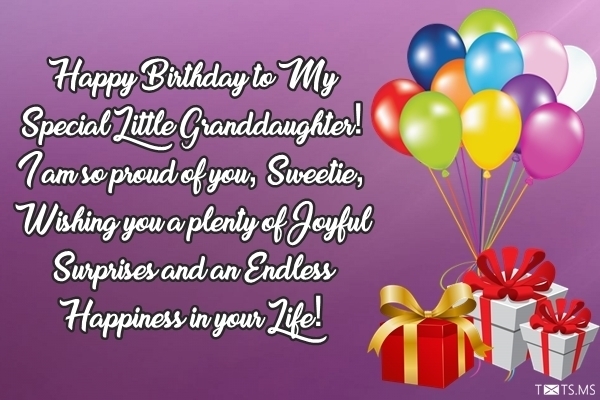 Happy birthday to my special little granddaughter! I am so proud of you, sweetie, wishing you a plenty of joyful surprises and an endless happiness in your life!
I am so grateful for all the joy, love and wonderful surprises that you bring into my life, my dear. Wishing you a fantastic birthday with lots of happy and unforgettable moments!
You are my princess, my light, my source of happiness. Happy Birthday, my beloved granddaughter!
May all your wishes today and tomorrow come true. I can't think of anyone more deserving of this wish from me. Happy birthday, darling girl!
Your birthday is always great because it's a celebration of someone great!
Happy birthday to the greatest daughter in the world!
I will always have a limitless supply of three things for you in life – advice, love and cookies. Happy birthday.
Only a thousand good deeds and a million good words can make a couple worthy of having an amazing granddaughter like you. Happy birthday.
Thinking of you with undying love and immense pride on your birthday and always. Happy birthday, my sweet love!
My hugs and kisses will always be bigger and warmer than all the stuffed toys you will ever have happy birthday.
Happy birthday, my little princess! I am incredibly proud to call you my granddaughter, dear, wishing you a very joyful celebration!
I wish that you would not spend a day in your life without beautiful and happy moments. Best wishes to you, my darling!
Granddaughters like you are life's greatest delight, greatest reason to celebrate and greatest love. Happy birthday to the source of my greatest joy!
Special wishes for a special person don't need special occasions. We wish you the best of everything every single day of our lives dear daughter. But today's your Birthday and we wish you the double of the best of everything. Happy Birthday dear daughter!
Life's best promotion comes long after retirement – in the form of a granddaughter like you. Happy birthday.
Grandma and grandpa will always be there for you, to make sure that all your dreams come true. Happy birthday.
The warmest birthday wishes to the sunshine of my life! May your special day be as sweet and lovely as you, my cutie pie!
You are a synonymous with the world sweetness. Happy Birthday, dear granddaughter! May you have a brilliant day!
You're like sugar. You make everything so delicious. Your birthday reminds me that, if you hadn't come into this world, life would have been flavorless.
You make everything so much sweeter. Happy birthday, sweet baby!
You have made the twilight of our lives more radiant than its dawn. Happy birthday.
For a sweet granddaughter like you, I wish loads of fun and good wishes
keep smiling and stay happy. Happy Birthday!
Never hide your sparkling eyes, bright smile and glowing face from the world. Otherwise nobody will get a chance to see your light shine so brilliantly. Happy birthday.
With every passing birthday, you are becoming more of my best friend and less of my granddaughter. Happy birthday.
You're so full of sweetness. You're sweeter than all the birthday cake and ice cream in the world. That's why everyone thinks you're so delicious. It's why I can't go a day without thinking about you at least 100 times. Happy birthday, sweetie!
On you birthday, I want to tell you that you are really special and that I always want you by my side. Happy Birthday, granddaughter!
You brought us tremendous happiness by coming into our lives and it keeps growing with each your birthday!