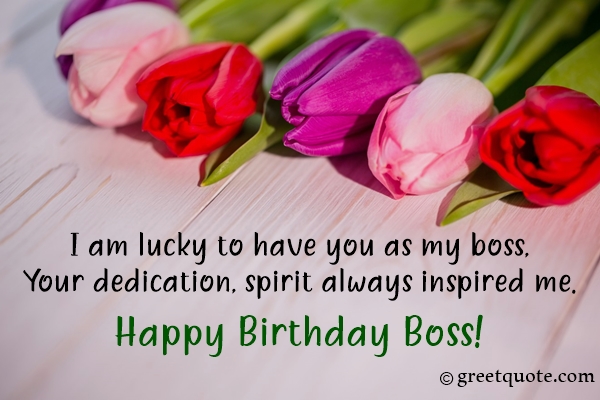 I am lucky to have you as my boss,Your dedication, spirit always inspired me. Happy Birthday Boss!
Happy birthday to a wonderful person and a great boss.
In having a boss like you I take a lot pride, and working with you has been one awesome joyride. Happy Birthday.
Dear Boss,May you have a wonderful birthday! We love you, sir. You deserve to have the best of everything.
Wishing you a stress-free life full of success and happiness. Happy Birthday!
Wishing you luck, courage and all the strength needed to continue your successful presence in the game of life. Happy Birthday!
Here's wishing you a very happy birthday, dear boss! May success be with you always.
May the year ahead be very productive, dynamic and illustrious for your career. But most importantly, may it also help you spend time with everyone, near and dear. Happy Birthday Boss.
May success keep up with prosperity in all your life. Happy Birthday.
Boss, this birthday promotes you to a new year in life without any extra benefits or rights. Welcome to our world, that's exactly how we feel when we do more work without getting a raise. Happy Birthday.
Your gift is directly proportional to how nice or bad you have been to us this year. Happy Birthday Boss.
Today is a perfect day to tell you that you have been a wonderful boss, friend, colleague, supporter and guide. May you get the best of everything in life!
May you always have the iron will needed for a luminous and successful life. Happy Birthday.
Wishing a perfect birthday to the perfect boss who always demands perfection. May you have a perfect party and a perfect year ahead.
Wishing a long and successful career filled with happiness and joy. Happy Birthday.
Thanks for being tough on me when things were easy and more importantly, going easy on me when things were tough. Happy Birthday boss!
Wishing you tons of good fortune and success in all your life. Happy Birthday boss!
Most bosses are preachers, but you are a true leader. Most bosses are just managers, but you also a mentor. Most bosses arrogantly demand respect, but you deserve it because you are perfect. Happy Birthday Boss.
On your special day may all of your dreams turn to reality. Happy Birthday!
Promotions and success, Peace of mind and happiness. Titles and awards, Achievements and records. All this is what,
I hope you get a lot. Happy Birthday.
With a leader like you, tasks and projects are so much fun to work on. Warm wishes for a Happy Birthday to you!
Success and happiness is what I wish you on your birthday. If you feel like doing something nice in return, you may increase my pay. Happy Birthday Boss.
It's a pleasure to work with someone who knows how to make a friendly and delightful work environment for himself and his associates. Happy Birthday Boss.
Thank you for all your guidance, inspiration and support through the years. Happy Birthday!
Boss, we all wish that life brings you a new year full of happiness and perks. Having said that, we hope your birthday calls for a day off from work. Happy Birthday.
As a boss you have looked after us every step of the way. In return, we wish you success, health and happiness on your birthday!
Happy Birthday to you and all the best for yet another great year in your professional and personal life!