DoodlePro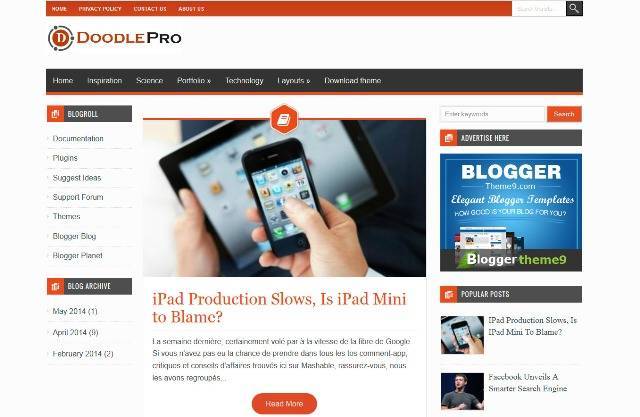 Demo / Download
Doodpro is a fully responsive template, with clean and attractive color scheme. Responsive and 3D style thumbnails added with auto read more button on homepage! Doodlepro is ultra-fast blogger template that can function as gallery and magazine style blogs.
Throne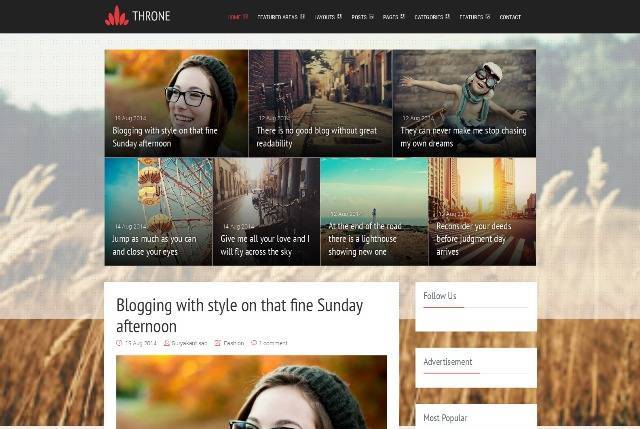 Demo / Download
Throne is a perfect blend of minimal design and amazing magazine features. It's handcrafted specially for bloggers who blog on niches like Fashion, Photography, Personal Blog.
TechBlog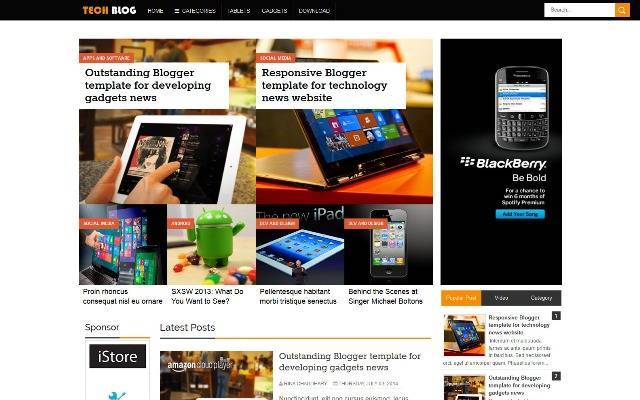 Demo / Download
Tech Blog Blogger Template has been specifically designed for ultimate monetization result. Plenty advertisement areas are placed in prominent spots and blended perfectly with the content in a professionally looking online magazine.Features are Fully Responsive Design, Advance Search Engine Optimization, Auto resize thumbnail image, Ads Ready, Multi author option and much more.
Baskerville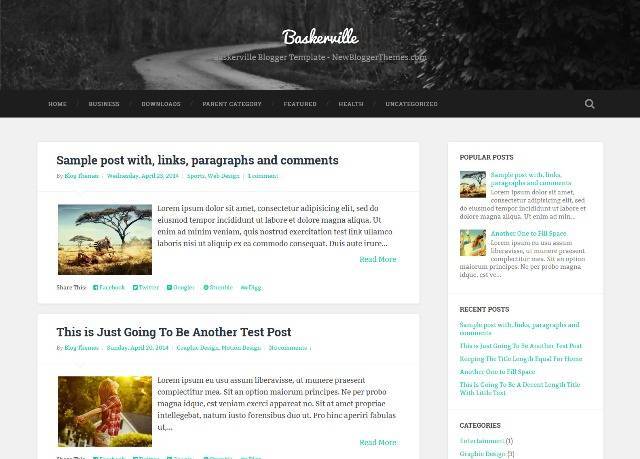 Demo / Download
Baskerville is a SEO ready, responsive and retina-ready Blogger theme for your blog. Baskerville Blogger Template has auto post summaries, drop-down navigation menu, share buttons, right Sidebar, 3 columns footer, Google fonts, custom search box and more.
Movieism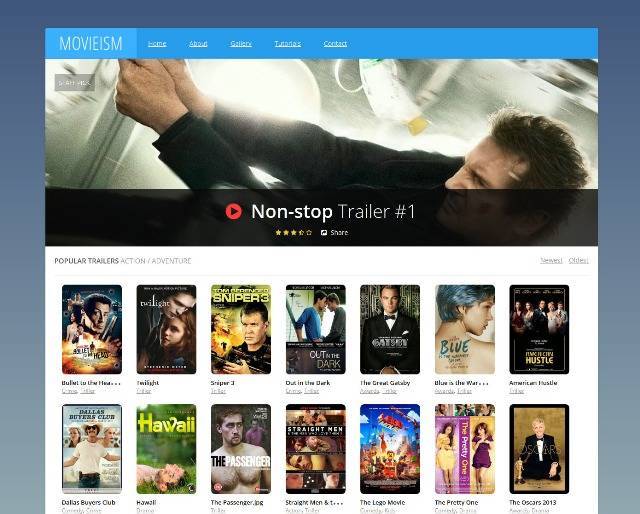 Demo / Download
Movieism is a unique and stylish entertainment blogger template which is appropriate for any kind of movie blog, cinema, movie promotion, film blogs and movie communities. Features are Responsive, SEO Friendly, Ads Friendly, SEO Optimized, threaded commenting system, social counter buttons, sea blue color scheme and much more.
Sora Article

Demo / Download
Sora Article is a minimal Theme designed for blogger. Features are Responsive, SEO Friendly, Ads Ready, Supports Video, Supports Audio, Clean Layout, 4 Blog Layout, Minimalistic, Category Filter, Google Font, Post Format, Social Sharing, Retina Ready and Browser Compatibility.
PickPress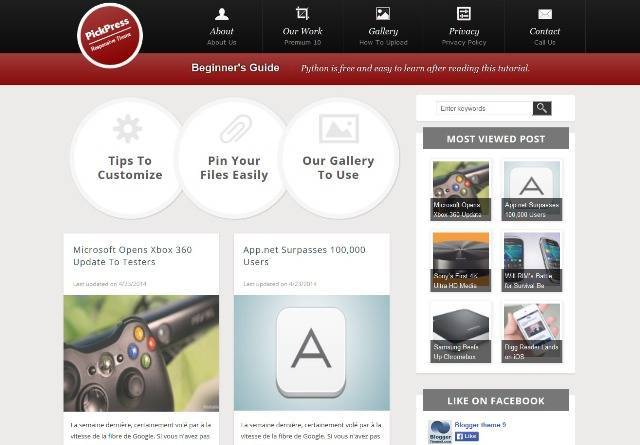 Demo / Download
PickPress is a responsive blogger template with retina display.
Sora Blog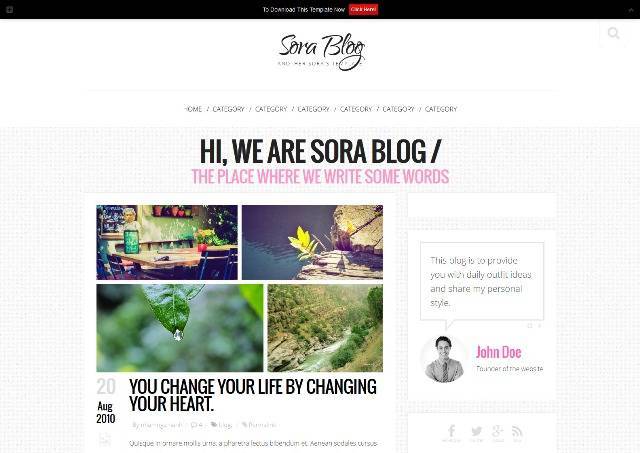 Demo / Download
Sora Blog is an awesome new personal blogging templates with a nice and clean two column layout. It is sweet and simple and is perfect for writers, collectors, fashion, beauty and more. Features are Responsive, SEO Friendly, Ads Ready, Clean Layout, 2 Column Layout, Minimalistic, LightBox, Featured Images, Social Sharing, Font Awesome and Browser Compatibility.
Simpro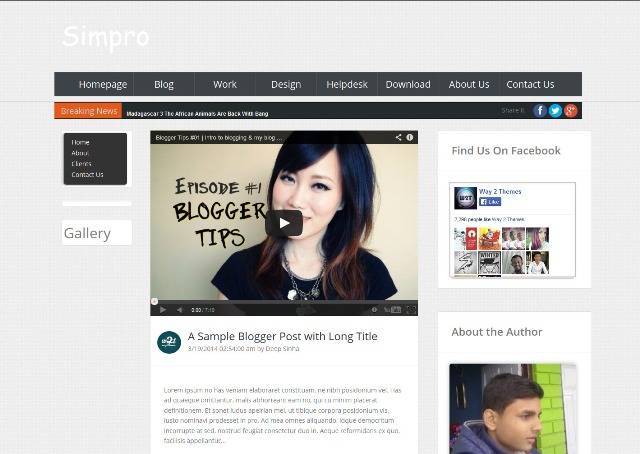 Demo / Download
Simpro Professional Blogger Template is a simple yet professional blogger template packed with a ton of features. Simpro blogger template is professional in looks and is completely seo friendly. Simpro has a lot of features like dropdown menu, ads optimized, news ticker social buttons and more.
Adaption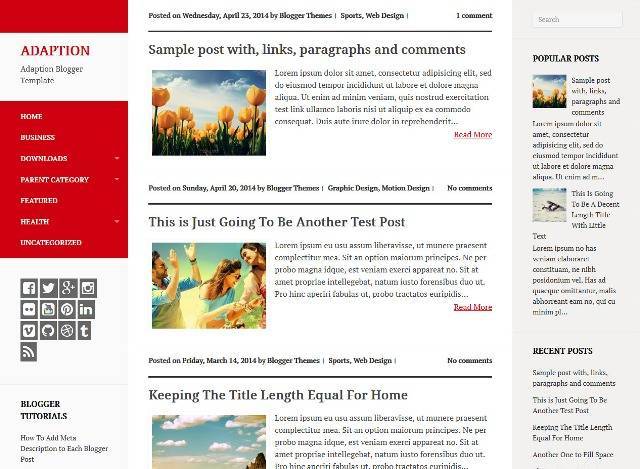 Demo / Download
Adaption is a Minimal, Magazine Blogger Template with 3 Columns Responsive Layout. Adaption Blogger Template has Left and Right Sidebars, Navigation Menus, Social Buttons, Related Posts and More Features.
Last modified: June 21, 2018
Pages: 1 2 3 4 5 6 7 8 9 10 11 12 13 14 15 16 17 18 19 20 21 22 23 24 25 26 27 28 29 30 31 32 33 34 35 36 37 38 39 40 41 42 43 44 45 46 47 48 49 50 51 52