Geekiesm

Demo / Download
I'm giving this premium blogger template for free to my users, this theme has many features which a normal blogger template can't dream of. If you are looking for a professional looking blogger template for your blog then this theme is perfect choice for you. Key Features: Responsive Design, Custom 404, Advance Admin Panel and more.
Videoism

Demo / Download
Videoism is a professional video hosting blogger template designed for video site and video blog portal. This template would help everyone in setting up a professional video site rather quickly. It is somewhat inspired from popular video hosting websites like YouTube, Vimeo, Dailymotion and etc.
Kent

Demo / Download
Kent has 1 Sidebar, 2 Columns, 4 Column Footer, Adapted from WordPress, Elegant, Featured Section, Fixed width, Fresh, Grey, Magazine, Orange, Right Sidebar, Slider, Tabbed widget and Top Navigation Bar.
Workmag

Demo / Download
Work Mag is a fully responsive multipurpose blogger template with more features. Responsive Template Design, Css And HTML Base Menu With Drop down, Ads Banner Ready, Custom Error 404 Page With Search Box (Official 404 Page) and more.
Headlines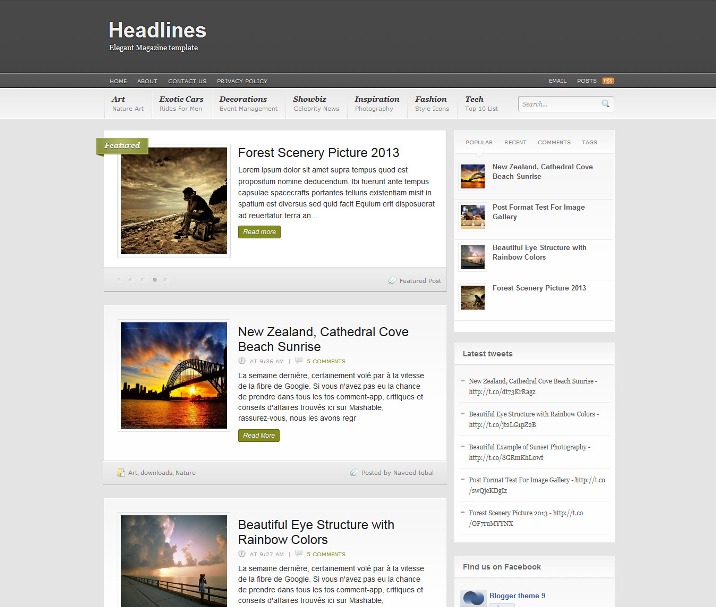 Demo / Download
Headlines theme is an old WP theme, which was published back in 2009 by WooThemes. Thanks to the respected owner for allowing us to convert Headlines into blogger template. Headlines blogger template can be used for personal blogs, and photographers.
Elegant Photography

Demo / Download
Our users have requested us to make a portfolio blogger template, Finally we are adding a professional photography blogger template to our site. Features are Grid Layout, 3 Column Footer, Social Media Integration and more.
Codify

Demo / Download
Codify is a magazine blogger template, perfect for coding blogs, news blogs, including amazing notification bar.
Responsy

Demo / Download
After receiving 1000's of download on 'TruePixel' we're here with another Gallery style theme 'Responsy blogger template'. Responsy is one of our best blogger template, with fixed nav-bar and elegant look. We've added social buttons in menu-bar's sub category.
Patchwork

Demo / Download
Patchwork has 1 Sidebar, 2 Columns, Adapted from WordPress, Artworks, Blue, Brown, Elegant, Fixed width, Fresh, Magazine, Minimalist, Red, Responsive, Right Sidebar, Top Navigation Bar, Web 2.0, White, Yellow, and more.
Last modified: June 21, 2018
Pages: 1 2 3 4 5 6 7 8 9 10 11 12 13 14 15 16 17 18 19 20 21 22 23 24 25 26 27 28 29 30 31 32 33 34 35 36 37 38 39 40 41 42 43 44 45 46 47 48 49 50 51 52