Topside

Demo / Download
"Topside" is a free blogger template with features such as 2 Sidebar, 3 Column, 4 Column footer, Adapted from WordPress, Blue, Elegant, Featured Section, Fixed width, Right Sidebar, Slider, Tabbed widget and Top Navigation Bar
Lovebirds

Demo / Download
Lovebirds blogger template is a responsive quaint wedding blogger theme designed to aid in the planning and preparation for your big day.
CityNews

Demo / Download
"CityNews" is a free blogger template with features such as 2 Sidebar, 3 Column, 4 Column footer, Adapted from WordPress, Featured Section, Fixed width, Magazine, Premium, Right Sidebar, Slider, Tabbed widget, Top Navigation Bar, Web 2.0, White.
Point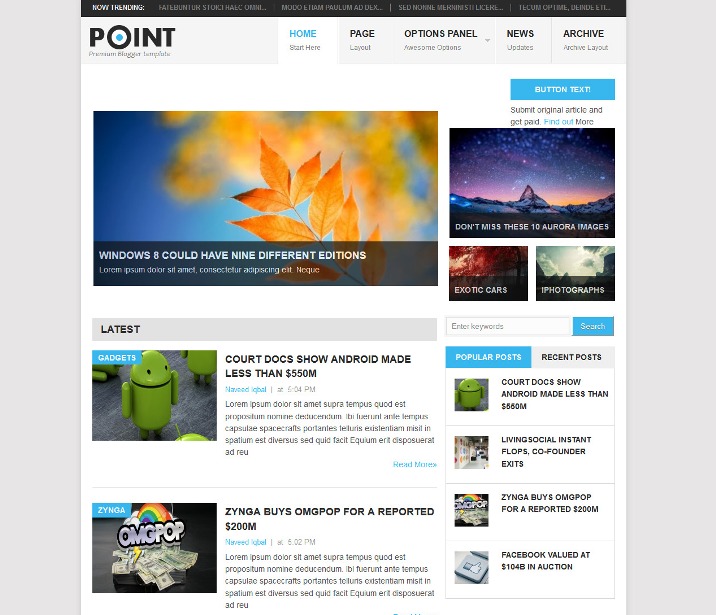 Demo / Download
Point template is a lightweight, flexible and powerful Blogger template with a minimalistic style, a splash of color, and all the features you'll ever need.
Downtown

Demo / Download
Downtown is a Free Blogger Template. Features are Magazine, Social Widget, Dropdown Menu, Showcase, Fixed Width, Featured Content Slider and Page Navigation.
Fiore

Demo / Download
Fiore Blogger Template is a cute, flowery, feminine blogger theme in vintage colors. It has a responsive layout for small screens, 2 drop-down menus, and a slide-out sidebar for widgets.
Fabric

Demo / Download
Fabric is free premium blogger templates converted from WordPress, This theme is highly SEO friendly and have simple and elegant look. If you are searching a blogger templates for your personal or business blog then this is perfect choice for you. Features are Typography, 3 column footer and Relates Post.
Johny Magstore

Demo / Download
Johny Magstore is a magazine template that was made especially for online store. Design with magazine style blogger template with 3/5 column blogger template and 2 column siderbar in left and right, 4 column footer, shopping cart for e-commerce blogger platform. Features are content slider, dropdown menu, clean design template and zooming image.
Boutique

Demo / Download
Boutique is a Free Blogger Template. Features are Business, Shopping, OpenCart, Fixed Width, Dropdown Menu and Page Navigation Widget.
Last modified: June 21, 2018
Pages: 1 2 3 4 5 6 7 8 9 10 11 12 13 14 15 16 17 18 19 20 21 22 23 24 25 26 27 28 29 30 31 32 33 34 35 36 37 38 39 40 41 42 43 44 45 46 47 48 49 50 51 52