Cinema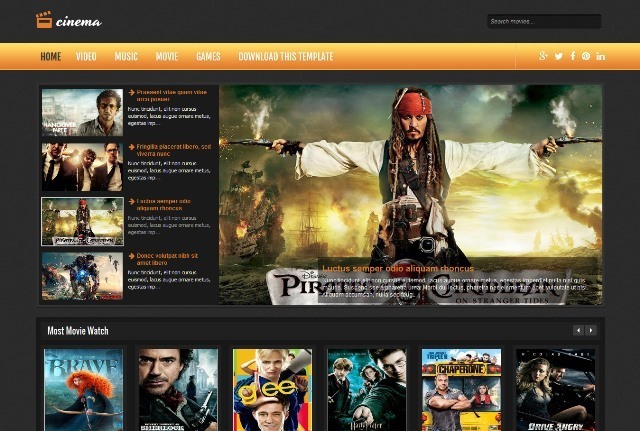 Demo / Download
Cinema is a unique Entertainment blogger template which is suitable for any type of cinema, movie promotion, theatres, blogs and movie communities no matter the size. Cinema has Responsive, SEO Friendly, Social Buttons, Ads Ready, Clear Layout, Supports Video, Slider, Clean Design, Browser Compatibility and more.
Connected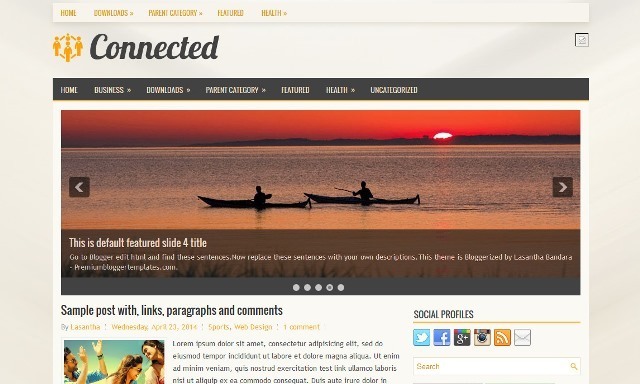 Demo / Download
Connected is a Responsive, 2 Columns Blogger Template with 3 Columns Footer Widgets Area. Connected has a jQuery Slider, 2 Multi-Level Dropdown Menus, 468×60 Header Banner, Related Posts, Breadcrumb, 3 Columns Footer, Social Icons, Share Buttons, Tabbed Widget and more.
Flavour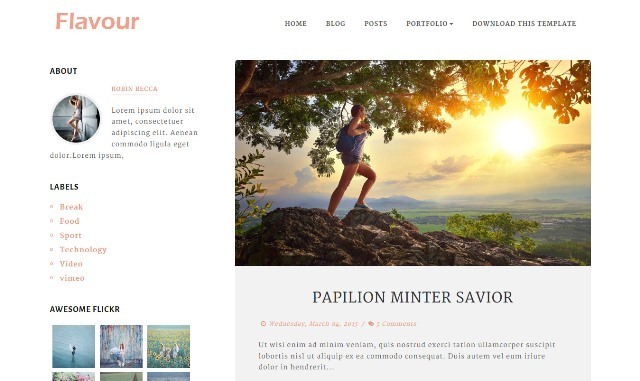 Demo / Download
Flavour is a Beautiful and Responsive Blogger Template. Flavour Blogger theme is specially designed for personal blog lovers, which can be used in various projects or blogs like outfit of the day blog, personal blog, Article news blog, Business blog and many other similar projects.
Timeline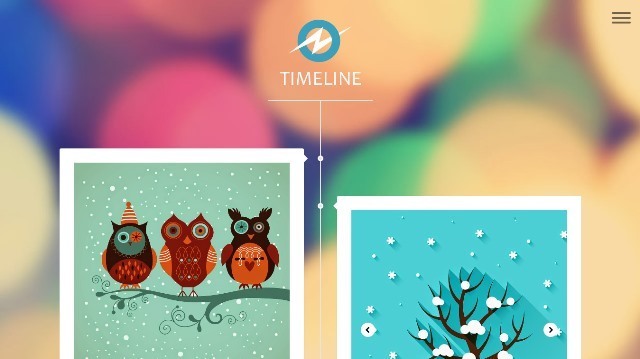 Demo / Download
Timeline is a revolutionary Blogger template, intended to showcase your work, blog or interests in an unique modern way, using the trendy timeline look. It resembles a lot of Facebook timeline, though it offers many more features like embedded text, multimedia player, background image slide show, etc.
Shopingo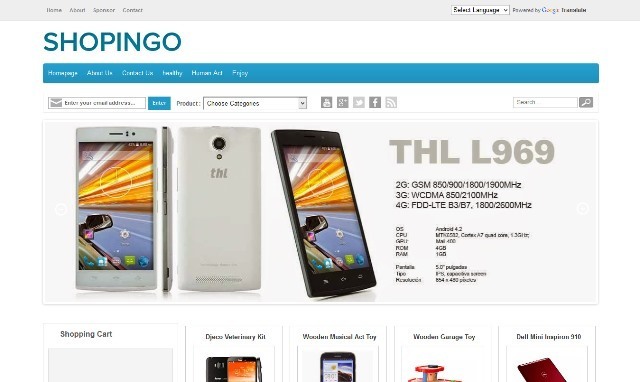 Demo / Download
Shopingo is a perfect eCommerce solution for small business owners to quickly setup an online shopping store within minutes and start selling their products with ease. This template fits for blogs like e-commerce, online store, e- store and many other shopping blogs.
BuzzMag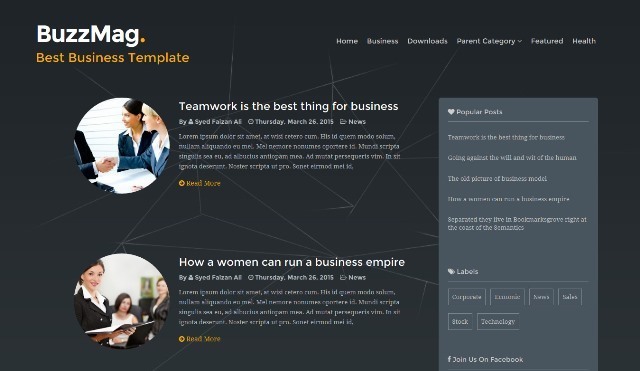 Demo / Download
BuzzMag is a high quality, use-friendly, creative corporate business blog blogger template. When it comes to writing daily blogs, BuzzMag is exclusively made for you, so you can brag about your products and etc. Features are Responsive, SEO Optimized, 1 Sidebars, Right Sidebar, Ads Friendly, Drop Down Menu and more.
Sora Cloud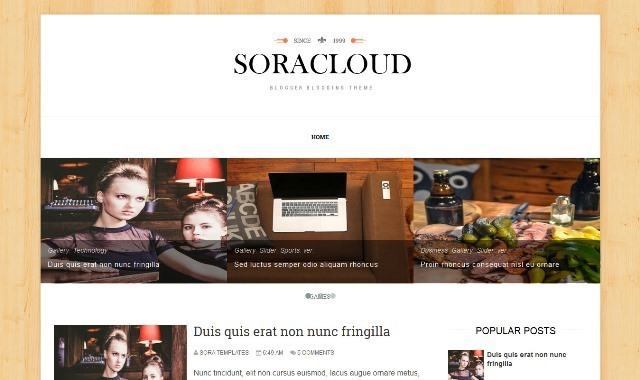 Demo / Download
Sora Cloud is a simple, clean, personal, modern and professional blog ideal for making a professional blogging, The theme lets you present your thoughts and information in an elegant way. It's perfect choice for all type of blogs.
Detra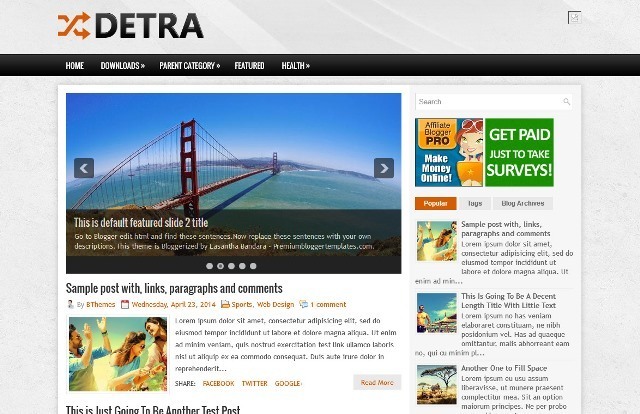 Demo / Download
Detra is a clean and modern fully responsive blogger theme for general/blog. Detra Blogger template has a social buttons, share links, jQuery slider, dropdown menus, 468×60 header banner, related posts, breadcrumb, 3 columns footer, tabbed widget and more features.
Daily News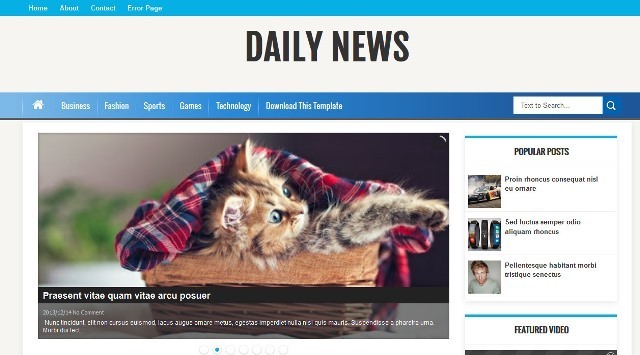 Demo / Download
Daily News is a Responsive blogger template. This template can be used for video, news, personal, or simply natural blogging with style. Features are Responsive, Ads Ready, Slider, SEO Friendly, Browser Compatibility, Social Buttons, Drop Down Menu and much more.
Fabulous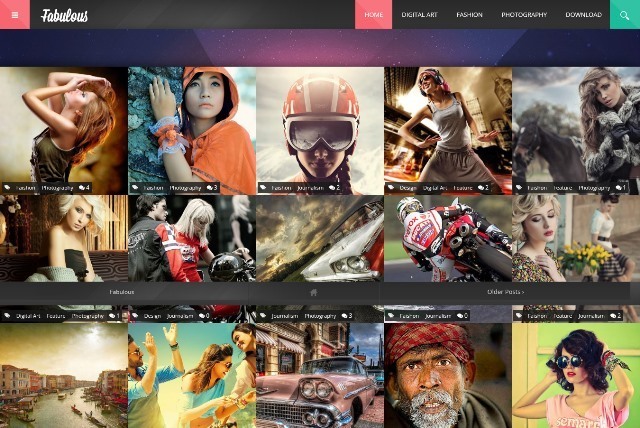 Demo / Download
Fabulous is a blogger template with responsive design and it's High User Friendly Blogger Template. Features are Fully Responsive Design, Advance Search Engine Optimization, Auto resize thumbnail image, Multi author option, Ads Ready, Well Documentation, Threaded Comment, Related posts support, Auto Author Image, Newsletter Subscription, Custom Error 404 Page, Compatible with major browsers and more.
Last modified: June 21, 2018
Pages: 1 2 3 4 5 6 7 8 9 10 11 12 13 14 15 16 17 18 19 20 21 22 23 24 25 26 27 28 29 30 31 32 33 34 35 36 37 38 39 40 41 42 43 44 45 46 47 48 49 50 51 52