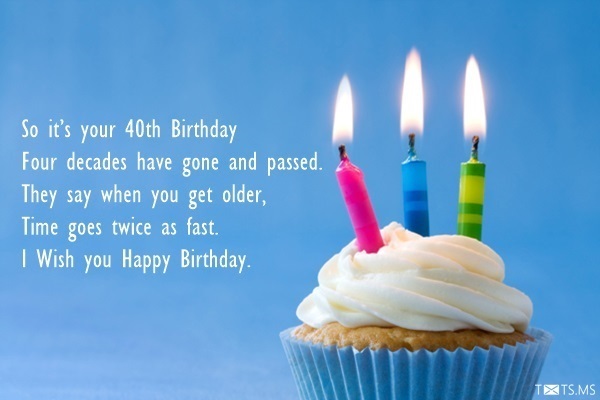 So it's your 40th birthday Four decades have gone and passed. They say when you get older, Time goes twice as fast. I wish you Happy Birthday
I wish you all the best.
May every unfulfilled dream of yours during the past four decades come true. Happy 40th Birthday!
May your 40th birthday be an awesome mix of love, friendship, and happy memories! Wishing you a very Happy Birthday.
Here's to your 40 amazing years on earth. You have spread so much joy, wonder and love around your world. May you continue on your merry way.
Happy 40th birthday!
Turning forty is like embracing a new sunrise in your life. Just look out into the horizon and see the awesomeness that lie ahead. Happy birthday.
May all the dreams you've ever had in the last 39 years start to be fulfilled on your 40th birthday!
Turning forty is all about reaching some of life's peaks… including the peak of midlife crises, peak of your kids' teeny tantrums, peak of marital issues and peak of problems at work. Good luck!
Sure, your 30s are over. Good riddance, I say. The 40s are going to be so much better…in every way. So enjoy your 40th!
Happy birthday! At 40, your body may not always do what you want it to do but your mind is as sharp as ever. That's why you should only exercise your mind, not your body.
A new chapter of life for you, begins today. Say goodbye to your past and for the future, pave the way. Full of happy anecdotes, let a new story unfold. Smiles, laugh, share, cry… be carefree and bold. Happy 40th birthday.
Happy 40th birthday! The older you get, the younger you look for your age. At this rate, you're going to soon start getting carded at bars and casinos.
Turning forty isn't a bad thing. It's what your whole life has led up to. Make the most of it. Happy birthday.
Happy birthday! Hoping your 40s will feel incredibly new and exciting like your 20s — only doubly so!
Congratulations, stunner! You gone through 40 years of your life looking amazing! May you remain the fairest of all the rest of your life. Have a beautiful 40th birthday.
Wishing you an awesome day, With good luck on your way, Stay blessed and happy this day, My dear friend on your birthday today!
Forty is the beginning of the best phase of your life… NOT! Happy birthday.
It's not your 40th birthday we're celebrating today — it's actually the second anniversary of your 39th birthday. Happy 40th birthday!
Congratulations for turning forty. The average life expectancy is about 80 years so you have lived half of your life already. Sorry for being the party pooper, but facts are facts! Happy birthday.
Stop waiting for perfect moments in your life. Every second is as perfect and as priceless as you want it to be. Happy 40th birthday.
Cherish the memories that make you smile, forget those that remind you of pain. Spend more time with your family, don't hold yourself back from meeting long lost friends again. The time is never right, so don't wait for it to present the perfect opportunity. Move on – it's the only way to reach your true destiny. Happy birthday.
Wishing you not only a deliriously happy 40th birthday but also a lifetime of immense joy, inner peace and true success!
Now's the perfect time to promise yourself you'll live life to the fullest in the years to come. Happy 40th birthday!
Hope you always be so enthusiastic and joyful as you are in your 40th Birthday.
Forty is the time you start ticking off everything on your bucket list.
If you keep postponing, you might be too old to do most of them.
Happy birthday.
Happy 40th Birthday! Wishing you a very warm welcome to the middle ages.
With all the beauty and joy you've brought your family and friends the first 40 years of your life, your future is bound to be filled with all the joy and beauty in the world. I guarantee it.
Life does begin at forty. Your kids may not think so, but what do they know anyway? Your 40th birthday is a new beginning! It's the perfect time to reinvent yourself!
Maturity and wisdom are great assets to have, but they are useless if you don't unburden your life's liabilities with smiles and laughter. Happy 40th birthday.
You are halfway to 80. Way to go! Happy 40th Birthday!
In life, the possibilities are endless. The only limitations are those that life inside your mind. Go forth, happy birthday.
At forty years old, there's so much you have done. You've led a good life, you've been a good person. You've made your parents proud, you are the pride of the family, steering our lives to where we wanted it to be. Happy 40th birthday.