You aren't the only one who has had trouble with duplicate photos in your Lightroom database. Even though Lightroom is an incredibly useful tool, handling duplicates can be challenging. You might be familiar with the problem of duplicate photos if you edit your photos in Adobe Lightroom.
These duplicate photos will clog up your hard drive and complicate the Lightroom editing procedure. Consequently, you have to remove these photos forever. Additionally, it will improve your computer's performance.
Generally speaking, Lightroom duplicates can be removed manually for a small number of photos and automatically for a larger number of photos using some of the best duplicate photo removers or specialized plugins available on the market, some of which are free.
So, whether you're a professional photographer or a beginner looking to learn how to remove duplicates in Lightroom, this post is for you. We'll take you through the process of removing duplicates from Lightroom so that your photo library remains streamlined and organized.
How Duplicate Images Come Into Lightroom?
Duplicate images can enter Lightroom in a variety of ways. Understanding these sources will contribute to a certain decrease in the quantity of duplicates.
1. Merging Catalogs
There may be instances when you need to combine two Lightroom catalogs, and there will likely be some images that are similar in both.
2. RAW + JPEG Shooting
A lot of photographers will be taking pictures in the "RAW+JPEG" format. Thus, both JPEG and RAW versions of the same image will be captured. This generates multiple copies of the same image.
3. Export Pictures to a Different Editor from Lightroom
In addition to Lightroom, some photographers also use other photo editing programs like Luminar. Therefore, the image and Lightroom settings will be exported to the other photo editor once all basic edits have been completed in Lightroom.
4. Wrong File Handling Settings
In Lightroom's File Handling settings, you need to select the "Do not Import Suspected Duplicates" option. If not, Lightroom will attempt to import the identical photos that were previously imported when you try to import from the same folder.
5. The Same Picture in Different Resolutions
Occasionally, you will need to adjust the image's resolution in order to print it off or post it online. The image will be duplicated several times during this process.
6. The Same Pictures in Various Folders
It is possible that you have identical images stored in several folders that you are not aware of.
How To Delete Duplicate Images In Lightroom?
There is no built-in feature in Lightroom to automatically eliminate duplicate photos. Nonetheless, Lightroom offers three methods for getting rid of duplicate photos. Manually removing the duplicate photos is one method. Alternatively, you can utilize any of the several best duplicate photo removers that are on the market. You can also make use of plugins.
1. Removing Duplicate Photos Manually
Lightroom does not have a built-in duplicate photo finder but you can still use the search bar to search for specific duplicate photos. After locating the duplicate image, take the following actions:
Click on the duplicate picture you want to remove.
Choose Edit > Delete 1 Photo.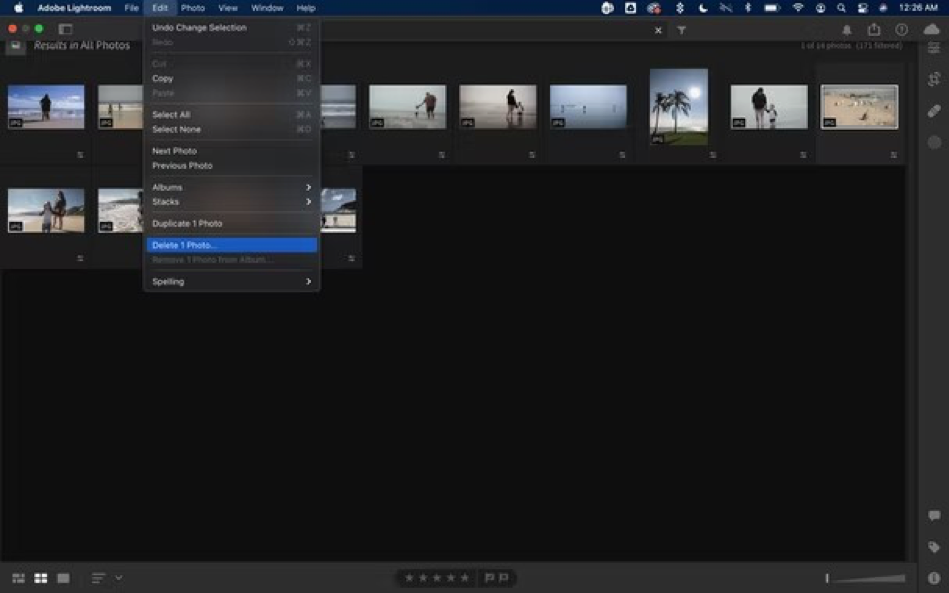 All you need to do to get duplicate photos out of Lightroom is this. Similarly, Lightroom allows you to select multiple photos and remove duplicates.
2. Removing Duplicate Photos Using Plugins
One helpful Lightroom plugin that can help you identify duplicate image files in Lightroom is Teekesselchen. It uses the EXIF information from the photos to locate duplicates in the Lightroom catalog.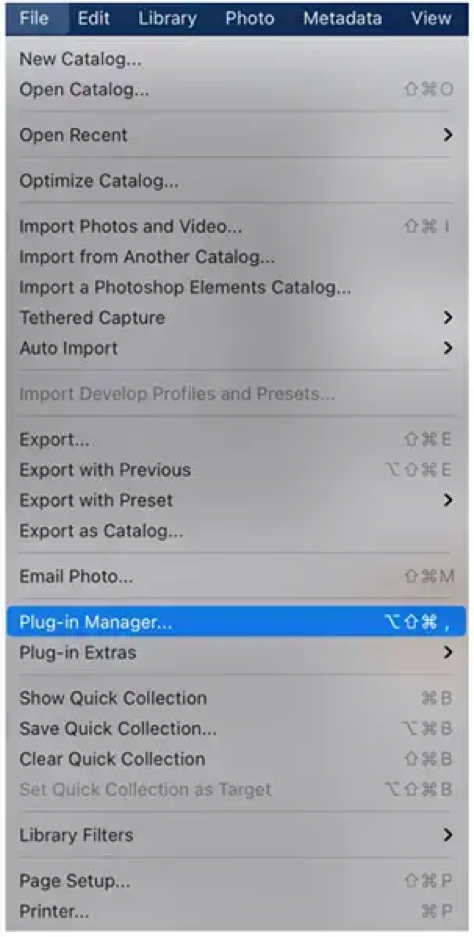 In Adobe Lightroom, click the drop-down menu located under the "File" menu. Select "Plug-in Manager."
This will launch the "Lightroom Plugin Manager" window. Select the "Add" option. You must now navigate to the unzipped Teekesselchen plugin file. Click "Done" to exit from the popup window.
Select "Plug-in Extras" from the "Library" drop-down menu now. Select "Find Duplicates" under the Teekesselchen folder.
You will see a window that says "Teekesselchen: Find Duplicates." Here, you can select various EXIF parameters in order to identify duplicate images.
Select "Find Duplicates" from the menu at the bottom of the window to begin scanning the photos in the Lightroom catalog that is currently open.
When the scanning is finished, a window will appear with the number of duplicate images in the catalog. The duplicate images cannot be removed by the plugin on its own. However, the duplicate photos will have the Rejected Photos flag applied to them.
To remove the indicated duplicates, click the "Photo" drop-down menu and choose "Delete Rejected Photos." A new window will appear. To remove the picture from the hard drive, select the "Delete from Disk" option.
You could also try Lightroom Duplicate Finder. But keep in mind that it will cost you around $15.
To get rid of duplicate images in Lightroom, you can apply either of these techniques. We hope you find this post helpful. Kindly share in the comments section which option you choose and why.