In an increasingly environmentally conscious world, it's inspiring to witness the adoption of sustainable practices in various aspects of our lives, including within our religious and cultural traditions. One exceptional illustration of this shift is the eco-friendly celebration of Ganesh Chaturthi, where devotees are now choosing Ganesha idols crafted from dry grass and bamboo, thereby preserving both our cherished traditions and the environment. This Green Celebration not only reconnects us with our cultural heritage but also instills a profound sense of responsibility towards Mother Earth. In this article, we will explore the significance of this eco-conscious movement, with a particular emphasis on the remarkable initiative undertaken by the Shree Ganesh Mandal, also known as "Karelibaugh Cha Raja", at Vallabhnagar Society, Karelibaug, Vadodara, Gujarat, and how they skillfully crafted the Ganesha idol using these natural materials.
The Significance of Ganesh Chaturthi
Ganesh Chaturthi, also known as Vinayaka Chaturthi, is one of the most widely celebrated festivals in India and among Hindus worldwide. It marks the birth of Lord Ganesha, the elephant-headed deity known as the remover of obstacles and the god of wisdom and prosperity. Traditionally, devotees create clay idols of Lord Ganesha and immerse them in water bodies after the festival, symbolizing the cycle of creation and dissolution.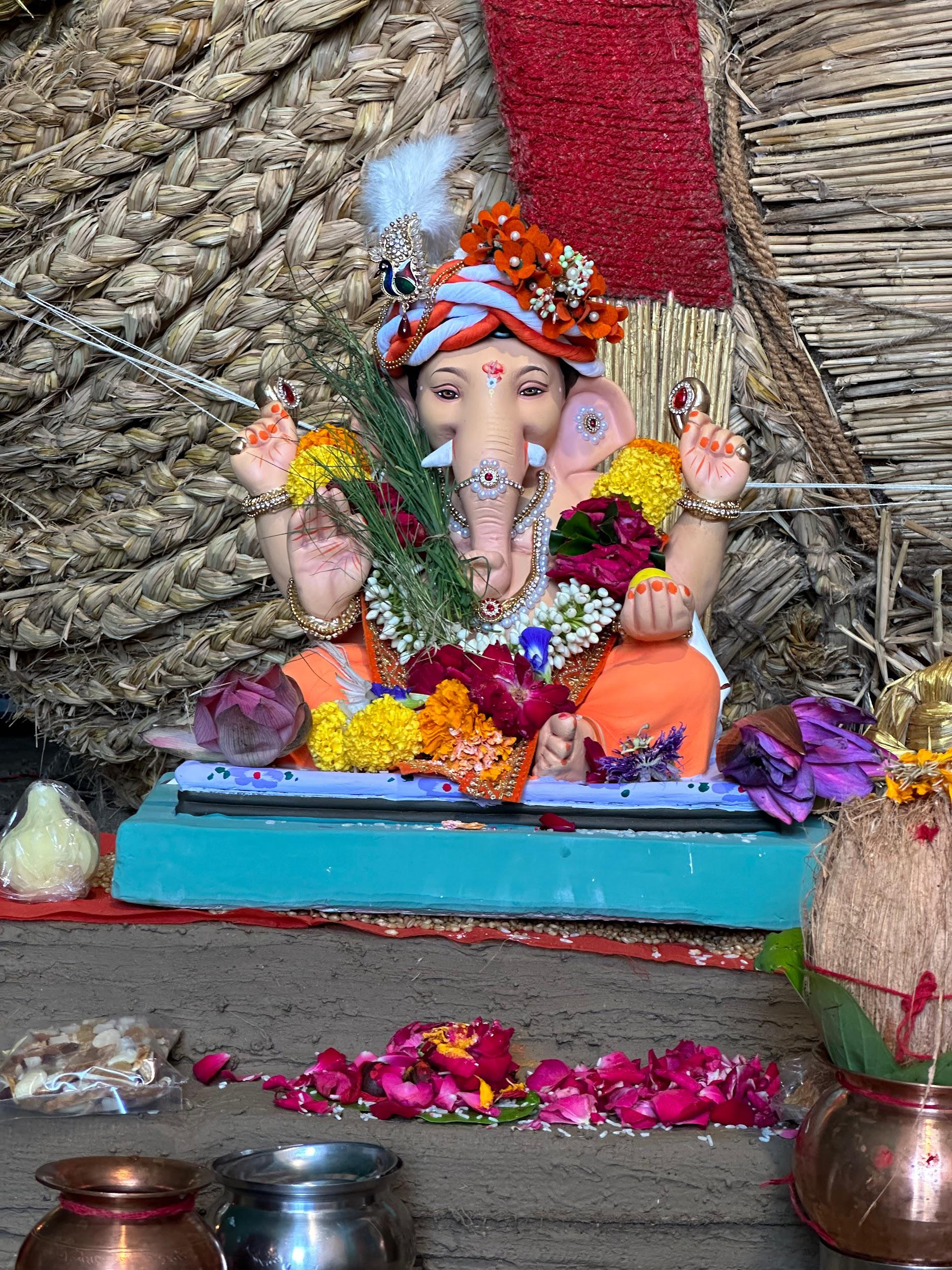 However, the use of conventional clay idols often contributes to environmental degradation, as the idols may contain harmful chemicals and take years to disintegrate in water. This is where the eco-friendly approach of crafting Ganesha idols from dry grass and bamboo comes into play.
Crafting Eco-Friendly Ganesha Idols
The creation of Ganesha idols from paddy plants, dry grass, and bamboo not only reduces environmental impact but also adds a unique dimension to the celebration. Let's hear from the Mandal members how they step-by-step created the wonderful eco-friendly idol by considering various aspects.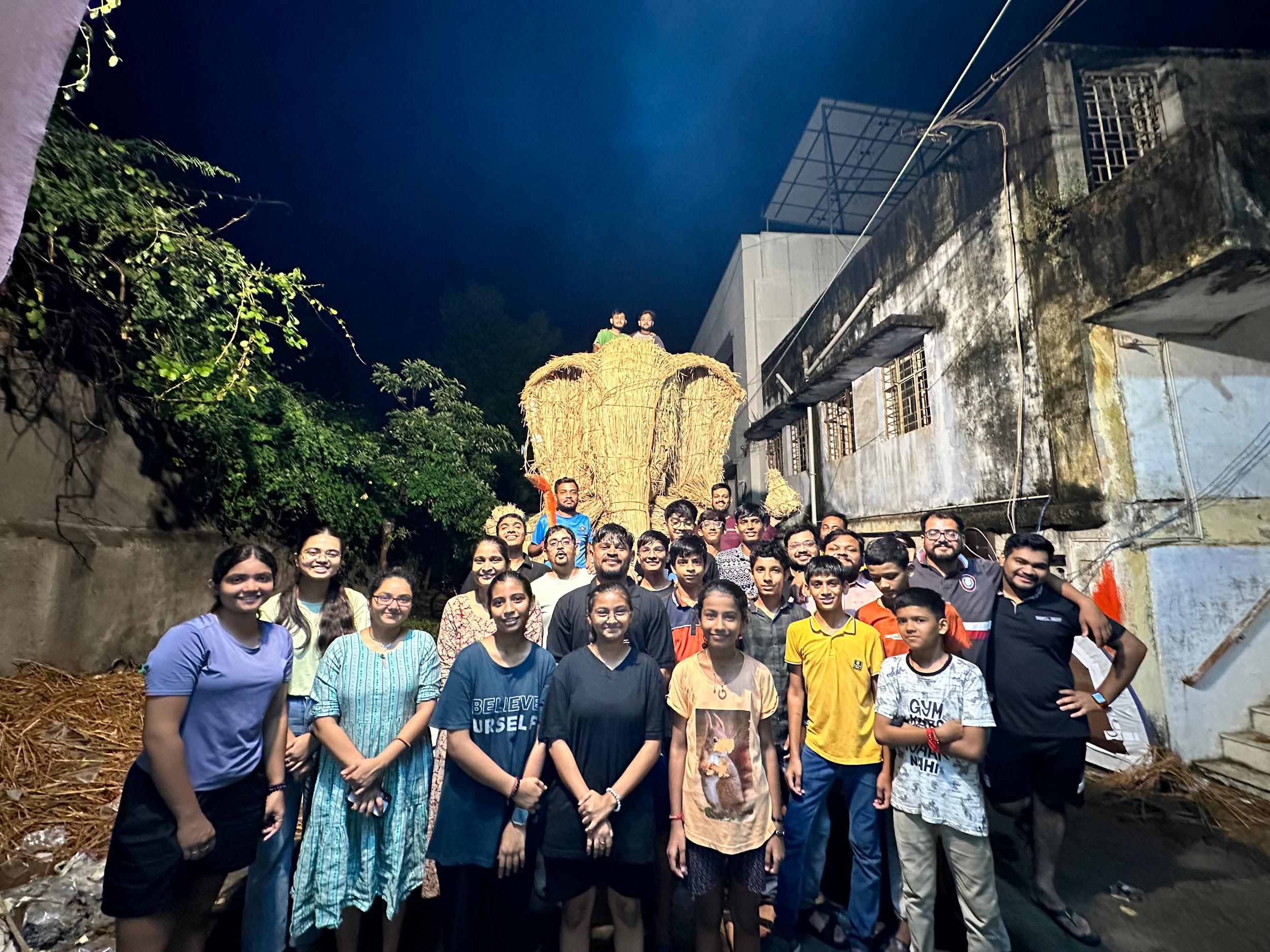 We are delighted to announce a remarkable achievement this year: 13-15 members of our society, who are not professionals by trade, have successfully created an eco-friendly Ganesh Ji idol using 400 paddy plants from our very own fields.
Here are the key highlights of this outstanding project:
Idol Height:
Our Ganesh Ji idol stands tall at an impressive 13 feet, symbolizing grandeur and devotion.
Dedication and Effort:
Crafting this magnificent idol was a collective effort spanning 1.5 to 2 months. We began by constructing a sturdy bamboo framework and meticulously attached sutali, kathi, and paddy plants to sculpt Ganesh Ji's exquisite form.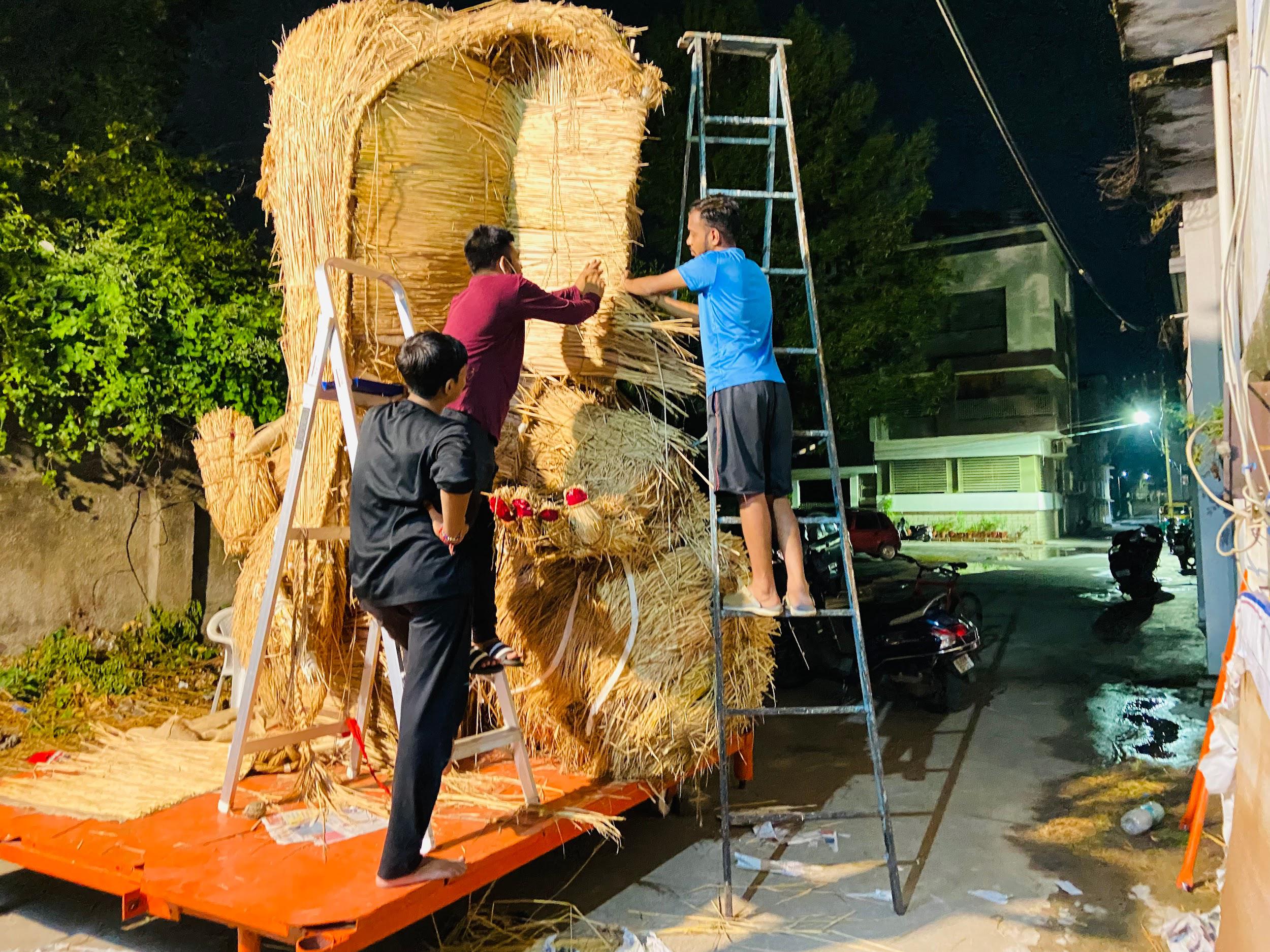 Artistic Contribution:
The women and girls of our society showcased their artistic talents by crafting exquisite ornaments from paddy plants, adding a timeless and elegant touch to our creation.
Environmentally Responsible Immersion:
Our commitment to preserving the environment extends even to the immersion process. After the festivities, our plan is to dismantle the idol and distribute the paddy plants to local gaushalas.
Alternatively, if we choose to immerse it in water, we will recover the idol and allow it to decompose underground for a month, transforming into nutrient-rich fertilizer for agricultural use.
In recent years, the use of Plaster of Paris (POP) has gained popularity for crafting Ganesh Ji idols. While these idols may be visually striking, they come at a significant environmental cost. Immersing POP idols in water bodies poses a threat to aquatic life and water quality.
Affordability:
We believe in making traditions accessible to everyone. Our eco-friendly Ganesh Ji idols benefit both the planet and your budget, created using affordable, reusable materials.
This project truly exemplifies the spirit of teamwork, commitment, hard work, dedication, discipline, unity, sincerity, devotion, and patience. As you admire our Ganesh Ji idol, know that it represents the collective effort of our community, working together to preserve tradition and protect the environment.
Bottom Line
Ganesh Chaturthi is a time for celebration, reflection, and spiritual renewal. By adopting eco-friendly practices like crafting Ganesha idols from dry grass and bamboo, we can honor tradition while also showing our commitment to protecting the planet. The Green Celebration is not just a trend; it's a conscious choice to preserve our cultural heritage and leave a cleaner, greener world for future generations. So, this festive season, let's come together to celebrate in harmony with nature and Lord Ganesha, the guardian of our planet.