Best collection of non profit wordpress themes for charity, NGOs, non profit organizations, church, donation and corporate websites.


Blessing Responsive WP Theme is the high quality web-masterpiece. The main destination of this theme is to serve religion and charity organizations, churches, parishes, etc. It also fits in many business branches.

SaveTheWorld is an excellent multi-purpose responsive WordPress theme. It was created as a universal website template for people who need an easy and modern tool to create their own websites according to the latest trends.

4 Children with Love is a modern and easy to use WordPress theme with a noble cause. It is a charity theme dedicated to children but in general it is also suited for any kind of charity and non-profit organizations.

Parlament is a political WordPress theme which features a highly interactive and retina-ready design, fully responsive implementation and a focus on user experience, usability and performance.

SaintChurch is an excellent WordPress Church theme. It was created as a universal website template for people who need an easy and clear way to add attractive content to their web-sites. In this theme you can adjust not only colors, animation and backgrounds, but also the page layouts according to your needs.

Political Press is a purpose oriented WordPress theme for politics related websites and blogs. Political Press theme's usage is not limited to creating a political candidate campaign website and it can be used for other websites or blogs related to politics.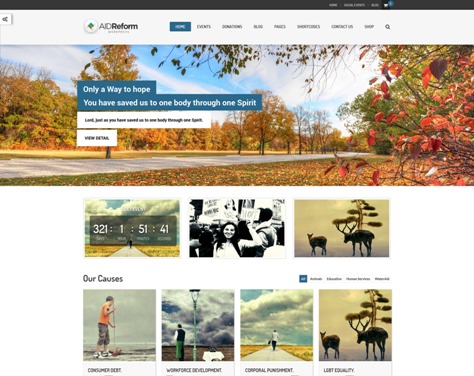 AidReform is a clean and elegant theme, developed mainly to setup charity, NGOs, nonprofit organizations, church, donation and corporate websites. Best suited for the charity organizations aiming to attract the attention for raising charity organizations. It has been built on the latest bootstrap frame work.

LovePray is a Church & Multi-Purpose Theme. Theme makes it easy to fully customize the Layout, Colors and Style within minutes. Due to its superb flexibility of its framework, it allows you to create unique Websites for many purposes like Magazine, Blog, Portfolio, Creative or Business.
H.E.L.P is specially designed for NGO's and Business Organizations. The theme is easy to modify and ready to be up and running out of the box. The PSD files included have been customized to allow fast skinning.

Biosphere is a Environmental and Charity WordPress Theme. Features are Fully Responsive, Powerful Events Feature, Dynamic Homepage, Full Width Slider, Custom Widgets, Translation Ready and More…

Be Human WordPress Retina theme is a web masterpiece which is designed for Charities. Theme is suitable for charities and nonprofit organizations & similar websites that need a feature rich yet beautiful presence online. It is compatible with all modern mobile devices. A very wall designed theme with a blog, gallery, events management, WooCommerce Store, Crowdfunding using Ignitiondeck.

Charitas is a simple and clean but still professional WordPress template that is best suited for Charity, NGO, Foundations, etc. The theme is created by using the latest techniques.

Grace is an elegant, premium WordPress theme built for churches and religious communities. Features are Responsive, 5 custom post types, 20+ page templates, Unlimited sidebars, Unlimited colors, 10 custom widgets, Translation ready, Jigoshop ready and More…

Green Theme is a Responsive WordPress theme perfect to promote your environmental projects or your green products business. The main features, which are extremely important and super useful are, Events Calendar & Management, Multilingual support, 3D Layer Slider and Facebook fan page compatibility.

Mission is a church theme offering everything that a church would ever need, from podcasting to calendars to commerce and funding, mission aims to provide an advanced one stop solution for your church.

Real Church is the most powerful church WordPress theme. It has full functional that church theme must have. Sermon post type which supports video, audio, attachment and also PDF. Event post type which you can put the start date/time, end date/time and you can also put google map in the post.

Rive is a powerful, feature-rich theme that lets you customize a wide variety of features from the comfort of your Dashboard.

The Church is the high quality web-masterpiece. The main destination of this theme is to serve religion and charity organizations, churches etc. It also fits in many business branches.

DonateNow theme is clean, flexible, retina ready and has a fully responsive design. DonateNow theme is loaded with features, and has powerful customization options. Built with HTML5 & CSS3. It comes with free support on our support forum. DonateNow theme can be used for any type of non-profit; charity, products, corporate, portfolio, blog, etc.

Rescue is a theme built with one purpose: Getting animals adopted. And on the plus side, your shelter can now have an awesome looking website. Pets can easily be added or you can pull them from your Petfinder profile with a few clicks.

Belief is a powerful drag-and-drop layout builder theme intended to power non-profit, religious communities, church or charity sites.

Islamic is a responsive HTML5 & CSS3 WordPress theme suitable for any kind of Islamic website from Islamic center to a mosque or community. With a responsive design it is easily usable with any device (Desktop, tablet, mobile phone…).

InCare is a non-profit Environmental/Eco-Friendly theme. It's designed to best fit the non-profit organization, environmental, recycling, community or nature business websites. An impressive set of custom options that let you clearly display your events, news, testimonials, gallery making it easy for users to learn more about your cause.

Give your charity or NGO organization a new face with this brand new theme. Give is Charity & NGO oriented WordPress theme, featuring a responsive design & focus on content & events.
Reverence is a Responsive WordPress HTML 5 template for for religious origanizations, churches, or charities. It uses a Responsive Framework so it's compatible with all mobile devices. Reverence is designed for a wide range of websites including creative, personal blogs, small business and corporate websites.

Incarnation is a responsive WordPress Church Theme (try resizing your browser), suited for any kind of Church Website that wants to provide a community site to its visitors. It comes with support for audio and video sermons, a fully fledged event calendar, a community forum and many other options.

The Cause is a clean and elegant non-profit WordPress theme that can be used for a variety of purposes and causes. From standard non-profit, charity and activism websites, to religious and political organizations The Cause is a must have theme.

Candidate is a WordPress theme designed specifically for political and public figures. Drawing inspiration from the modern political arena and experience in building politically themed websites this design is flexible enough to fit any political option and social issue.

This theme comes with 11 custom widgets, 4 custom post types, lots of shortcode and usefull elements, such as: Toggles, Tabs, Call-to-action Buttons, Pricing plans.
This church theme for WordPress has the features a church website needs — a mobile-friendly responsive design, sermon archive, photo and video gallery, church events (recurring), support for multiple locations, staff profiles and church news.

Politician Responsive WordPress Theme uses a great deal of white/dark space to create a clean feel to this site. The elements of this web design are nicely spaced out to create a clean overall design. The light/dark background and elegant typography combines to make a very fresh design.

Advocate is a responsive WordPress theme ideal for nonprofits, charities, activists and political campaigns. Flexible and highly customizable, Advocate is built with an impressive set of custom options that let you clearly display your events, news, sponsors and programs, making it easy for users to donate to and learn more about your cause. Unique features include a donation page, custom events calendar, sponsors areas, features pages and various gallery and portfolio layouts.

Green Earth is a non-profit WordPress theme. It's really well designed to best fit the business and non-profit organization that need environmental style. It comes with a new feature 'Custom Slider' which allow you to manage slider freely.

Earth is a premium WordPress theme created with Environmental/Eco-Friendly websites in mind. It's the perfect solution for all types of business and non-profit organizations that want to add an earthy touch to their online presence. The Earth WordPress Theme comes with a built-in event post-type and event calendar, donate button in the header, a gallery post type and of course a full blog section, all of which are necessary for an awesome non-profit website.

Born is a Church WordPress Theme aimed at making your new church website. Features are Change the colors, font and background image in seconds, ayered PSD for more detailed customization, Fully working AJAX Contact Form with spam protection, Custom Widgets and More…

WordPress Aid is ideal for charity organizations. It's focused on raising funds for your charity and alerting visitors to important issues happening in the world.

The premier political theme on Theme Forest! WordPress Politico is ideal for political campaign sites. The slideshow is great for drawing attention to important issues or promoting a candidate into office.

This is a church theme WordPress Template. Some people use it for wedding and non-profit website. There are four color scheme included in this template. This wordpress theme also has an admin panel.
Last modified: February 18, 2017