Cursive alphabet writing is a distinctive feature of historical documents, providing a unique insight into the past that printed text often cannot. The cursive script, a centuries-old form of written communication, reveals a writer's personality and emotions through its beautiful curves and flowing strokes. Decoding cursive in historic paperwork is not just a skill but a journey into the rich tapestry of our collective past.
Despite its beauty, Cursive alphabet writing often faces challenges in modern education due to variations in styles across different periods and regions. This poses a problem for researchers, historians, and enthusiasts eager to unlock the stories embedded in these manuscripts. This article provides strategies to overcome challenges using the cursive alphabet and uncover hidden narratives within historical paperwork.
Styles of Cursive Handwriting
Popular Cursive Styles Over the Centuries
Spencerian Script: Spencerian script, developed in the mid-19th century by Platt Rogers Spencer, is characterized by its elegant and ornate appearance. This cursive style was widely taught in American schools and gained popularity for its flowing, fluid movements.
Copperplate Script: The copperplate script, also known as the English round hand, emerged in the 17th century and became prominent in the 18th century. The style is renowned for its pointed pen technique, which incorporates intricate loops and swirls to create a sophisticated and visually appealing script.
Italic Script: Originating in the Renaissance, italic script is a slanted and more condensed form of cursive. Its simplicity and legibility make it a popular choice for both handwriting and printing. Italic script experienced a resurgence in popularity during the 20th century.
Regional Variations in Cursive
The cursive alphabet exhibits diverse regional variations influenced by cultural, historical, and educational factors. The unique cursive styles of different countries and regions have added complexity to the process of reading historical documents.
Knowledge of these variations is crucial for effectively decoding cursive handwriting in historic paperwork. The text provides a detailed analysis of the evolution and diversity of the cursive alphabet over the centuries, focusing on its nuances and regional adaptations.
Studying Basic Cursive Alphabet Forms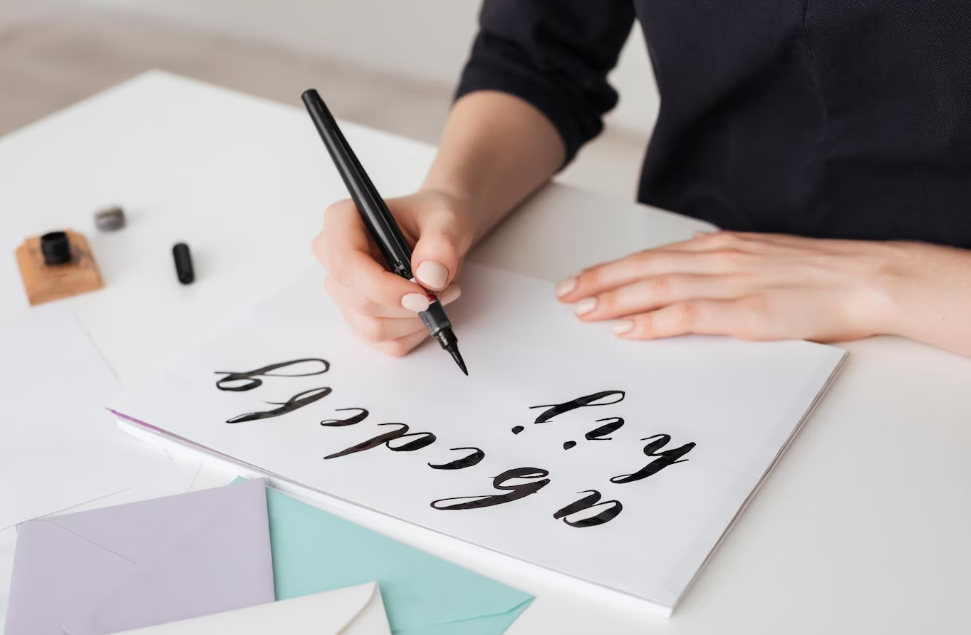 The Structure of Cursive Alphabet
It is critical to understand the form of the cursive alphabet to read cursive handwriting effectively. Unlike their printed counterparts, cursive alphabet letters often have distinct characteristics, emphasizing the importance of understanding their components. Key elements include:
Baseline: The imaginary line upon which most letters rest.
Ascender: The portion of a letter that extends above the baseline, as seen in letters like 'h' and 'b.'
Descender: The part of a letter that extends below the baseline, as observed in letters like 'g' and 'y.'
Loop: A rounded or curved extension often seen in letters like 'l' and 'e.'
Exit Stroke: The concluding stroke that allows the writer to transition smoothly to the next letter.
Common Alphabet Connections
Cursive writing is characterized by the fluid connections between letters, creating a seamless flow within words. Understanding these common connections is key to deciphering cursive handwriting. Some typical letter connections include:
Undercurve: Connecting from below, often seen in the transition from 'i' to the next letter.
Overcurve: Connecting from above, frequently found in letters like 'n' or 'm.'
Upstroke: A vertical stroke leading into the next letter, as seen in the transition from 'r' to the next letter.
Downstroke: A vertical stroke leading out of the current letter, preparing for the next.
Studying cursive alphabet structure and connections can enhance readers' accuracy in recognizing and reading cursive handwriting. These fundamental insights will prove invaluable when navigating historic documents and identifying the stories they hold.
Recognition of Common Words
Certain words are commonly found in historical documents written in cursive. Recognizing these high-frequency words can significantly enhance the reading process. Common words often encountered include:
The: A ubiquitous article
And: A frequently used conjunction.
Of: Another essential preposition.
In: A common preposition indicating location or time.
To: A versatile preposition used in various contexts.
These words, among others, tend to recur frequently in written language. Familiarizing oneself with these high-frequency words serves as a valuable shortcut when deciphering cursive script in historic paperwork.
Strategies for Word Recognition
Contextual Clues: Consider the context of the sentence or paragraph. Surrounding words may provide clues to help deduce the meaning of a challenging word.
Letter Patterns: Pay attention to recurring letter combinations. Identifying common letter patterns can aid in recognizing words, especially when dealing with unfamiliar cursive styles.
Word Shape Recognition: Focus on the overall shape of the word rather than individual letters. Many individuals develop a unique cursive style, and recognizing word shapes can facilitate quicker comprehension.
Practice and Exposure: Regular practice reading cursive handwriting is essential for improvement. Exposure to various writing styles and historical documents will enhance your ability to recognize common words and letter formations.
Overcoming Challenges in Reading Cursive
Enhancing Contrast: Faded ink in historic documents can pose a significant challenge. The contrast between the ink and the paper can be improved with magnifying glasses or lighting adjustments to lessen this effect and make it simpler to read cursive letterforms.
Digital Enhancement Tools: Scanning and digitally enhancing faded documents can bring out the details of cursive handwriting, aiding in the deciphering process. Various software tools are available to adjust contrast and highlight faded text.
Knowledge of Historical Materials: Understanding the materials used in historical documents can provide insights into the potential challenges of fading. Different inks and papers age differently, and knowing these materials can guide readers in anticipating and addressing issues related to faded handwriting.
Comparative Analysis: When faced with unconventional letterforms, comparing them to more familiar cursive styles or alphabet letters within the same document can offer clues. Look for recurring patterns and shapes to decipher the intended letters.
Consulting Writing Manuals: Historical writing manuals and guides can provide valuable context for unconventional letterforms. These resources offer insights into the various styles of handwriting prevalent during different periods, aiding in the interpretation of unique letter shapes.
Collaborative Efforts: Engaging with fellow enthusiasts, historians, or experts in cursive script can be beneficial. Collaborative efforts often bring diverse perspectives and shared knowledge, helping to collectively overcome challenges presented by unconventional letterforms.
Frequently Asked Questions (FAQs)
How Long Does It Take to Learn to Read Cursive?
Learning to read cursive varies from person to person, depending on prior exposure and practice. It usually only takes a few weeks to a few months of consistent practice for people who are already comfortable with print handwriting to adjust to cursive. Beginners, on the other hand, may need a few months to become comfortable with the cursive alphabet. Regular practice, exposure to diverse cursive styles, and engagement with historical documents are key factors that contribute to the speed of learning.
Can Cursive Styles Vary within the Same Time Period?
Yes, cursive styles can vary widely even at the same time. Cursive handwriting is diverse due to regional variations, cultural influences, and individual preferences. For example, during a specific historical era, individuals from various geographical locations may have adopted distinct cursive styles. Further, personal handwriting nuances can lead to variations within the same time and place. Understanding the differences between cursive styles is crucial for readers studying historical documents, as it helps them navigate through the various styles prevalent during a specific era.