We are at the end of 2023 and ready to welcome 2024. Till now, we have encountered a lot of new advancements and innovations in the tech world. Whether we talk about the virtual world ie. Metaverse or friendly AI ie. ChatGPT.
In five days, ChatGPT reached 1 million users. Also, the AI market in the United States is projected to reach about $594 billion by 2032.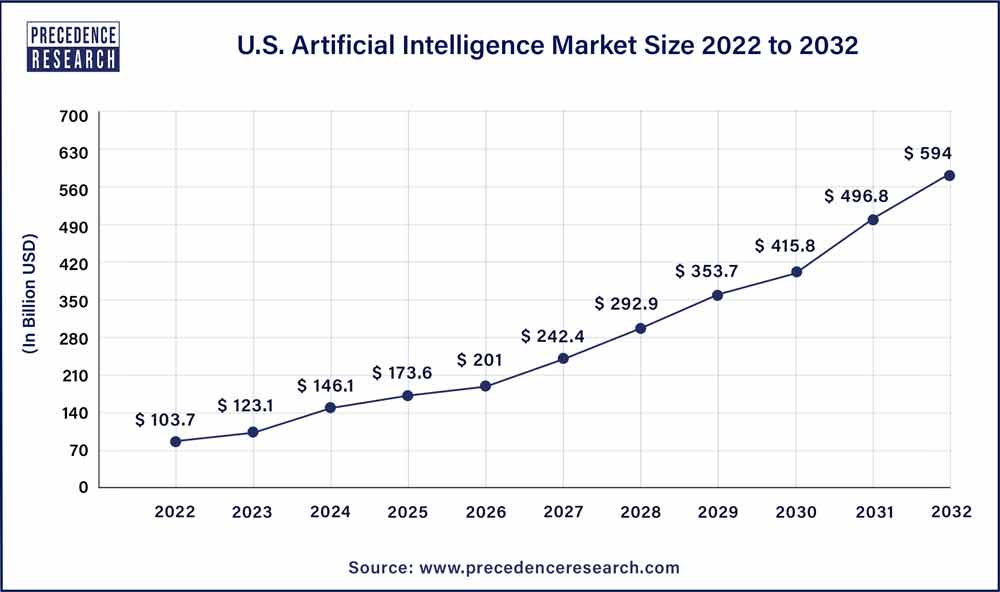 If you are impressed with these tech advancements and want to include them in your business, especially ChatGPT or AI-related stuff, then you need to hire Artificial Intelligence developer.
Yes, their expertise will nurture your idea on AI development. But you should know -AI developers are like rare gems. Finding and hiring the right talent can be a challenge.
Don't get scaled down by the challenges. In this blog, we will share the tips for hiring AI developers. It is a complete guide that will help at every stage whether you are looking for what skills AI developers should have or how to hire AI developers for your project
So, bookmark it and read it whenever you need it. Let's begin:
Who Are AI Developers?
An AI developer is an IT professional with a 'Computer Science related degree' specializing in crafting AI applications. They have a strong command over various programming languages such as C++, Python, C#, Java, and R.
Besides, AI engineers also possess skills in
Machine learning
Deep learning
Neural networks
Natural language processing
You can hire AI developers to design, develop, and implement AI models and algorithms for your project.
What Do AI Developers Do?
The roles and responsibilities of an AI engineer can differ depending on the industry they work in, but, in general, AI engineers create AI systems and applications to enhance decision-making, boost performance, and maximize efficiency.
Having knowledge of artificial intelligence opens up a world of opportunities in the area of computer and data science. Becoming an artificial intelligence engineer is a challenging yet rewarding profession that entails:
Addressing Business Challenges with AI: Utilizing AI software to tackle a wide range of business problems, from predictive maintenance to customer insights.
Creating and Implementing AI Systems: The development and deployment of AI systems, ensuring they work effectively within the organization.
Educating Project Managers and Stakeholders: Communicating with project managers and stakeholders, making them aware of both the capabilities and constraints of AI systems. It's about managing expectations.
Data Architecture Design: Creating structures for data ingestion and transformation, a crucial foundation for AI systems to operate successfully.
Staying Ahead with AI Tech: Keeping an eye on the horizon for emerging AI technologies that could benefit the company and improve its operations.
Team Training: When you hire an Artificial Intelligence developer, they have to share knowledge and expertise with teams within the organization, ensuring they understand how to work with and implement AI systems effectively.
Steps To Hire AI Developers
Step 1: Define the Job Description:
Begin by creating a clear job description for the AI developer role. Specify the skills, experience, and qualifications necessary for the position. Describe the project, the required technical skills, and the developer's responsibilities. Make sure to include information about your company's mission and culture.
Step 2: Post the Job on AI Job Portals:
After preparing the job description, post it on relevant AI job boards and platforms like LinkedIn and specialized AI job websites. Ensure your job listing is comprehensive, highlights the company's mission and culture, and uses appropriate keywords to increase visibility. Set a competitive salary range based on industry standards.
Step 3: Review Applicants:
You need to know what and how they have performed previous work. Review the received applications, and consider seeking recommendations from your existing employees or network who might have worked with talented AI developers. Shortlist candidates who meet the specified criteria for further evaluation.
Step 4: Conduct Virtual Interviews:
Conduct virtual or just face-to-face interviews with shortlisted candidates to assess their qualifications and fit for your project. Tailor your questions to gauge their motivation, technical expertise, adaptability to industry trends, time management, and problem-solving abilities.
Step 5: Test Technical Skills:
Evaluate candidates' technical skills by assigning them tasks that require them to demonstrate their proficiency with specific AI technologies and programming languages. Review their past work to ensure they possess the necessary knowledge and experience relevant to your project.
Step 6: Assess Soft Skills:
In addition to technical skills, evaluate candidates' soft skills, including communication, teamwork, problem-solving, time management, and decision-making abilities. Ensure they understand your project's goals and align with your business objectives.
Step 7: Onboard the Candidate:
After selecting the right candidate, provide a comprehensive onboarding process. Establish communication channels and tools for regular check-ins, project updates, and progress reports. Create an onboarding plan that covers project details, company culture, and expectations. Offer clear instructions on using the required tools, software, and hardware to facilitate successful project completion.
Step 8: Choose the Right Hiring Model for AI Developers:
Select the appropriate hiring model for AI developers based on your project requirements and budget. Consider options like:
Fixed Price Hiring Model: Ideal for well-defined projects with a predetermined budget.
Hourly Rate Hiring Model: Suitable for hiring freelancers or remote developers for flexible work hours.
Monthly-Based Hiring Model: Useful for projects with a specific duration, where you pay for the number of months worked.
Hybrid Hiring Model: Combine different models to accommodate specific project needs and work hours.
How Much Does It Cost To Hire AI Developers?
Hiring an AI developer entails various cost factors to consider.
Entry-level developers may offer lower rates, but they often require more guidance due to their learning curve.
Experienced developers, while pricier, bring valuable expertise.
Geographical differences can significantly impact costs, with Silicon Valley commanding higher rates than Eastern Europe.
| | |
| --- | --- |
| Regions | AI Developers (Hourly rates) |
| India | $25-$50 |
| Canada | $80-$200 |
| USA | $50-$180 |
| China | $80-$250 |
| UK | $80-$250 |
However, for the most cost-efficient option, you can hire remote developers from India. Here, you can save significantly on labor costs while still ensuring high-quality work.
Wrap Up
We hope this comprehensive guide on -how to hire AI developers in 2023-2024 has provided you with valuable insights into various aspects whether it is – who they are and what they do.
Finding the right AI programmer can be a crucial step in the success of your projects, and we wish you the best of luck in your endeavors. If you have any more questions or need further assistance, feel free to reach out.