The rise of healthcare apps has ushered in a new era of patient engagement, significantly impacting how individuals approach their well-being.
From diligently following dietary recommendations provided by fitness experts to maintaining a consistent schedule of doctor visits and adhering to medication reminders, these health app ideas have transformed the landscape of personal health management.
Moreover, the integration of diet planner apps has further empowered individuals to effortlessly monitor and manage their daily food intake.
In the contemporary healthcare landscape, these applications are at the forefront of a profound revolution, redefining the delivery of medical care. They are reshaping the dynamics of medical consultations, treatments, and prescription management, ushering in a more accessible and convenient approach to healthcare.
This transformation underscores the remarkable potential and influence of mobile app ideas in enhancing the overall quality of healthcare services and the well-being of individuals.
According to the research by Precedence Research, In 2022, the worldwide mHealth market achieved a valuation of USD 80.61 billion, and it is projected to surpass USD 269.31 billion by 2032, displaying a registered compound annual growth rate (CAGR) of 12.3% throughout the forecast period from 2023 to 2032.
Meanwhile, the mHealth market in the United States, which was valued at USD 18.98 billion in 2022, is anticipated to experience a 13% CAGR from 2023 to 2032.
Don't solely rely on words; examine the numbers firsthand.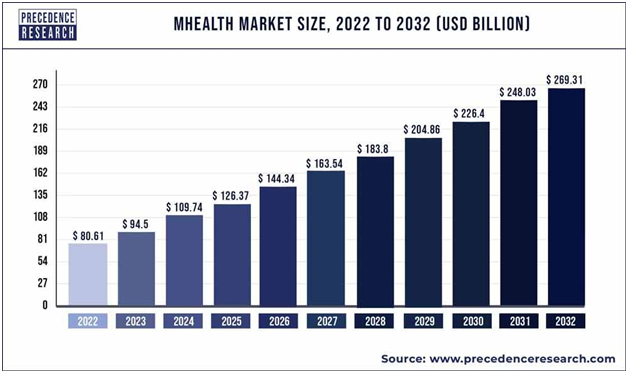 Top 10 Medical & Health App Ideas
mHealth, short for mobile health, refers to the utilization of mobile devices like smartphones, tablets, personal digital assistants, and wireless networks to support medical and public health activities.
Key applications of mHealth in the digital health landscape encompass remote data collection, monitoring from a distance, educational outreach, support for diagnosis and treatment, tracking of diseases and epidemics, telecommunications, and training for healthcare workers, as well as the management of chronic diseases.
Read More: Trending Features in iOS App Development
Let's delve into various health app concepts and the types of top-notch healthcare app ideas that Webs Optimization Software Solution can assist you in bringing to life.
1. Comprehensive Health Management App
Healthcare Monitoring Apps are primarily created to oversee chronic medical conditions such as diabetes, hypertension, blood sugar irregularities, cancer, and a range of other health issues.
These applications serve as a valuable tool for healthcare providers, enabling them to closely monitor the health status of each individual patient while maintaining a comprehensive health history.
This data empowers doctors and healthcare professionals to deliver precise and tailored treatments, as well as make well-informed decisions regarding prescriptions and medical interventions.
These health app ideas are instrumental in enhancing the overall quality of care provided to patients with chronic conditions, ensuring timely interventions, and ultimately leading to improved health outcomes.
Standout Features
Personalized health assessments with AI-driven recommendations.
Integration with wearables for real-time fitness and health data.
Secure messaging and video conferencing for virtual consultations.
Medication barcode scanning for easy data entry.
Health goal tracking with progress analytics.
2. Medication Management & Reminder App
These health app ideas simplify medication management by providing users with medication reminders, dosage information, and pill identification. It ensures medication adherence and keeps users informed about potential drug interactions.
Standout Features
Medication barcode scanner for quick data entry.
Dosage schedule customization with visual reminders.
Pill identification using the phone's camera.
Medication history log for reference.
Automated prescription refills and delivery options.
3. Personalized Nutrition Planner App
Personalized Nutrition Planner App helps users create customized nutrition plans based on their dietary preferences, allergies, and health goals. It offers a vast database of recipes, meal plans, and grocery lists.
Standout Features
AI-powered meal recommendations.
Nutrient tracking with real-time analysis.
Grocery list generation based on chosen recipes.
Integration with food delivery services.
Cooking video tutorials and recipe sharing.
4. TeleHealth Connect – Virtual Doctor Consultation App
TeleHealth Connect bridges the gap between patients and healthcare professionals by offering secure video consultations. Users can schedule appointments, share medical records, and receive prescriptions online.
Standout Features
In-app prescription ordering and delivery.
Medical record storage with easy sharing.
Real-time waiting room status updates.
Symptom checker and AI-assisted diagnosis.
5. Mental Health & Stress Management App
These applications offer a range of mental health and stress management tools, including guided mindfulness meditation, mood tracking, and journaling. It helps users build emotional resilience.
Standout Features
Guided mindfulness meditation sessions.
Mood and emotion tracking with insights.
Stress-reduction exercises and breathing techniques.
Journaling with mood-based prompts.
Emotional support chatbot.
6. Elderly Care & Health Monitoring App
This app is designed for the elderly population and their caregivers. It includes fall detection, medication reminders, telemedicine options, and emergency alerts to ensure seniors' safety and well-being.
Standout Features
Fall detection and automatic SOS alerts.
Medication reminders with family notifications.
Senior-friendly interface with voice commands.
Telemedicine consultations for seniors.
Family caregiver coordination and check-ins.
7. Child Health & Parenting Guide App
This healthcare app ideas is a parenting app that offers a wealth of information and tools for new parents. It includes growth tracking, vaccination schedules, baby development milestones, and a community forum.
Standout Features
Growth tracking with percentile comparisons.
Vaccination schedule reminders and information.
Baby development milestone tracker.
Parenting tips and expert articles.
A community forum for parents to connect.
8. Emergency Aid Locator – Medical Services Locator App
Emergency Aid Locator provides users with information on nearby medical facilities, including hospitals, clinics, and pharmacies. It also offers real-time ambulance tracking and emergency contact information.
Standout Features
GPS-based facility locator with reviews.
Real-time ambulance tracking and dispatch.
Emergency contact numbers and directions.
Integration with emergency services.
User-generated facility ratings and feedback.
9. Women's Health Companion – Reproductive Health App
Women's Health Companion empowers women by providing menstrual cycle tracking, fertility predictions, pregnancy guides, and information on women's health conditions. It assists in family planning and reproductive health.
Standout Features
Menstrual cycle tracking with ovulation predictions.
Pregnancy planning and fertility insights.
Information on women's health conditions.
Access to leading gynecologists' contact details.
Community forum for women's health discussions.
10. Diet Master – Diet and Nutrition Management App
Diet Master is a comprehensive diet and nutrition app that enables users to track their food intake, analyze nutritional content, and receive personalized meal plans. It caters to various dietary preferences and health goals.
Standout Features
Food diary with barcode scanning.
Nutrient analysis and meal scoring.
Personalized meal plans and grocery lists.
Integration with meal delivery services.
Cooking tutorials and recipe sharing.
Conclusion
As we navigate the complexities of modern life and healthcare challenges, these mHealth apps have become indispensable tools for proactive health management. They empower individuals to take charge of their well-being, bridge the gap between doctors and patients, and offer valuable resources for various healthcare needs. Moreover, they have proven to be particularly vital in times of crisis, such as the COVID-19 pandemic, by ensuring the continuity of care and access to essential medical services.
Whether you have unique mobile app ideas in mind or prefer to choose from the healthcare app ideas mentioned above, Webs Optimization Software Solution is fully equipped to provide Android and iPhone application development services.
Our goal is to provide innovative and effective healthcare solutions that cater to the diverse requirements of healthcare professionals and institutions, ultimately enhancing patient care and overall healthcare delivery.