Best collection of wordpress restaurant themes for restaurants, cafes, coffee shops, food blogs and more.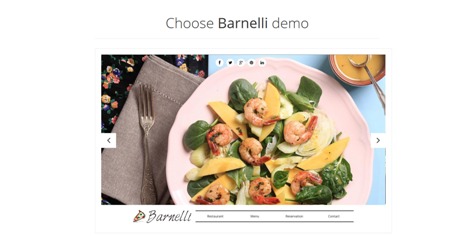 Barnelli is a minimal and highly responsive WordPress theme, designed for all you restaurateurs out there. This is not just a generic "theme" that can fit into all businesses. Our theme is specifically designed and coded for food business. If you are running small restaurant, fast-food or a kebab then this is a theme for you.

Elegantia is a premium restaurant WordPress theme for sale on Themeforest, made for cafes, bistros, and restaurants to post their menu & events and to accept reservations.

Delicieux is a super premium theme for retail/restaurant. It comes with very nice and friendly design. This is exactly restaurant website should be. This theme also comes with super extensive admin panel. It has tons of features. You can change almost every element colour via admin panel, more over, you can also change it via Live Color Changer!

Forked is a modern restaurant WordPress Theme. This theme was created for restaurants, cafes, bistros, food trucks, coffee carts, catering companies, farmers markets and More…

Tortino is a Italian Restaurant WordPress Theme.

Sweet Cake is a one page Responsive HTML5 CSS3 Theme for WordPress perfect for your business. The graphic is very sweet and creative, is ideal for bakeries, ice cream shops, restaurants and cake designers but if you want you can change the colors to adapt the theme for all activities. In the package you will also find sweet icons in vector format. The theme has been designed using the 1200 px grid system with 12 columns.

The template will immediately make visitors hungry by showing the high resolution pics of delicious Mexican food. The design is very modern being flat. The menu bar is animated and improved with sliding out options – that would definitely make the navigation more comfortable. The content area is compact and presents contact info, updates, events at once.

Seasons is an elegant WordPress theme with a layout and features that perfectly suits for restaurants, bars, cafe's and other businesses from the food related industry.

Stomaci is a premium restaurant WordPress theme made by Themes Kingdom. The theme is great for restaurants, food blogs, and other food related websites. The custom admin panel, shortcodes, and widgets allow for endless design possibilities. A well designed gallery showcases food creations, and the blog and events page allow customers to easily see whats going on.

The Kitchen Table is a super simple recipes theme for WordPress. Using builtin features of WordPress, The Kitchen Table is super easy to manage and control using the theme customizer.

Delicious Magazine isn't necessarily a food or restaurant WordPress theme, rather it is a highly versatile theme that can be used for a variety of purposes. However, the theme author has demonstrated in the preview how its a perfect theme for creating a very elegant, clean and crisp foodrelated website.

MyCuisine is delicious, offering up some eyecatching visuals wrapped in a Tuscan shell. It is a smallbusiness theme built with Restaurants in mind, however, the theme can easily be adapted for any business that desires a cool, vintage aesthetic for the website.

Artistic side of the template is firstly revealed by the nice Aztecstyle ornament decoration, this fact would make visitors feel the ancient origins of Mexican instinctively. The color side of design is concentrated on the original combination of darker and lighter tints of brown. The slider demonstrates high resolution images of appetizing Mexican food.

Oishi is a perfect premium WordPress Theme for restaurants or coffee shops but that's not all, it comes with three beautiful skins, also you can adjust the appearance to fit any business, it comes with clean and easy to use options.

Dine & Drink is a delectable restaurant WordPress theme. This theme comes in five flavors that are sure to satisfy: fine dining, salad bar, bakery, coffee house and pasta.

A premium responsive wordpress restaurant theme. Customize this anyway you like. This included google maps, a sticky navigation with scrollspy. It also includes menus that have prices and calorie counts. This template includes a job section with custom treatments and an image gallery that conforms to the look of a polaroid picture.

Delicious is a premium WordPress theme created specifically for restaurant, bar, cafe or other food related websites. It comes in 3 color variations (blue, green and brown), it supports 8 different widgetized areas as well as it comes with 6 custom post types (testimonial, team, foods, reviews and gallery) this will make adding content to your restaurant website easier then ever!

Soprano is a Italian Restaurant WordPress Theme.

Verona is a restaurant WordPress theme perfect for cafes, bistros, delicatessens, food carts, food trucks and more. Use this theme to entice customers with what your restaurant has to offer.

Restaurante is a beautifully designed restaurant WordPress theme with advanced booking features allowing you to not only showcase your restaurant, but also accept reservations. The theme is powered by our advanced Tevolution plugin and the Appointment addon. Both plugins are provided for free with each Restaurante purchase.

Savory is a responsive WordPress theme for restaurants, diners, bars, pzzerias, coffee shops, etc. The theme comes bundled with the Retail Menu Cards plugin, allowing you to easily create menus using an interface you're already familiar with.

Looking for a Professional Designed beautiful looking WordPress theme. Then this WordPress theme is for you. Most of the Food, Restaurant & Hotels categories need website that can be easily maintained and can easily update there members about the upcoming events. Members can easily get the information about the latest information about the upcoming events for that there is a need for the clean and beautiful designed WordPress Theme.

California is a European Restaurant WordPress Theme.

Petit is a theme full of features. Suitable for a variety of purposes, Petit is best suited for a recipe website. A big, bold, blogstyle homepage includes a large featured content area, and Petit's carousel lets users rate their favourite content.

Carpacho is a Seafood Restaurant WordPress Theme.

Forkbite is a wordpress theme specially designed for Food Recipe and Restaurant websites. This template is easy to modify and ready to be up and running out of the box. The PSD files included have been customized to allow fast skinning.

Restorante is the perfect theme for your food site. With its exceptional design by Firman, your site will be the talk of the town.

This Premium WordPress Theme is a highly customized and professional theme that has been developed with the restaurant niche in mind, however, it can be used for just about anything. Why is it the"ultimate restaurant theme". Well, because it has a beautiful design that is perfect for restaurants, it has a really elegant sliding menu card to showoff your menus and it is highly customizable making it the perfect theme for people that know about restaurants, but maybe not so much about web development.

City Cafe is a Cafe And Restaurant WordPress Theme.

Taste of Japan classy and tasty WordPress Template perfect for presentation of your restaurant, pubs, bars, wineries and other companies offering foods and drinks. Each page has unique layout created to best display data in well organized and visually attractive way.

Eatery is a Premium Restaurant WordPress Theme on Themeforest. It's perfect for restaurants, cafes, bistros, lounges, bars and even food trucks.

The Restaurant Theme features an elegant design and layout perfectly suited for restaurants, cafe's, coffee and tea shops or other businesses within the food related industry. The background and theme colors can easily be changed within the options to match your brand, and give the theme a completely different appearance.

Arapah is clean, simple and fresh wordpress theme. Designed specifically to meet to many kinds of business projects. Responsive Design for tablet and mobile browser. Compatible with the newest wordpress version.

A black background of this template beneficially outlines brightness of yellow design elements. The high resolution images of delicious food would definitely make a good investment into attractiveness of your café. The content area includes illustrated menu, which would help your clients choose what they want and make the interaction with customers easier.

Delicioso is a beautiful recipe theme for WordPress. It offers the user an easy way to create a recipe site and includes a bespoke delicious design, custom widgets, unlimited sidebars, a theme options panel and More…

Hospitality is a WordPress premium theme specifically designed for your hospitality business.

Starting today, your coffee shop, bar or bistro website will leave your visitors craving for your tasty and delicious offerings. The Coffe Lounge WordPress theme, beautifully crafted by Themefuse, is a premium WordPress theme created specifically for this type of website. Not only is the general design appealing for cafe's or restaurants, but there are builtin features that will make it easier to setup your website. Easily add your menus, location, promotion snippets, photo galleries, blog and More…

Ristorante is very modern Specialized WordPress Theme for Restaurants, Bars and Caffes. Fullscreen design with Fullscreen Slider allows you to show nice restaurant premises or tasty food. You can also use Food Menu Generator to create professional looking daily menu or À la carte in seconds. Theme also features Event Enquiry Form that can be used to make table or banquet reservations. What more, theme adapts automatically to small mobile devices like iPhone or Android. Precise and user friendly admin panel allows you to do a lot of customizations without knowing any HTML or CSS. Colors, images, fonts, widgets, sliders, portfolios, galleries,… everything can be customized and configured via admin panel.

Restaurant is a Cafe And Restaurant WordPress Theme.

Ingredients is fresh looking WordPress theme made especially for people like you wanting to showcase your delicious recipes with friends and everyone on the web! Choose from an unlimited variation of colors to use for all the colored elements (such as links,buttons, etc.) using the color wheel in the custom theme options panel.

Create a professional website for your Restaurant / Cafe business easily with this theme.

Defavor is a Cafe And Restaurant WordPress Theme.

CookingPress is a WordPress theme for foodies. This recipe theme will let you share all your recipes and cooking tips with wide audience. It's one of the first WordPress recipe themes with support for Google Recipe View. What does it mean? it means that your blog will be understand not only by people, but also by search engines.

With strategic design and expert code, this professional theme includes everything a restaurant website will need! Use this theme to quickly create a professional presence for your culinary business.

Japanese Restaurant is a Seafood Restaurant WordPress Theme.

Palazzo Di Sole is great WordPress template excellent for restaurant, bar, pub or bistro. Clear code and perfectly organized in sets PSD files make everything clear and easy to find. This template contains home page, general inner page, blog page and gallery page. No commercial fonts used in this template means no additional editing cost.

Grand Restaurant is a Cafe And Restaurant WordPress Theme.

Foodie is a premium food blogging theme created by Mint Themes. The simple and elegant blog is prefect for personal and professional use, ideally for those with passionate taste buds. Key features of the theme include a fantastic recipe builder, an impressive rating system, and big beautiful spaces for videos and images. Although this theme was created with foodies in mind, it could easily be transformed to make any blogger drool by simply changing the background and switching out some of the customized widgets.

FoodPress is a recipe & food blog WordPress theme, which makes it easy for you to share your recipes with the custom recipe options built in to this theme. Furthermore it is very easy to customize the looks of the theme inside the theme options panel where you can choose whatever colors you like.

Indulgence is a WordPress theme best suited for restaurants, cafes, or basically any food related small businesses out there who realized that internet is the perfect place to reach out to their potential customers.

The design impresses with cool vintage effect all over the template creating an image of old European taverns. A map widget would be totally useful for restaurant giving an opportunity to your clients to find the restaurants easily. In addition to that the theme is developed with Cherry Framework, which grants it with plenty of tech advantages: from improvements to admin panel to responsive layouts.

Time for Food is a beautifully designed WordPress Theme for all you foodies. It can be used to share recipes or just write articles based about food.
Last modified: February 20, 2017